I may earn from purchases through links in this post.
I know, I know, it's spinach pizza. It sounds kind of boring. We've all seen some version of this before. But this one is different from all of those sodden, cheese heavy versions.
It's light and fresh with some heat and chew, and unlike those cheese bombs, it's the sort of thing I can (and do) eat all the time without feeling overstuffed.
Years ago, when I was new at pizza making, I had trouble with spinach as a pizza topping.
I usually sauteed it first and did my best to drape the limp bits over the crust. The spinach was tough to distribute evenly that way and the resulting pizza tended to be by turns a little soggy or barely spinach-y.
It wasn't terrible (it was still pizza) but it wasn't anything I was proud to share with the world. I mostly gave up on it and devoted my pizza making efforts elsewhere.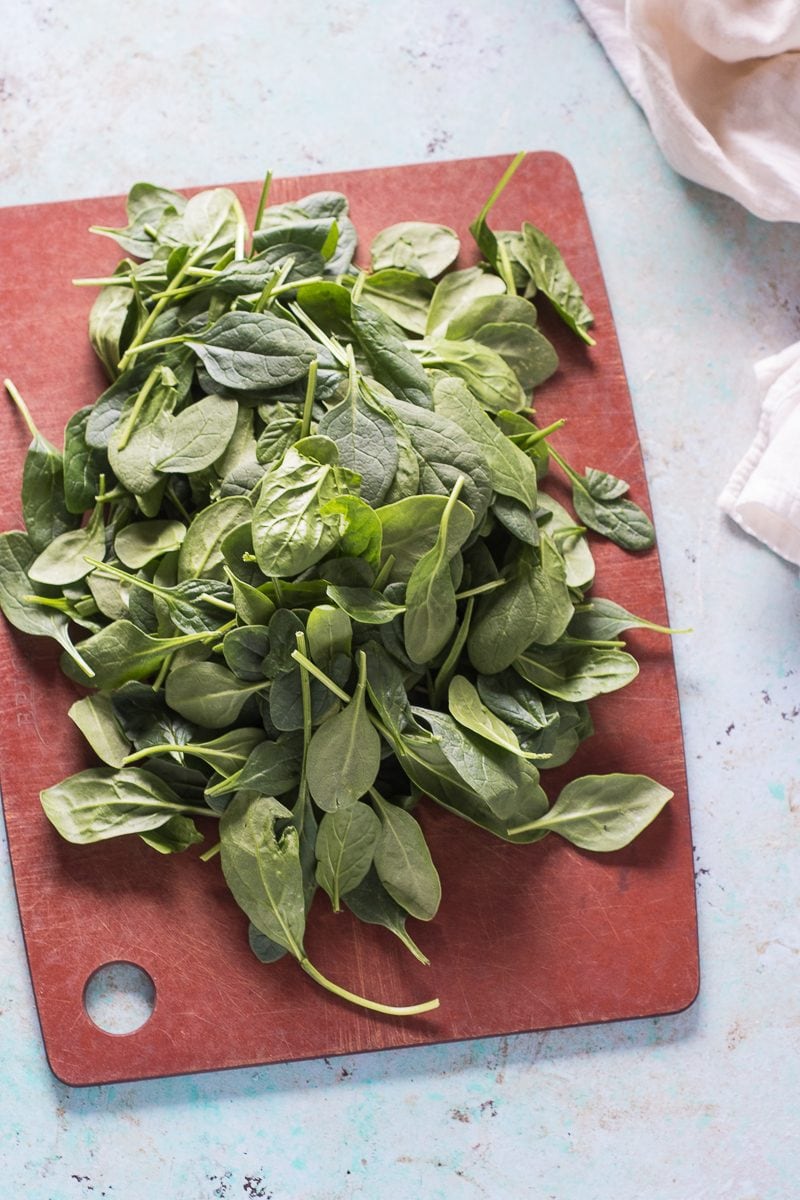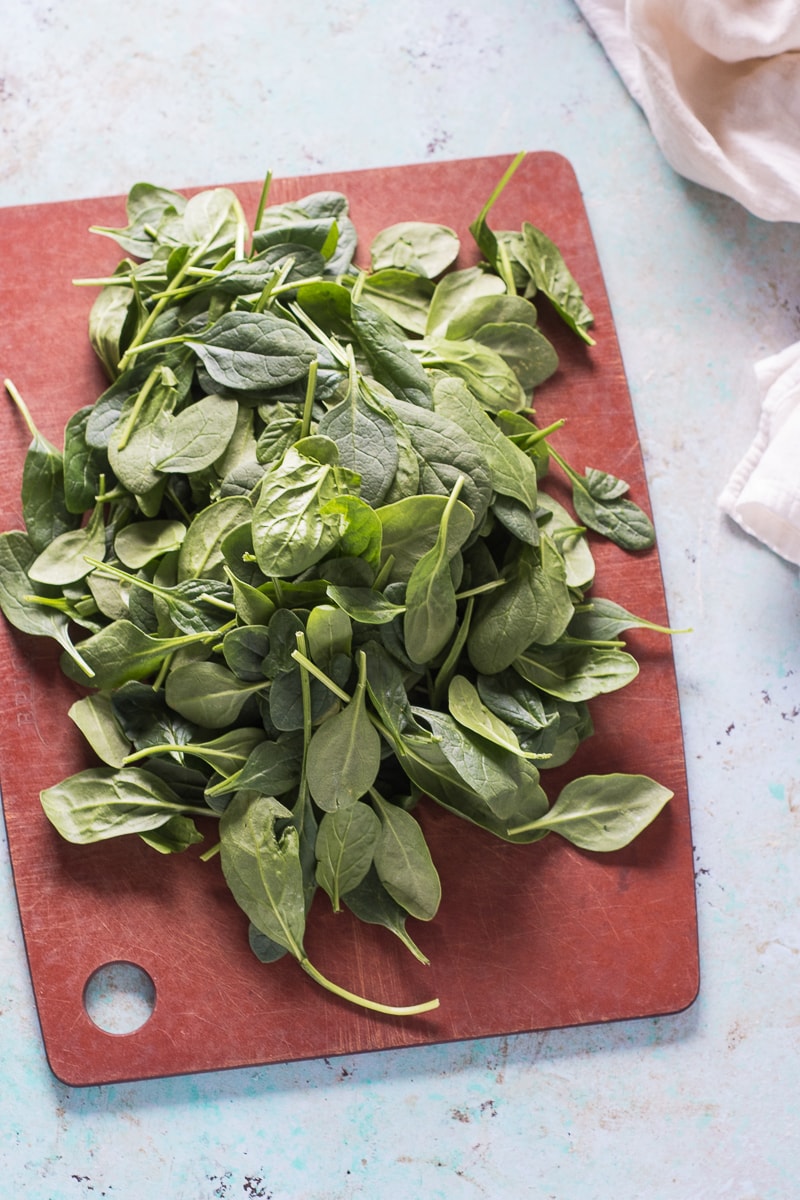 Then I had a version of spinach pizza at our dear departed neighborhood pizza joint, Great Lake, that changed how I thought about what a spinach pizza should look like. It was so incredibly green and pleasantly salty and it disappeared even before their excellent margherita pizza we brought home.
It set the wheels turning for me to make my own take on spinach pizza. I have no idea if I got close to Great Lake's version, but this is one makes me happy. I've been making it for several years now, and I can't get enough of it.
A pile of raw shredded spinach gets tossed with olive oil, garlic, some grated parmesan cheese, and a serious dose of crushed red pepper flakes.
Then it gets mounded almost implausibly high on a thinly stretched pizza dough, slicked with a light coating of olive oil with a dusting of flaky sea salt and a sprinkle of shredded mozzarella.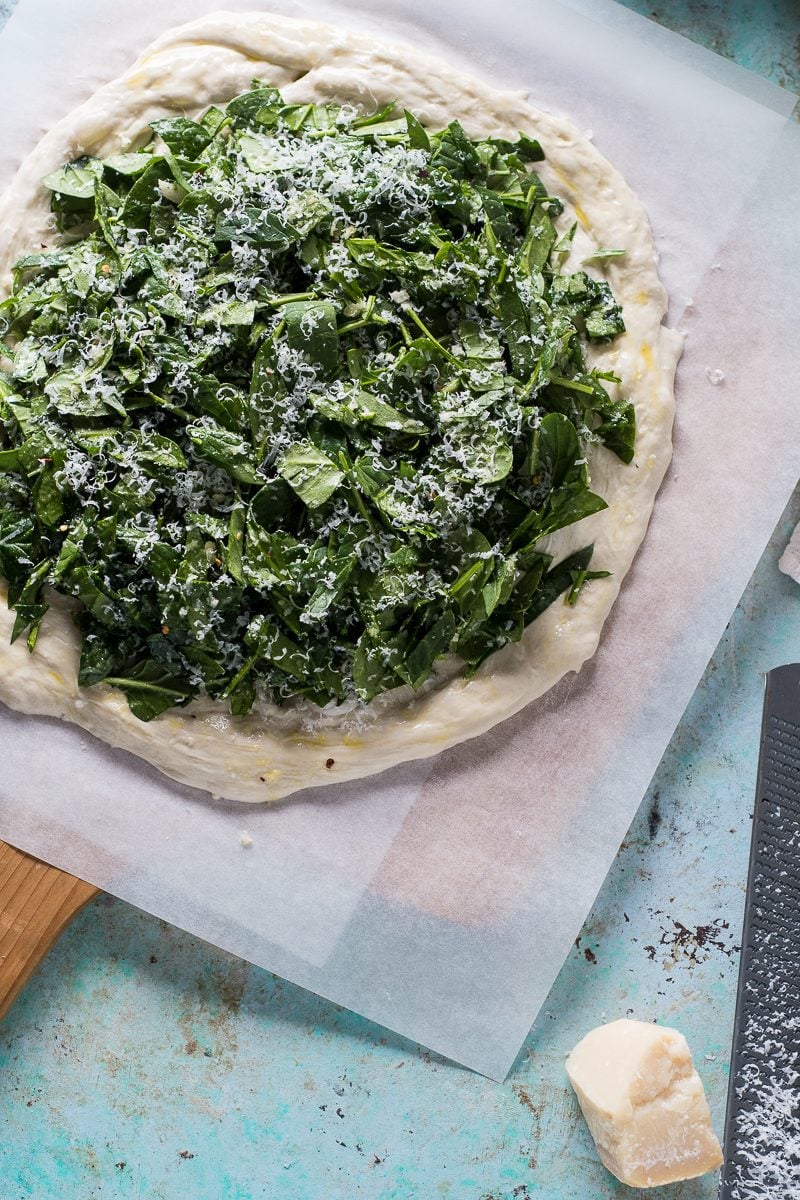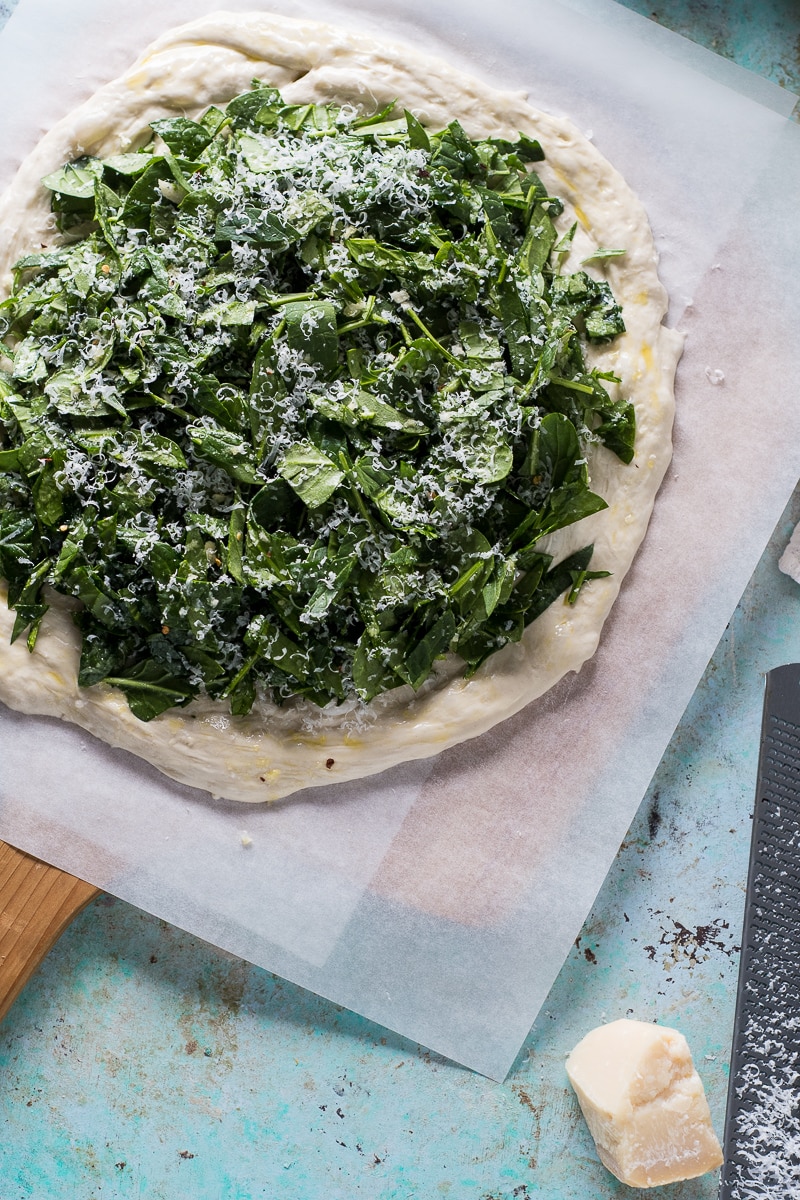 Then it goes into a blazing hot oven where the spinach slumps into a thin layer while the edges of the crust bubble and puff and turn deep golden brown.
The hot dry oven cooks the spinach quickly and helps some of the moisture evaporate so the crust stays crisp. This pizza is not just spinachy, but also garlicky with a real kick of heat on the back end.
I can't get enough of it.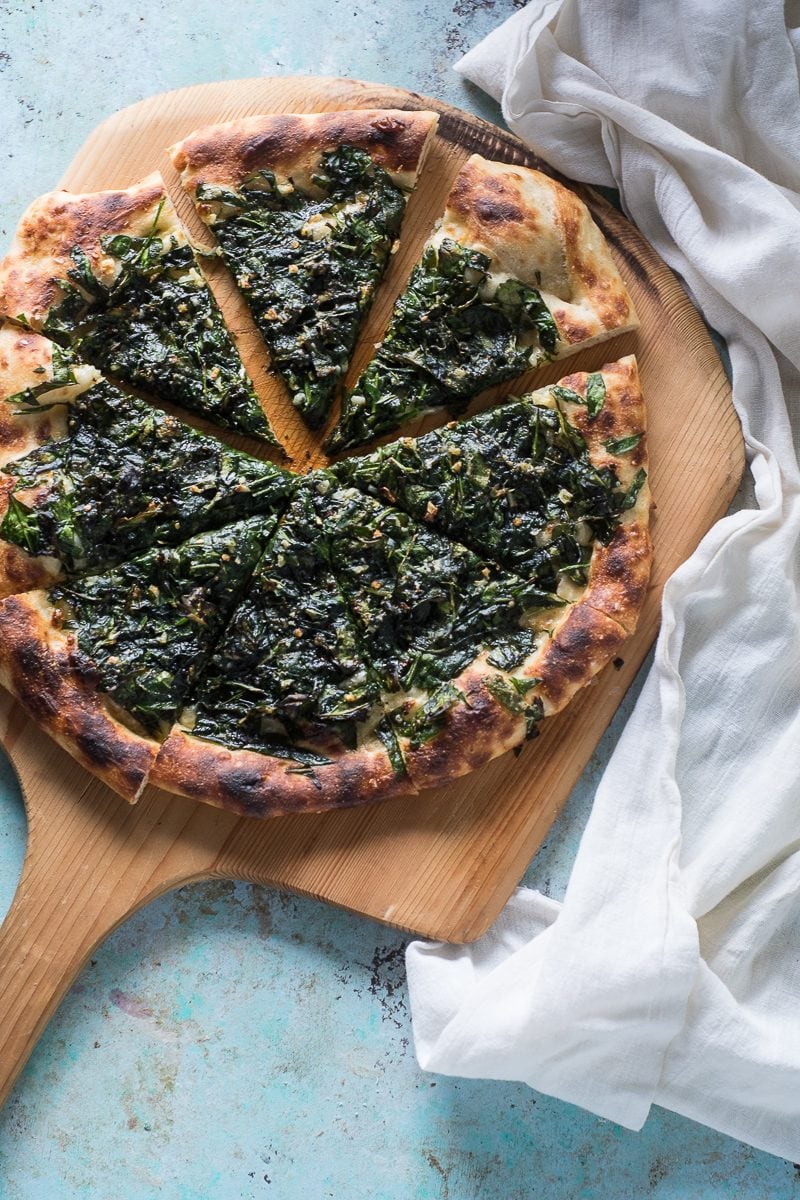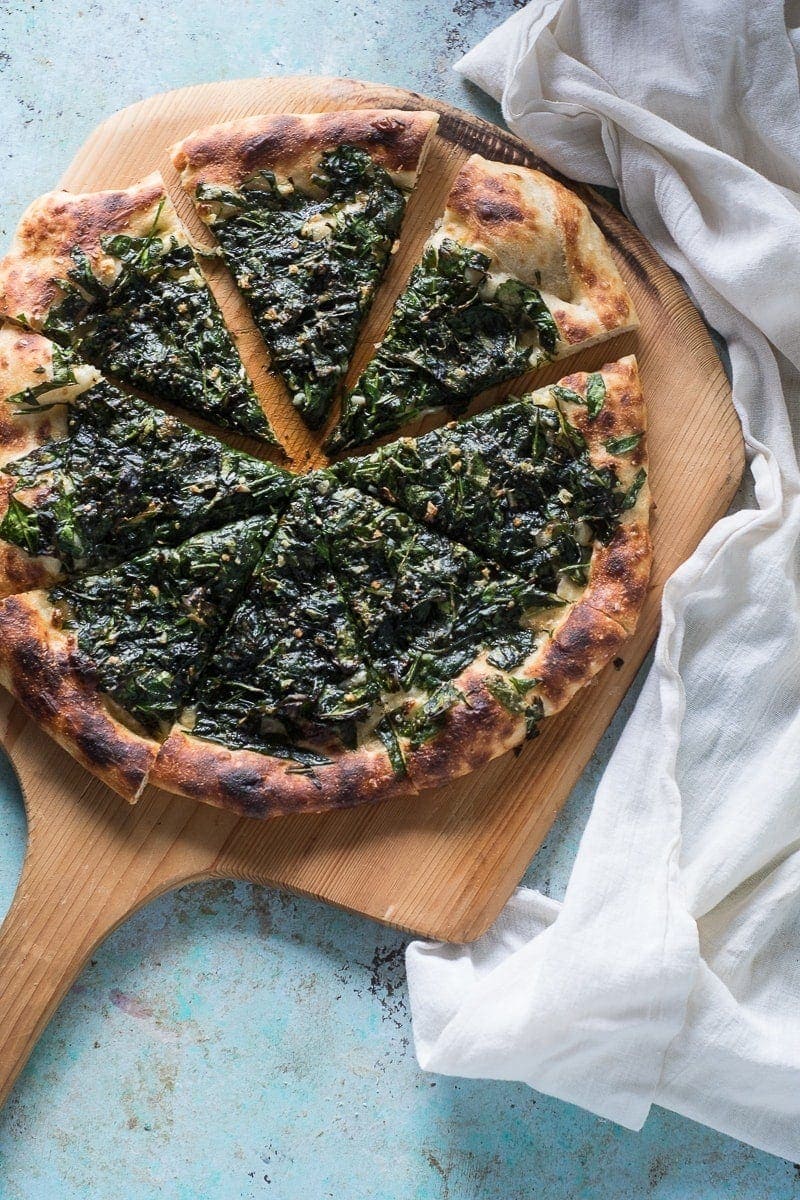 Yield: 1 14-inch pizza
Spicy Garlicky Spinach Pizza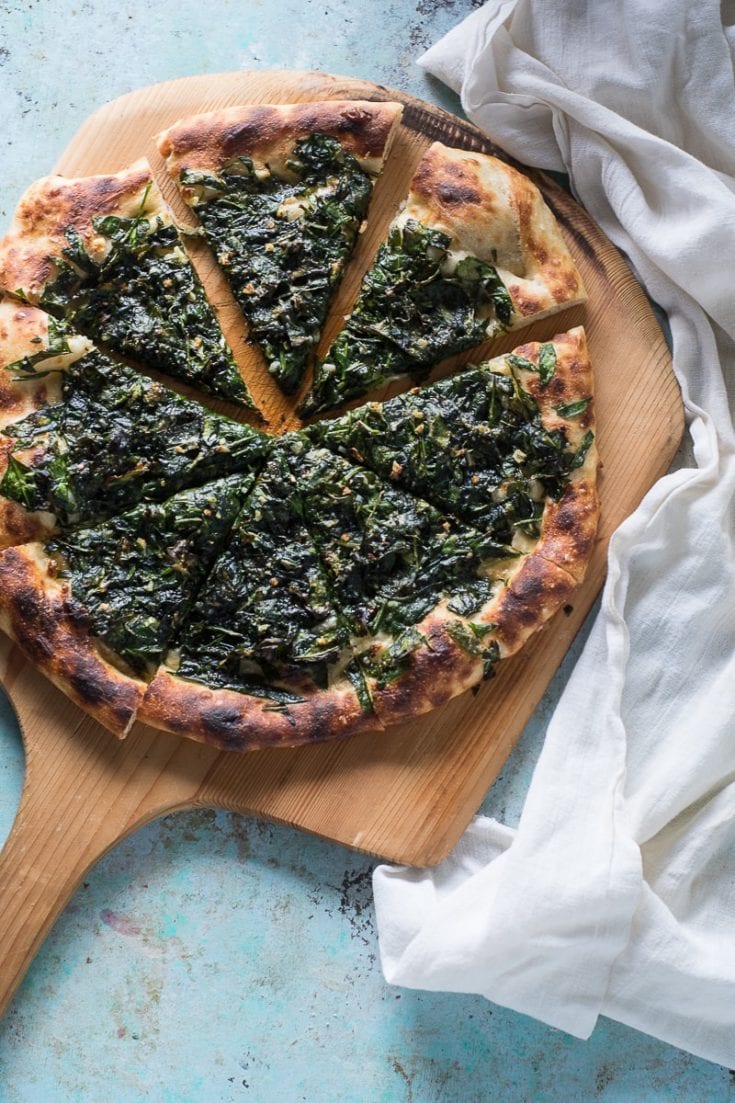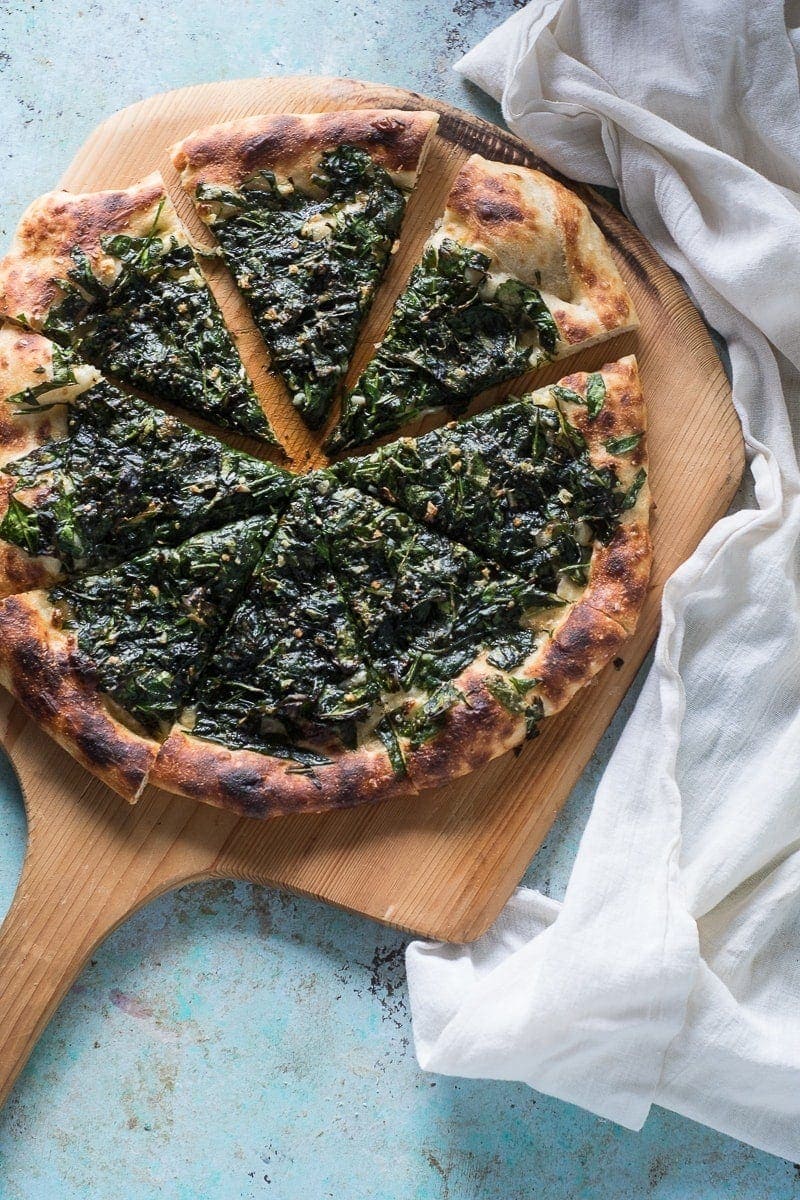 This spinach pizza is crusty and garlicky and spicy and so incredibly green. I do a variation on this with kale that's also tremendous. You can use any pizza dough recipe you like here (my recipe for it is here), or even start with a ball of premade dough like those available at Trader Joe's or Whole Foods. My pizza gurus are Peter Reinhart and Jim Lahey, both of whose books are worth looking at if you're serious about pizza making. The most important things are to let your dough rest overnight in the refrigerator, then stretch it gently into shape (no rolling pins!) and to crank your oven as high as it will go. A pizza stone is nice to have. A pizza steel is even better. But a sheet pan will work if that's what you have at home. I like to grate my parmigiano reggiano with a microplane zester, which makes a pile of fluffy grated cheese (if you use pre-grated parmesan, you may want to use a little more so it gets well distributed throughout the spinach). I like to grate my mozzarella with a box grater, which works better for the softer cheese. I usually build my pizza on parchment paper, and that works for me–if you're good with a peel, feel free to skip the parchment.
Ingredients
5 ounces (142 grams [one clamshell package]) baby spinach, washed and spun dry
2 cloves garlic, minced
1/2 teaspoon crushed red pepper, use 1/4 teaspoon if you're very heat sensitive
3 ounces (85 grams) shredded aged mozzarella
1/2 ounce (14 grams) finely shredded parmigiano reggiano
2 tablespoons olive oil, divided
flaky sea salt, to taste
Instructions
About one hour before you want to eat, preheat your oven with your pizza stone or steel inside (no need to put a pan in the oven if you don't have a stone/steel) to 500-550° F (as high as your oven will go).
Gently stretch your pizza dough into a circle or oval as large as will fit comfortably on your pizza stone (or steel or baking pan). Mine is usually about 14″ in diameter. Spread one tablespoon of olive oil over the pizza dough and sprinkle with sea salt, focussing especially around the edges. Sprinkle the shredded mozzarella cheese in a thin layer over the center of the stretched dough, leaving at least a one-inch perimeter around the edges.
Chop the spinach finely. Place the spinach, minced garlic, crushed red pepper flakes, remaining tablespoon of olive oil, and shredded parmigiano reggiano in a medium mixing bowl and toss until well combined. Add a pinch of salt and toss again. Pile the spinach mixture over the pizza dough, again leaving at least a one-inch perimeter around the edges.
Transfer to the hot oven, and bake for about 8 minutes or until the spinach has cooked down and the crust has deep brown spots on the edges.
Cool on a wire rack for about 5 minutes.
Slice and serve.
Nutrition Information:
Yield:
8
Serving Size:
1
Amount Per Serving:
Calories:

228
Total Fat:

10g
Saturated Fat:

3g
Trans Fat:

0g
Unsaturated Fat:

6g
Cholesterol:

11mg
Sodium:

428mg
Carbohydrates:

27g
Fiber:

1g
Sugar:

1g
Protein:

8g
Originally published on February 10, 2014.