I may earn from purchases through links in this post.
This peanut butter brittle is a delightful treat.
It's light and crisp, a bit like the inside of a Butterfinger.
That lightness is the result of a dash of baking soda that introduces about a zillion air bubbles and transforms brittle into a delicate, crunchable candy.
The peanut butter and absence of mix-ins make it thinner and lighter than other more traditional nut brittles you may have had (like this excellent cashew brittle).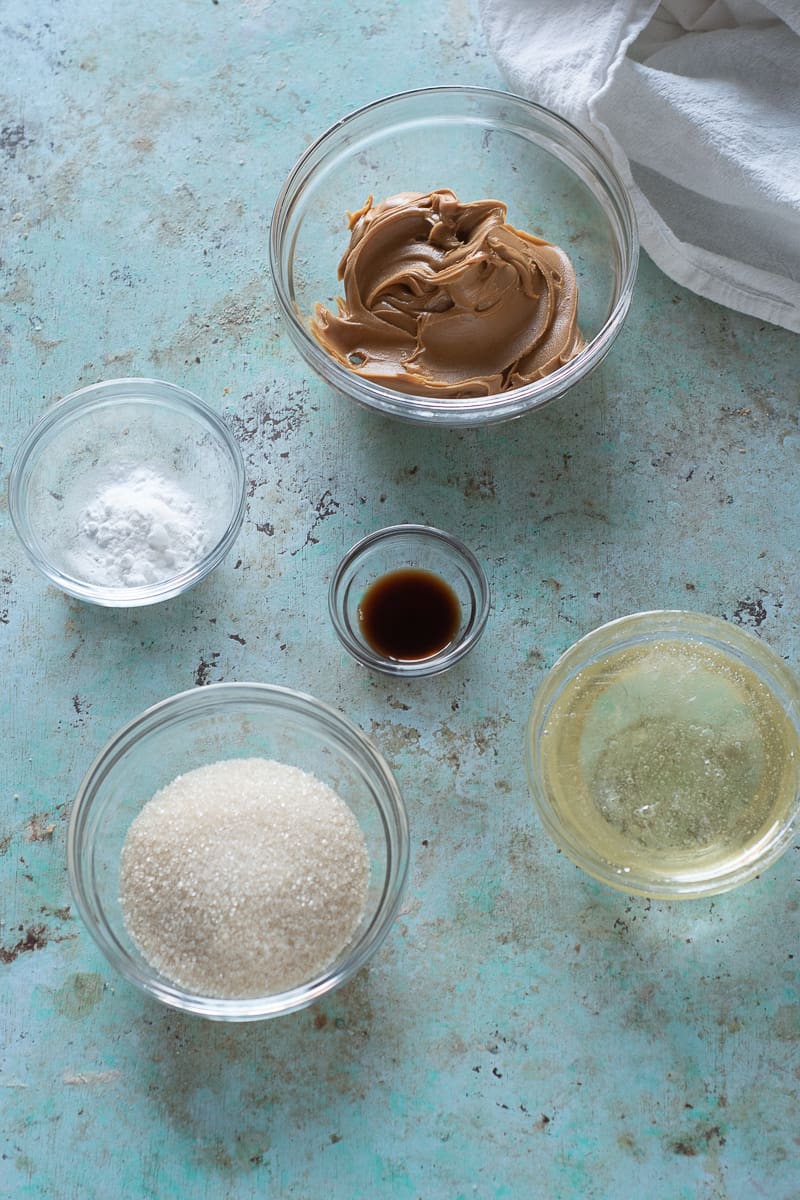 And it's so easy to make.
The ingredient list is short and easy to find at most grocery stores. It's just peanut butter, sugar, corn syrup, butter, baking soda, and a splash of vanilla.
I like to top it with a drizzle of melted chocolate, because, well, the combination a no-brainer. And I like to sprinkle on a bit of sea salt just to enhance the sweet-and-salty contrast.
But those embellishments are optional.
You do need a candy thermometer, but they're inexpensive and easy to find. (I like to use the analog kind that can clip onto the side of the pan so there's no worry about it falling into a vat of molten sugar.)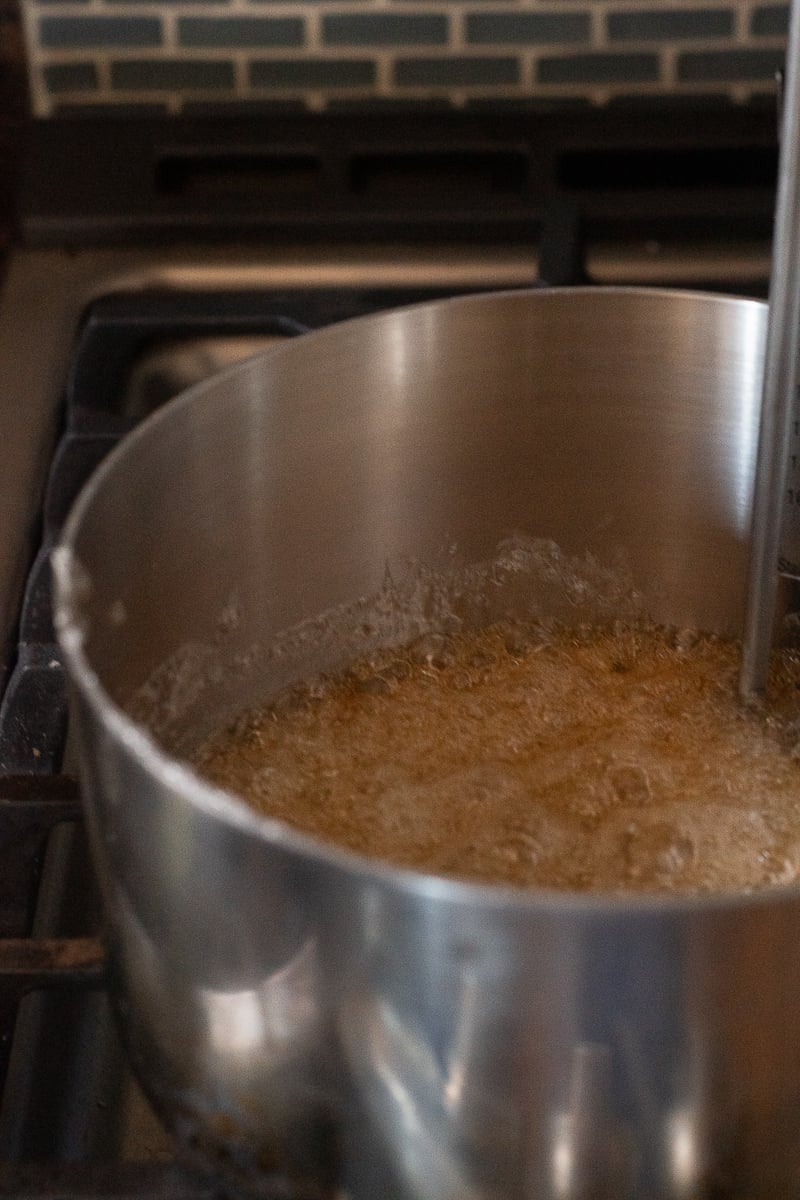 I know candy making can seem intimidating, but there's no reason for that.
The important thing is to be organized. Have everything measured out and your sheet pan lined and nearby before you turn on the stove.
And move swiftly when the sugar mixture comes to temperature. Hot sugar can go from caramelized goodness to burnt smoking mess in about 30 seconds.
Then spread it quickly to get it as thin as possible to keep it delicate. It begins to harden pretty much immediately after it hits the sheet pan.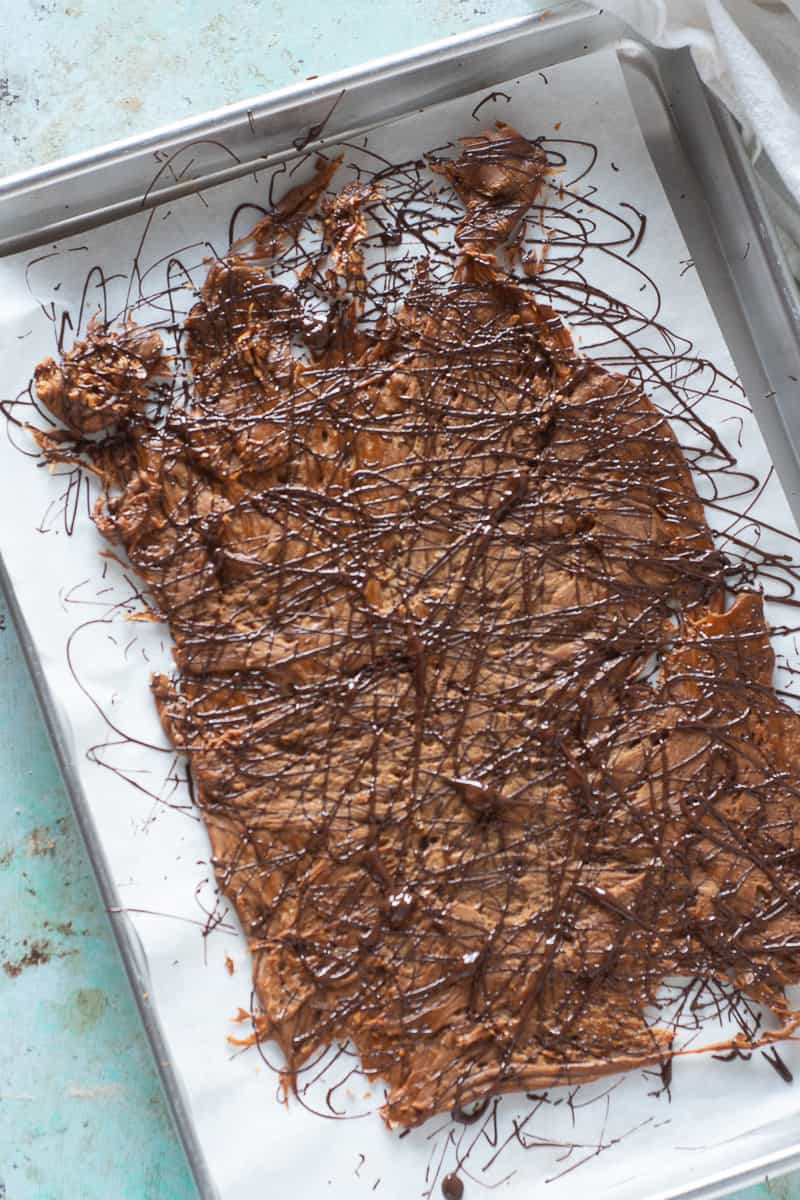 If you're going to add chocolate—and you should—you'll want to wait until the brittle has cooled to add it.
If you want to go the extra mile you can temper the chocolate, which is what will keep it shiny and snappy when it cools without any cloudy streaks.
For this small amount of chocolate I do a sort of cheater tempering that isn't perfect but gets you most of the way there. You just zap it in the microwave for intervals of 15 seconds, stirring between each round, until half of the chocolate is melted, then keep stirring it until the residual heat melts the rest of the chocolate.
Then comes the fun part: taking a fork and flinging chocolate in a haphazard pattern over the surface of the peanut butter brittle. Then sprinkle a bit of sea salt over the chocolate.
You'll want to let the chocolate set before breaking up the brittle.
But that's it! Easy peasy.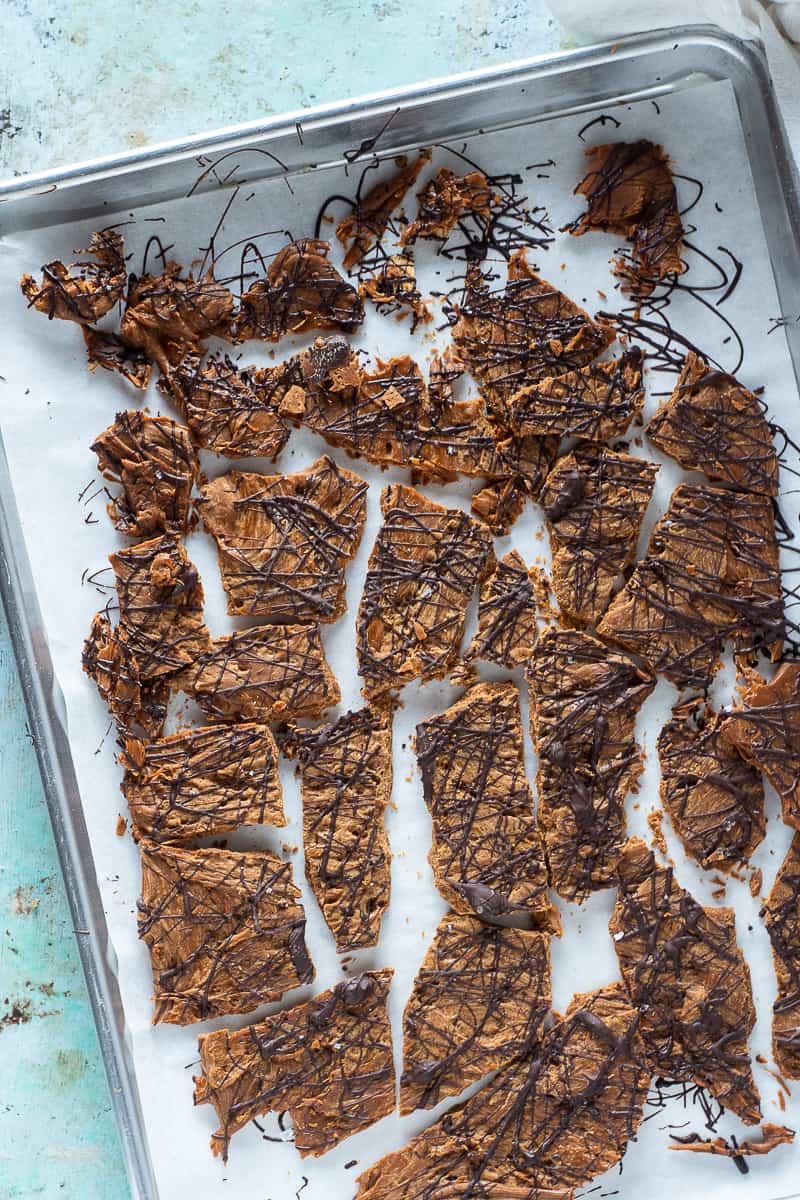 Yield: 1 18" x 13" pan of brittle pieces
Peanut Butter Brittle with Chocolate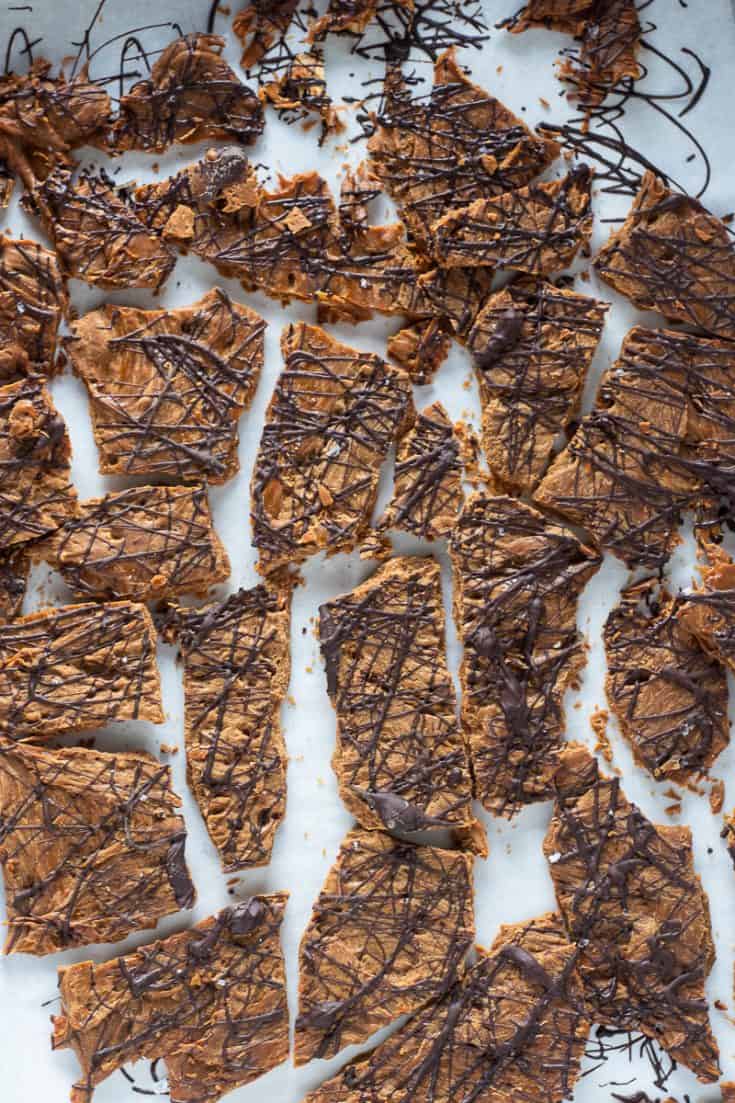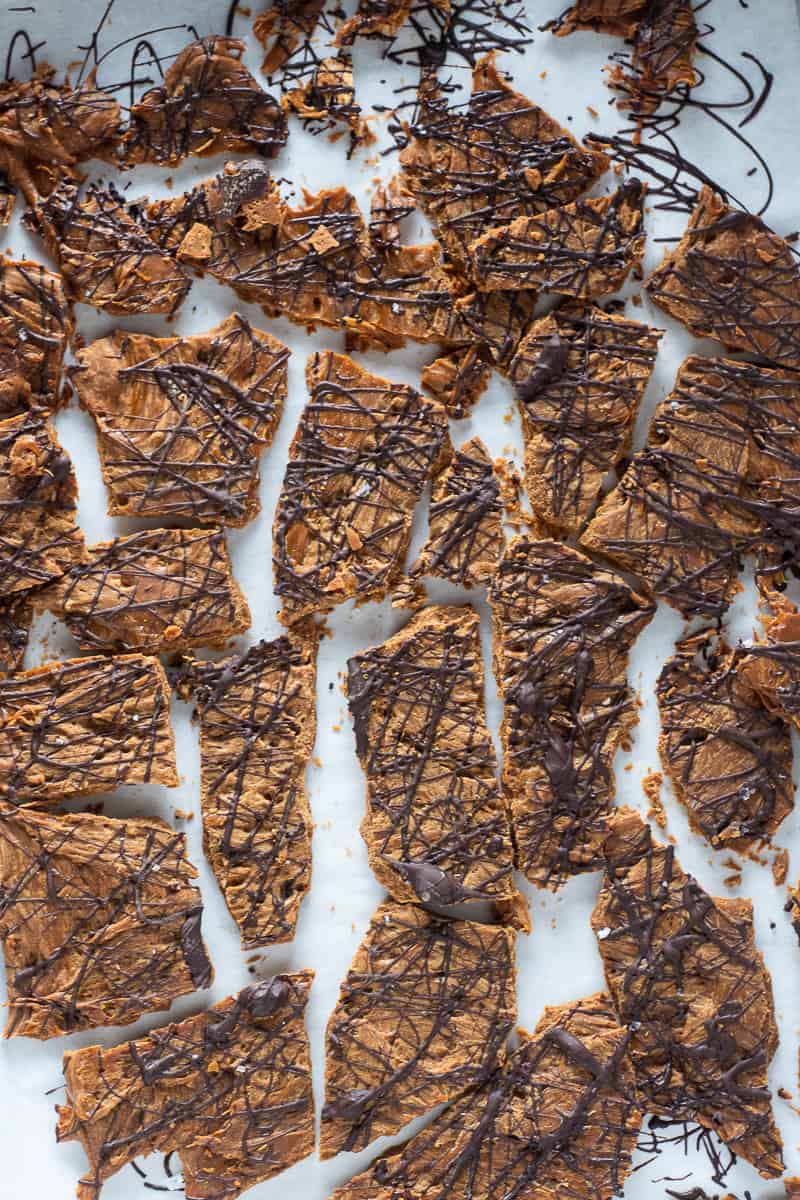 This peanut butter brittle is light and crisp like the inside of a Butterfinger candy bar. It's adapted from a peanut butter brittle recipe I came across in Stephanie Izard's Gather and Graze.
This isn't the place for natural peanut butter—use a traditional creamy peanut butter like Skippy or Jif or similar to make sure this blends smoothly.
Measure everything before you start heating the sugar mixture. And be careful when working with hot sugar (sugar burns hurt!).
You can use any kind of chocolate you like to top this. I like a bittersweet chocolate, and that's what's pictured here, but anything in milk or dark ranges will work here.
Total Time
1 hour
15 minutes
Ingredients
2/3 cup creamy peanut butter
1/2 cup sugar
1/2 cup corn syrup
1 tablespoon unsalted butter
1/4 cup water
1 1/2 teaspoons baking soda
2 ounces (1/3 cup) chopped chocolate, milk or dark
flaky sea salt, for sprinkling
Instructions
Line a half sheet pan with parchment paper or a silpat mat.
Heat the peanut butter in the microwave until it gets a bit melty, about 30 seconds.
Add the sugar, corn syrup, butter, and water to a deep, heavy bottomed saucepan and heat over medium-high heat until the mixture reaches 295°F. Remove from the heat and stir in the baking soda—carefully! The mixture will bubble up furiously! Stir in the vanilla and whisk in the melty peanut butter until smooth. Immediately turn out onto the lined sheet pan and spread into a thin layer.
Let cool for about 1/2 hour before topping with chocolate. Melt the chocolate in the microwave for 15 second intervals, stirring between each round, until about half of the chocolate is melted. Then keep stirring until the remainder of the chocolate is melted with carry-over heat. (Or, if you prefer, temper the chocolate.)
Use a fork to drizzle the chocolate over the brittle in a haphazard pattern. Sprinkle with sea salt. Let sit until the chocolate has set, about 30 minutes. Break into pieces and store in an airtight container.
Notes
Keeps in an airtight container for at least a week.
Recommended Products
As an Amazon Associate and member of other affiliate programs, I earn from qualifying purchases.