I may earn from purchases through links in this post.
This Swiss chard and gruyere strata is the just the thing for a lazy weekend morning.
It's a one-pan, no-fuss kind of meal that has enough greens to nod toward respectability and enough cheese to feel indulgent.
It's somewhere between a quiche and stuffing, but less work than either.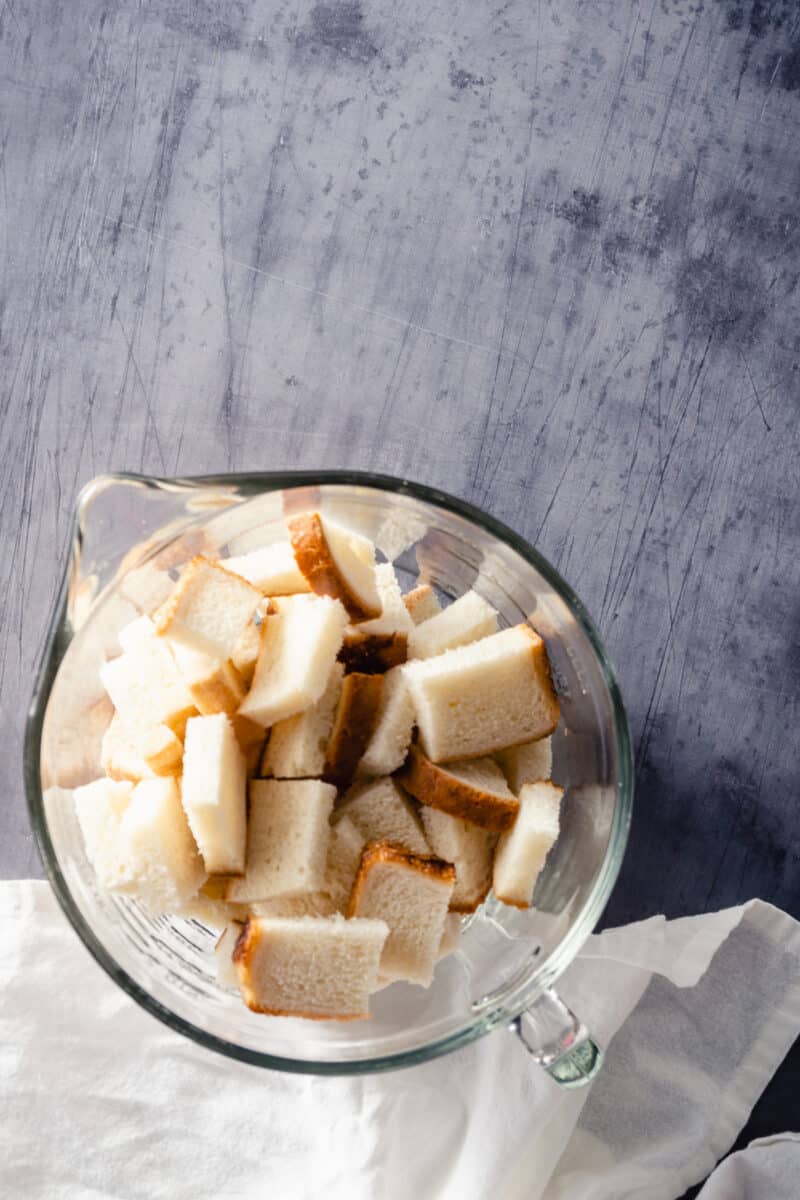 Slice up some bread into rough cubes and dry them out in the oven for a few minutes while you slice and onion and de-rib some chard.
(It's a great way to use up bread that's going a bit stale, too.)
Then saute the onion and chard with a bit of smoked paprika and thyme for some savory depth of flavor.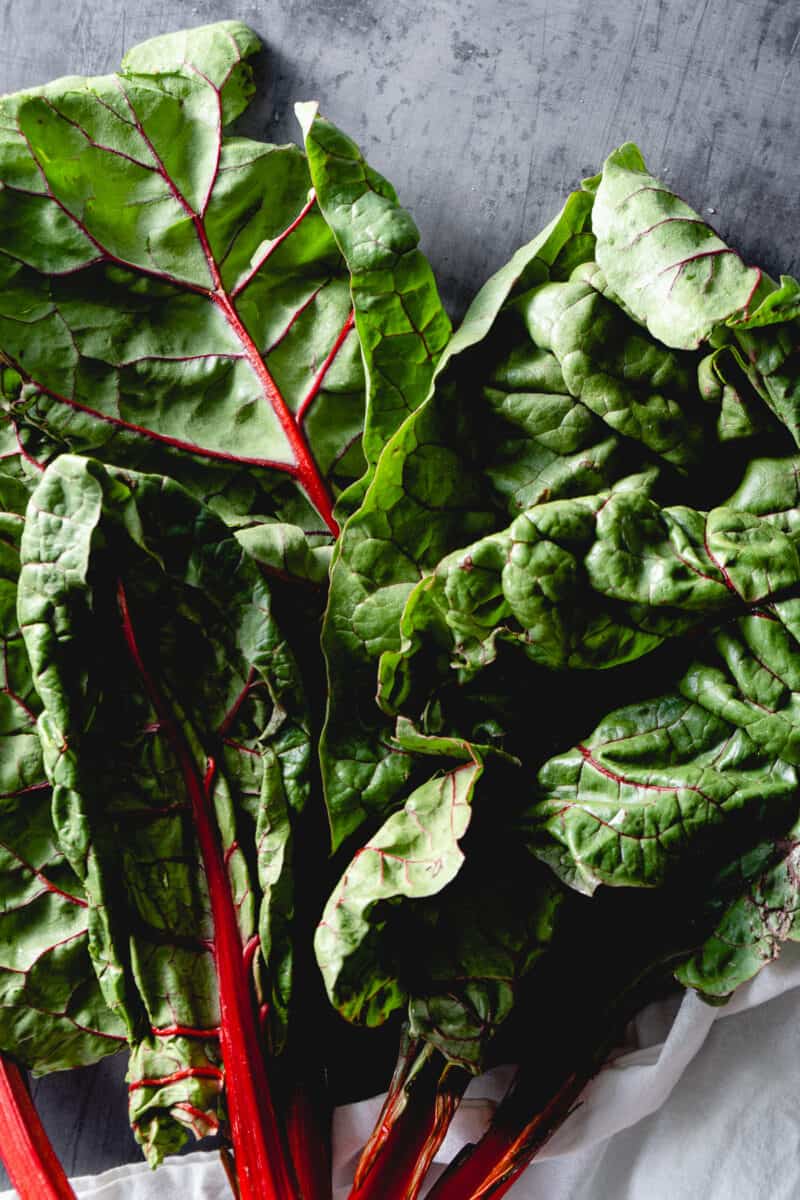 The onions get soft and slightly caramelized around the edges, and the pile of chard cooks down to a manageable amount that fits tidily in a skillet.
It's not quite spinach levels of shrinkage, but it's still kind of amazing.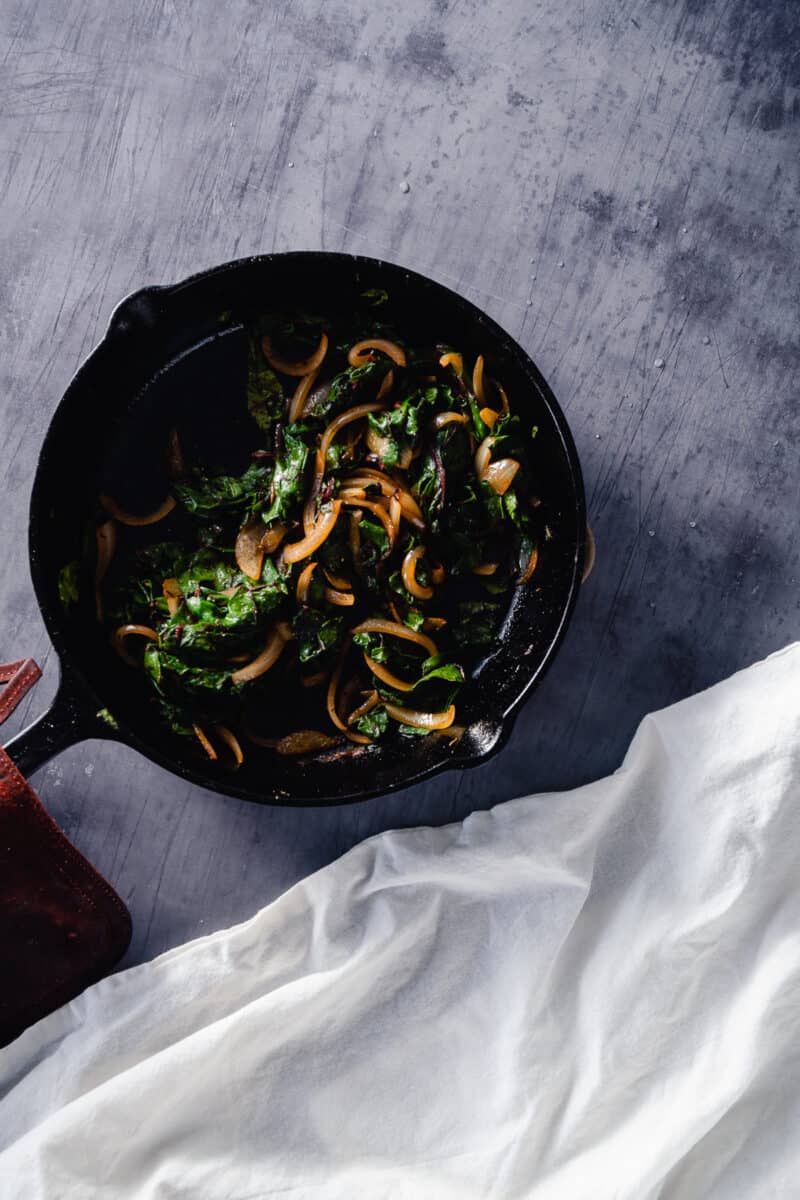 Then it's time to crack some eggs into a bowl and whisk them together until they're sufficiently scrambled.
Then add some milk to make it a nice light custardy base.
Add some salt and pepper.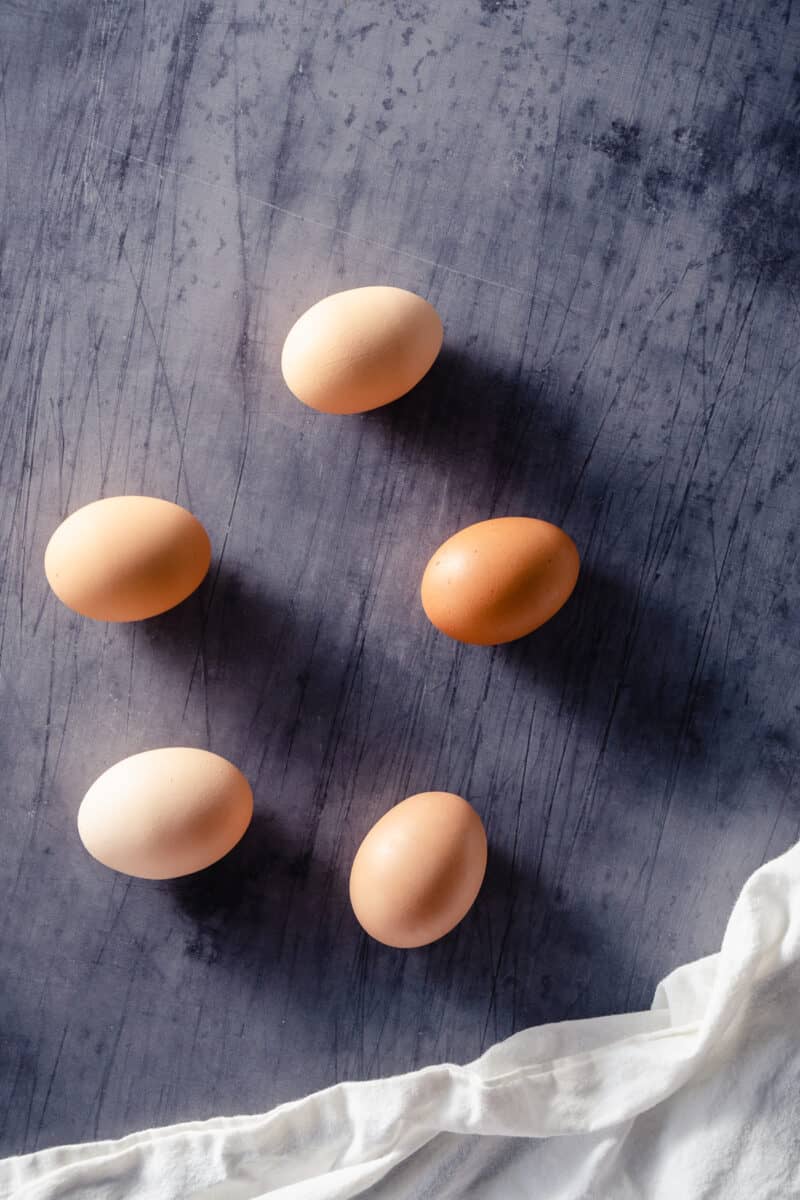 Then it's time to grate some cheese.
I like gruyere in this because it's sharp and melts nicely, but this is an incredibly flexible sort of dish that will work with whatever cheese you want.
A nice sharp cheddar or a gouda come to mind as nice alternative options.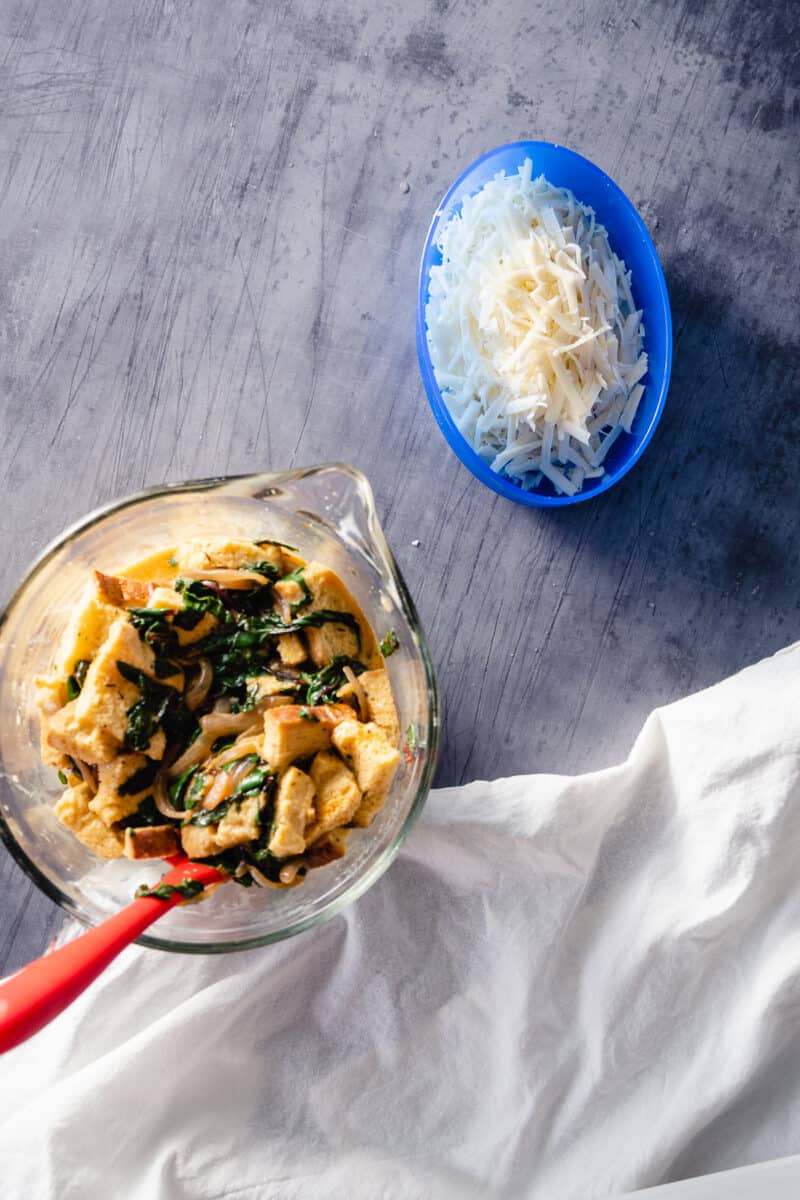 Then it's time to mix pretty much everything together.
Except remember to save about half the cheese to sprinkle on top, where it can show off.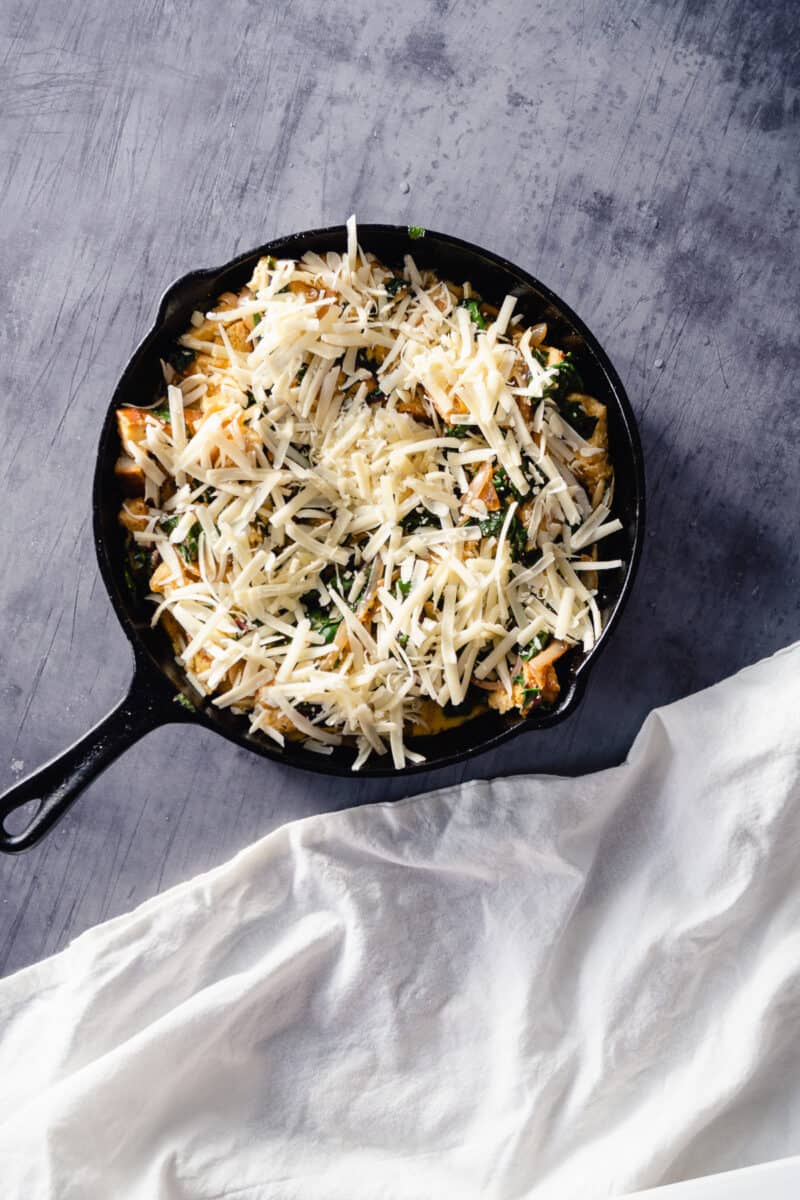 Then it's time to tuck everything into your skillet. (If you don't have an oven-safe skillet, you can absolutely bake this in any similarly sized baking dish.)
You can do all of this the night before, if you're the sort of person who likes to do the work ahead of time. Then cover it with plastic wrap or foil and stash it in the refrigerator overnight.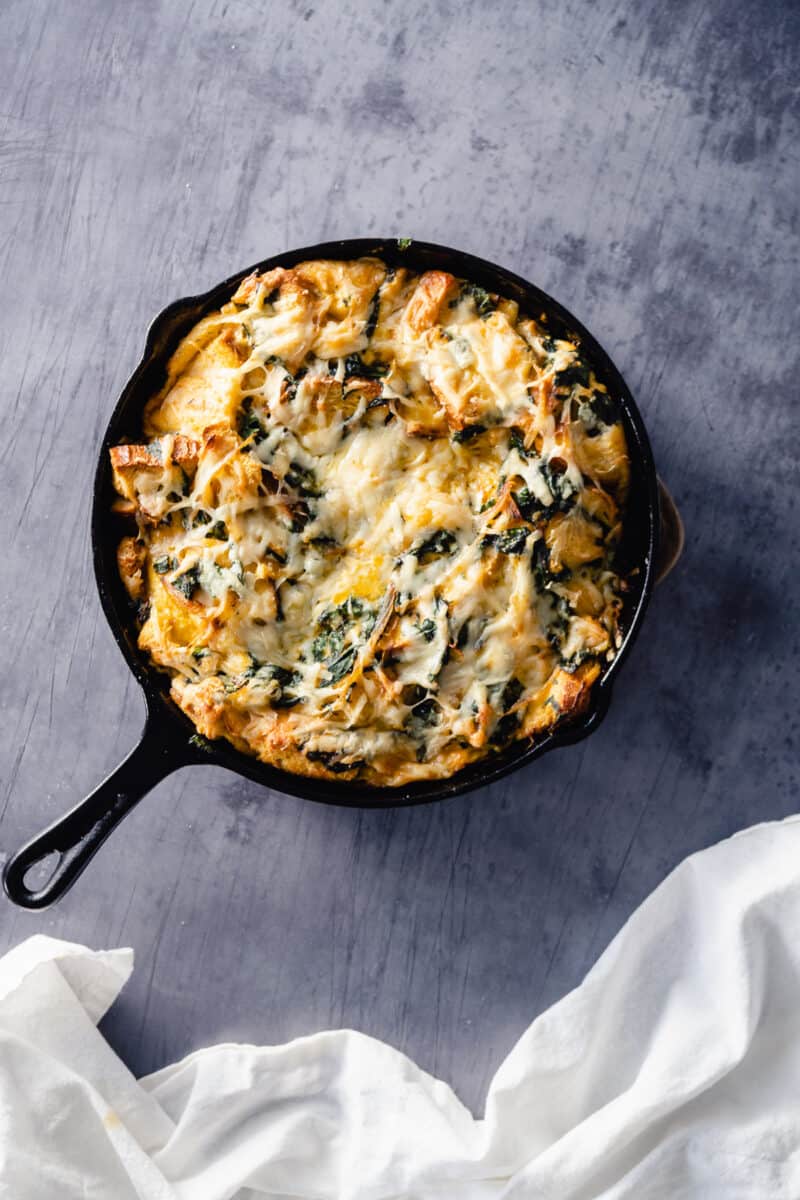 Or you can bake it right away, if you're assembling it when you want to eat it.
You have options, my friends.
In the oven it gets gloriously puffed and the edges get crisp and browned.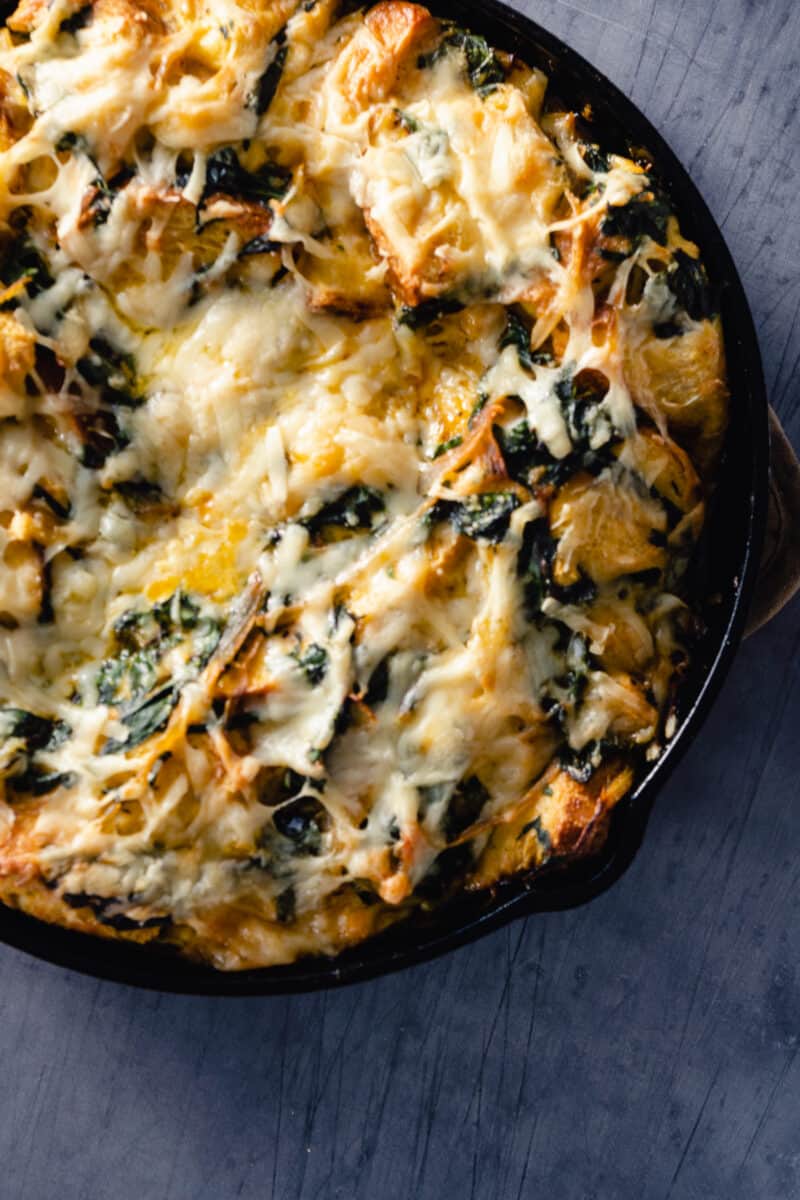 And then you get to dig in.
Yield: 4 servings
Swiss Chard and Gruyere Strata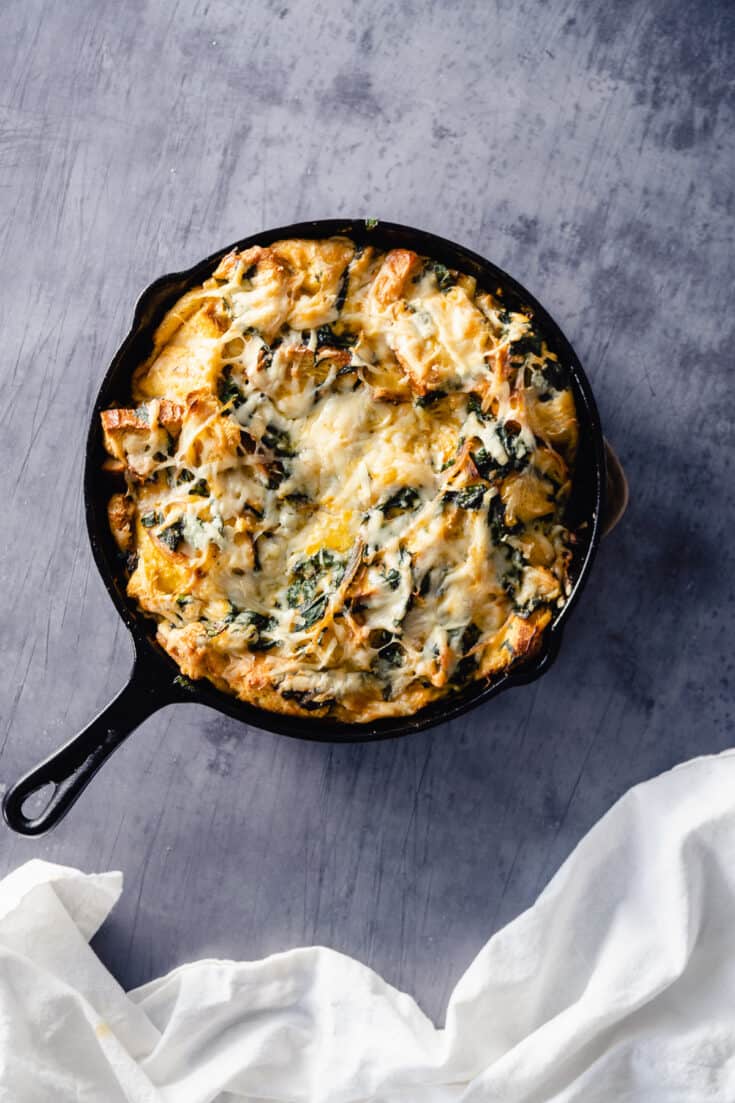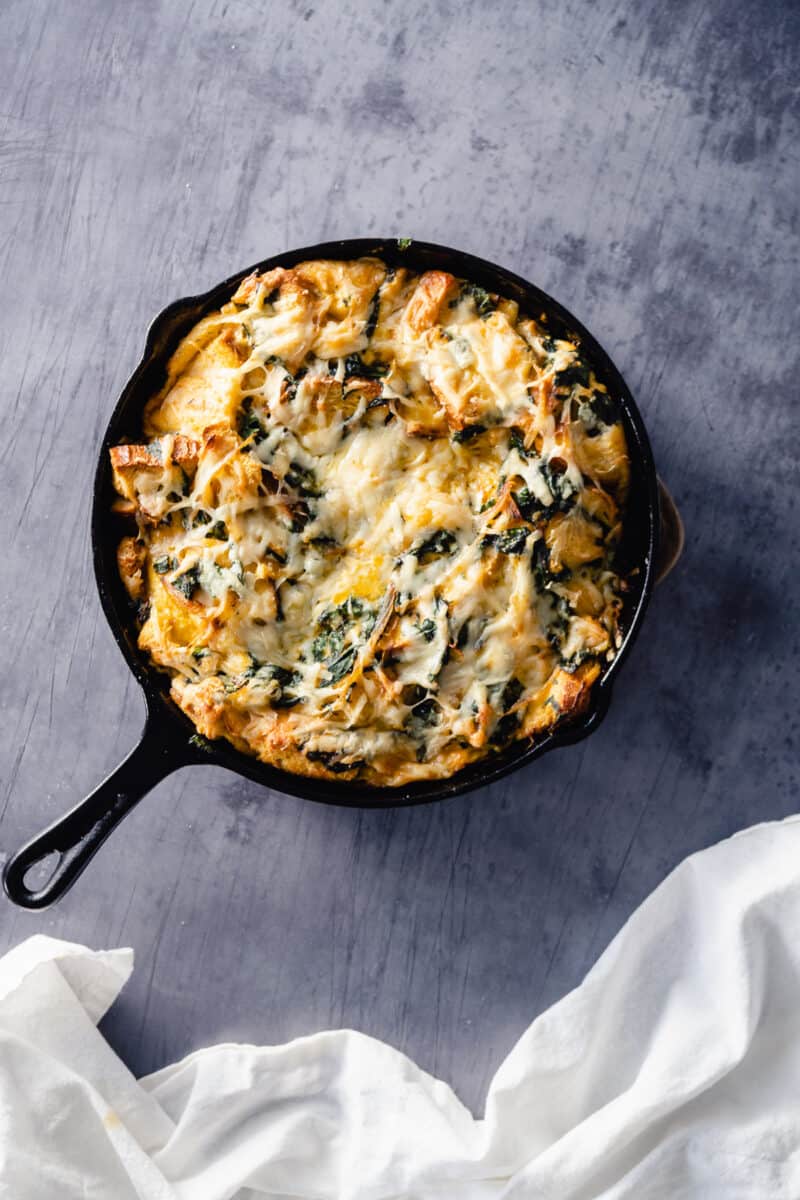 This strata is a hearty bread and egg dish. It comes together quickly and can be assembled the night before and baked in the morning if that makes your life easier.
This is an incredibly flexible dish and can be made with pretty much any bread or cheese you like.
This can be baked in an oven-safe 8" skillet or 9" pie plate or 8"x8" square baking dish.
Total Time
1 hour
5 minutes
Ingredients
6 ounces (about 5 slices) country style white bread, cut into 1 1/2-inch pieces
1/2 teaspoon smoked paprika
1/2 teaspoon dried thyme
1 medium onion, halved and sliced about 1/4-inch thick
1 bunch Swiss chard, ribs removed, sliced into 2-inch pieces
1/2 teaspoon kosher salt, plus more to taste
5 large eggs
1 1/2 cups whole milk
1 teaspoon Dijon mustard
4 ounces gruyere cheese, shredded
black pepper, to taste
Instructions
Preheat oven to 350°F. Place the bread pieces in an even layer on a baking sheet and toast until dried out, about 8-10 minutes.
Meanwhile, heat a skillet over medium-high heat, and add some olive oil, smoked paprika, and thyme. Saute the onion until it softens, turns translucent, and begins to brown around the edges, about 5 minutes.
Add the chard to the pan and season with salt. If you can't fit it all in the pan, add it in batches after some of it cooks down. Saute until slumped and soft, about 4 minutes.
Crack the eggs into a large mixing bowl and whisk until scrambled. Add the milk and whisk again. Add 1/2 teaspoon kosher salt, the Dijon mustard, and some black pepper.
Add the vegetables and bread and about half of the cheese to the egg mixture and stir to combine.
Add some olive oil to your oven-safe skillet or baking dish and add the strata mixture to the pan. Top with remaining cheese. (At this point, the dish can be covered and refrigerated overnight and baked the next day.)
Bake until the custard is set in the center and the whole thing looks puffed and browned around the edges, about 45 minutes. Let cool slightly, serve.
Recommended Products
As an Amazon Associate and member of other affiliate programs, I earn from qualifying purchases.
Nutrition Information:
Yield:
4
Serving Size:
1
Amount Per Serving:
Calories:

422
Total Fat:

23g
Saturated Fat:

10g
Trans Fat:

0g
Unsaturated Fat:

10g
Cholesterol:

279mg
Sodium:

897mg
Carbohydrates:

31g
Fiber:

3g
Sugar:

9g
Protein:

24g