I may earn from purchases through links in this post.
As a northerner, I may not be allowed to have a say about buttermilk biscuits.
So I want to be upfront, in case any southerners are lurking, that I am coming at this without having grown up on biscuits made with White Lily (which, for the uninitiated is a low protein flour made with soft wheat that's widely available in the American south and is considered by many southerners [ahem, Amanda Mull] a biscuit essential.)
In fact, the biscuits I most commonly remember eating as a kid came from one of those refrigerated tubes that, so satisfyingly, popped open, but resulted in rather unsatisfying sad, dry biscuits that were hardly flaky or buttery.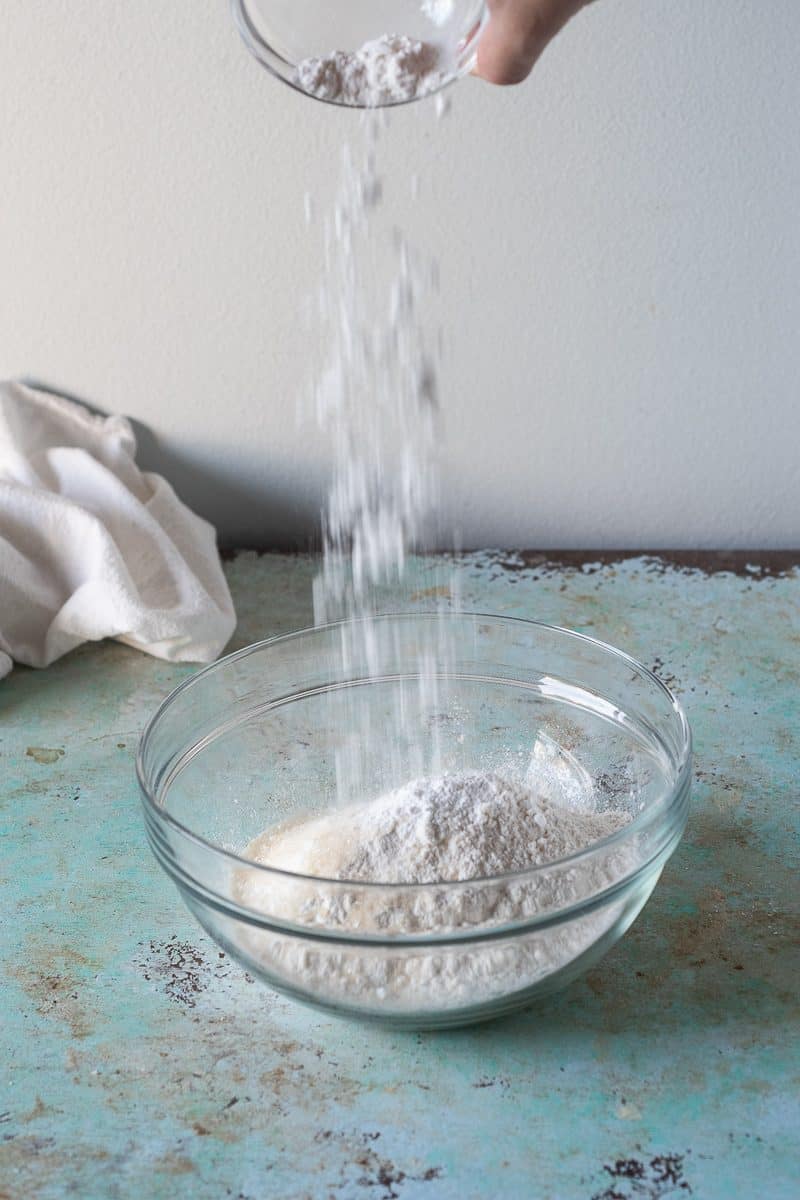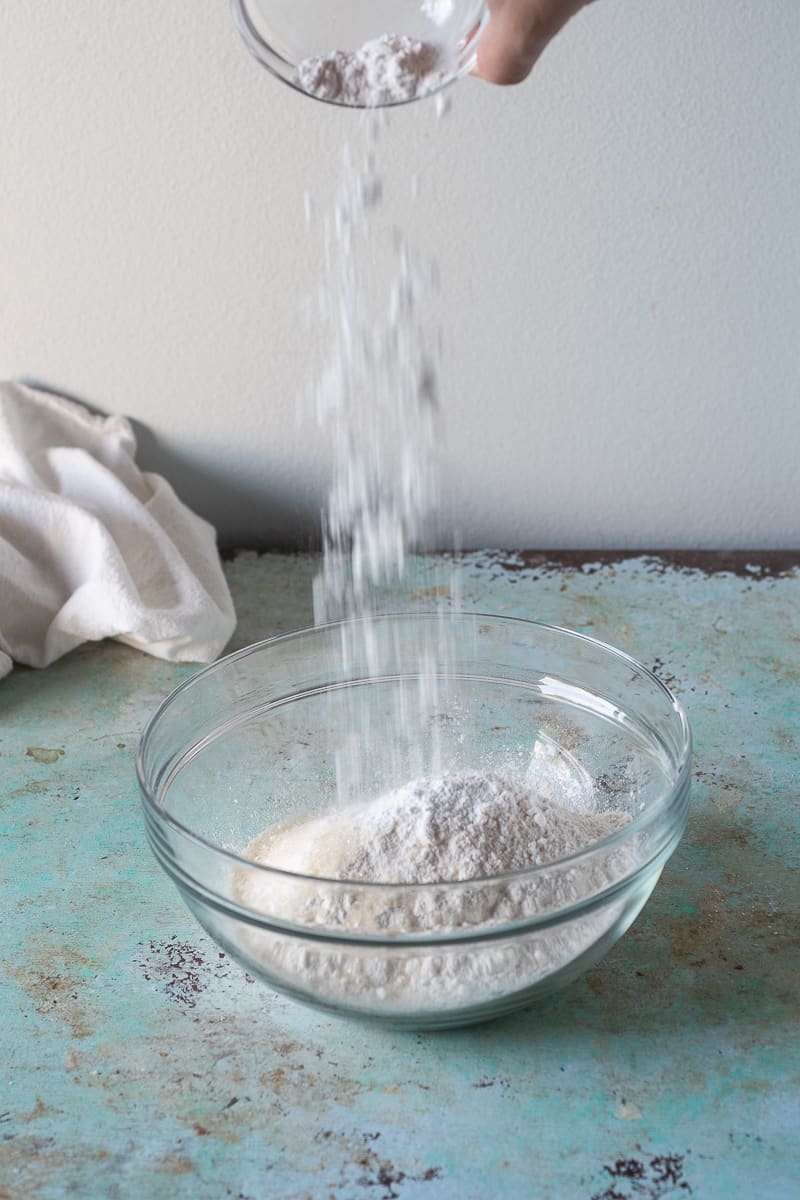 In college, we kept a yellow box of pre-mixed baking mix around, which produced tolerable pancakes and biscuits that tasted an awful lot like the aforementioned pancakes.
These buttermilk biscuits beat those by a country mile.
They are fluffy in the middle and crisp on the outside. And you can definitely taste that they're made with butter.
And they're hardly any more work than the pre-fab versions.
And they work with ingredients that are easily accessible at any grocery store in the U.S.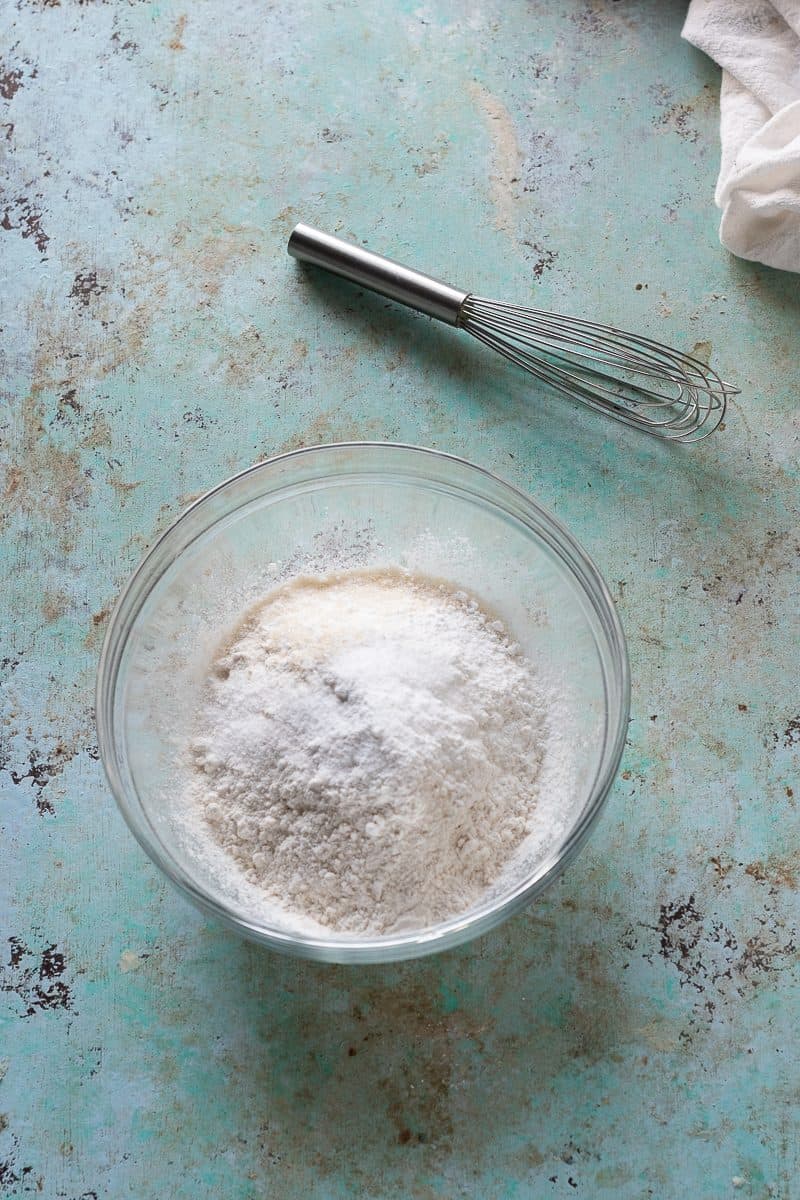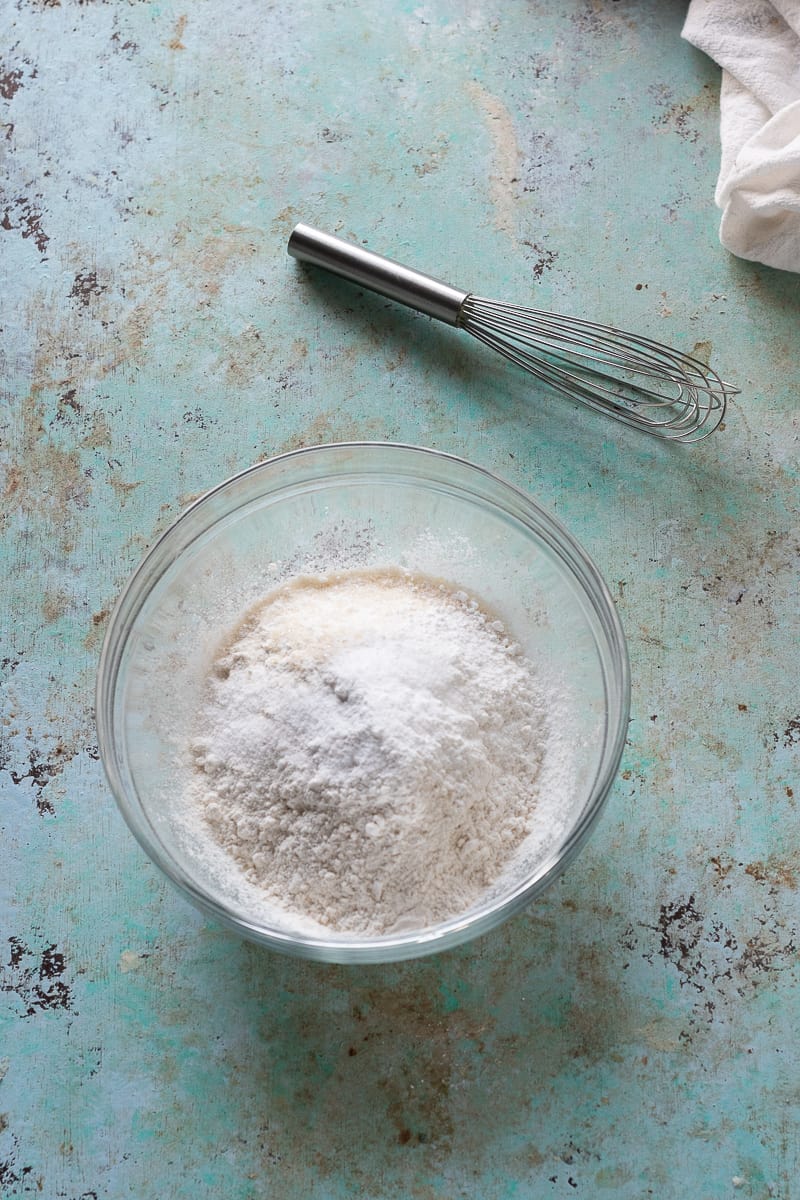 There are a few tricks to getting them right, though.
The first is to start with a low-ish protein all-purpose flour (like Gold Medal) rather than a high protein all-purpose flour (like King Arthur, which I love in general but not so much here).
If you live in a place where White Lily is available, by all means use it, but this recipe is designed to work with a more middle-of-the-road flour, so there's no need to go the the trouble and expense of ordering anything.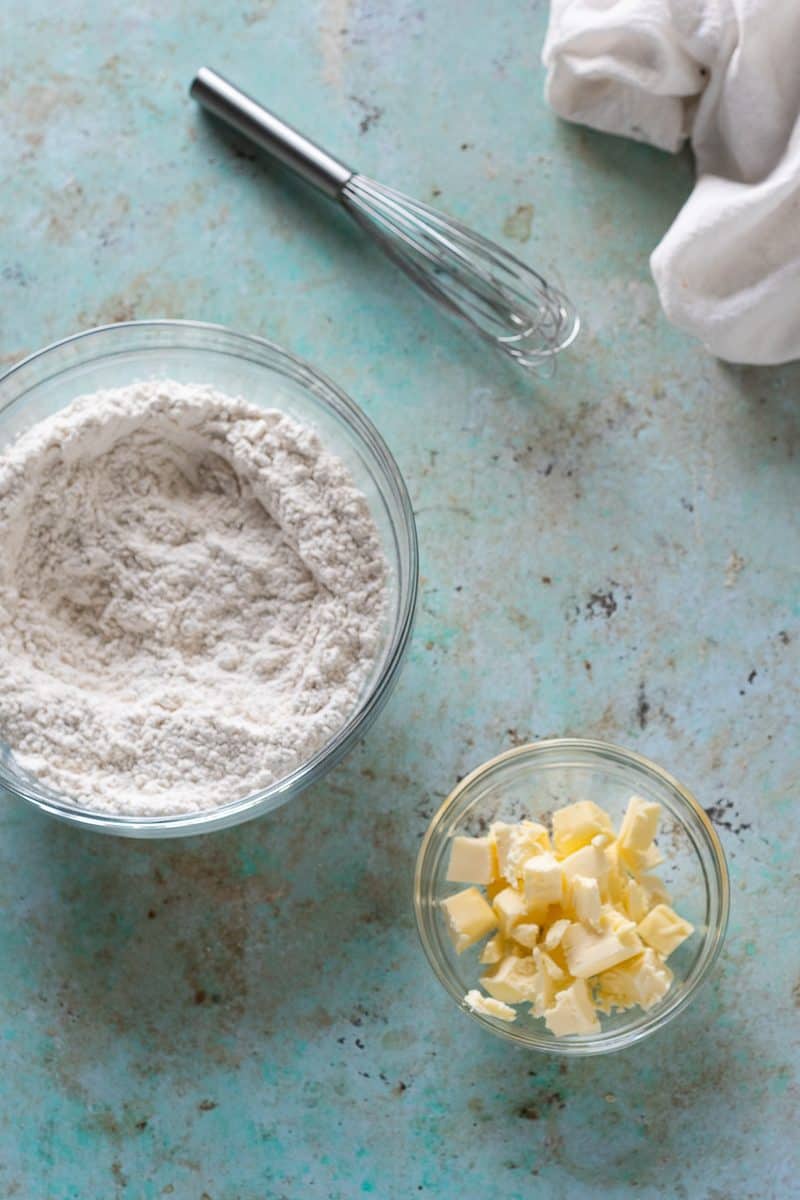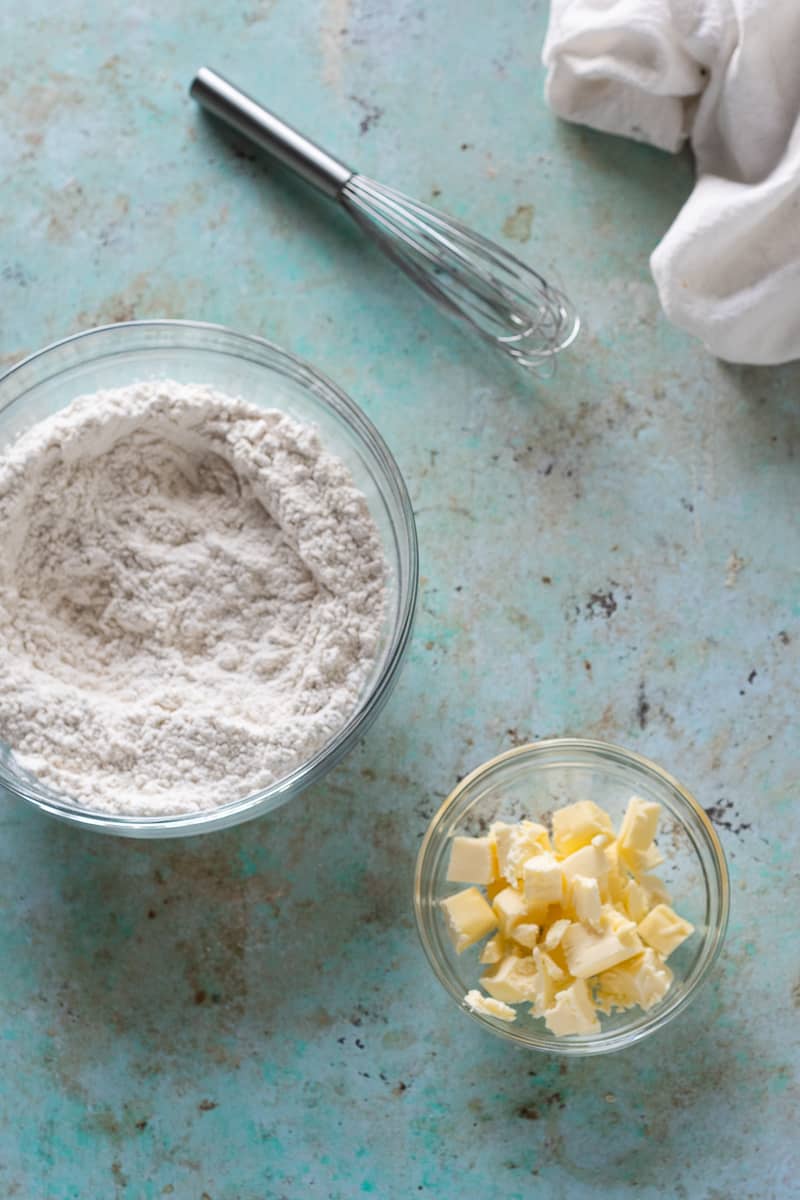 Another important thing is to use a generous amount of baking powder (a whole tablespoon) for lift. And then a little bit of baking soda to react with buttermilk to neutralize some of the acidity and aid in browning.
There's a hint of sugar which doesn't make them sweet, but serves to slightly tenderize and again aid in browning (these biscuits have wonderful deep golden brown color).
And you need to add enough salt to make them sing. Just be sure to use kosher salt (preferably Diamond Crystal) or, if you use table salt, cut the amount in half.
Another important thing is to use chunks of cold butter (unsalted, American-style butter) right from the fridge.
You don't need to freeze the butter or or grate it or pull out the food processor. You just need to toss the butter in the flour and then rub it into the flour mixture until it ranges in size from peas to coarse crumbs.
This will allow the butter bits give the biscuits some excellent flakiness.
Then you need to use buttermilk. This isn't the place to use milk with lemon juice or vinegar. The buttermilk is essential to the flavor.
This should be standard low-fat cultured buttermilk. There's no need to seek out an artisan variety for this (and buttermilk is naturally low-fat). If you can't get your hands on buttermilk (like if you're outside of the U.S.) the next best substitute is kefir.
Then you want to make sure that you don't overwork the dough.
You need to stir in the buttermilk and then mush the dough together with your hands, and then fold it over itself a few times.
That's it.
(This isn't bread dough where you knead it over and over again because you want to develop the gluten.)
Then you gently pat the dough into a rectangle. (No need for a rolling pin or biscuit cutter in this recipe!) And cut it into squares.
This avoids the problem of having scraps to re-roll or re-work which happens if you are using a round biscuit cutter. There's a tendency to overwork the scraps, which makes them tough.
(If you are feeling even lazier, you can bake it is one big biscuit, like I do with strawberry shortcake or bake them drop biscuit-style like I do with peach cobbler.)
And then be fearless in letting them get golden brown. If you've made biscuits with shortening, you'll notice that these begin to brown much faster in the baking process. That's because of the butter (and the little bits of sugar and baking soda).
Don't worry. Deep golden brown is what you're looking for on these babies.
All of that color translates into flavor.
And, honestly, some of the best buttermilk biscuits you'll find (at least, north of the Mason-Dixon line).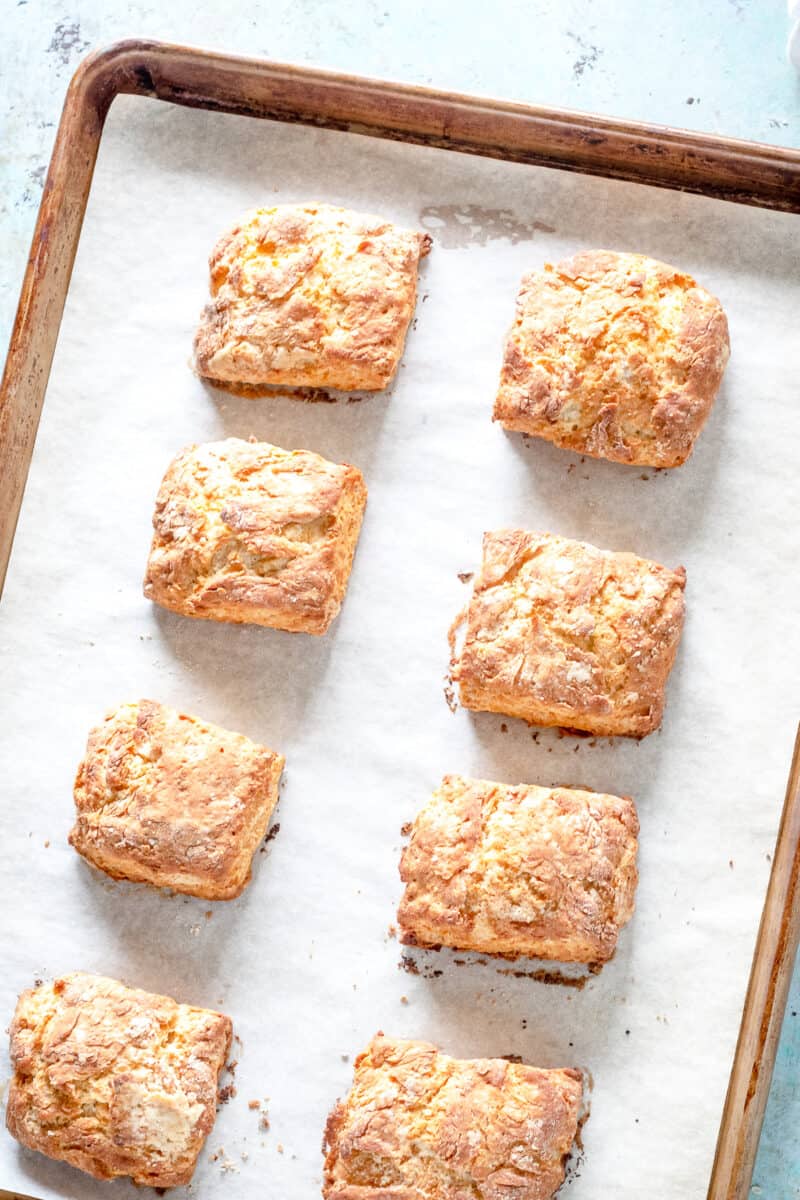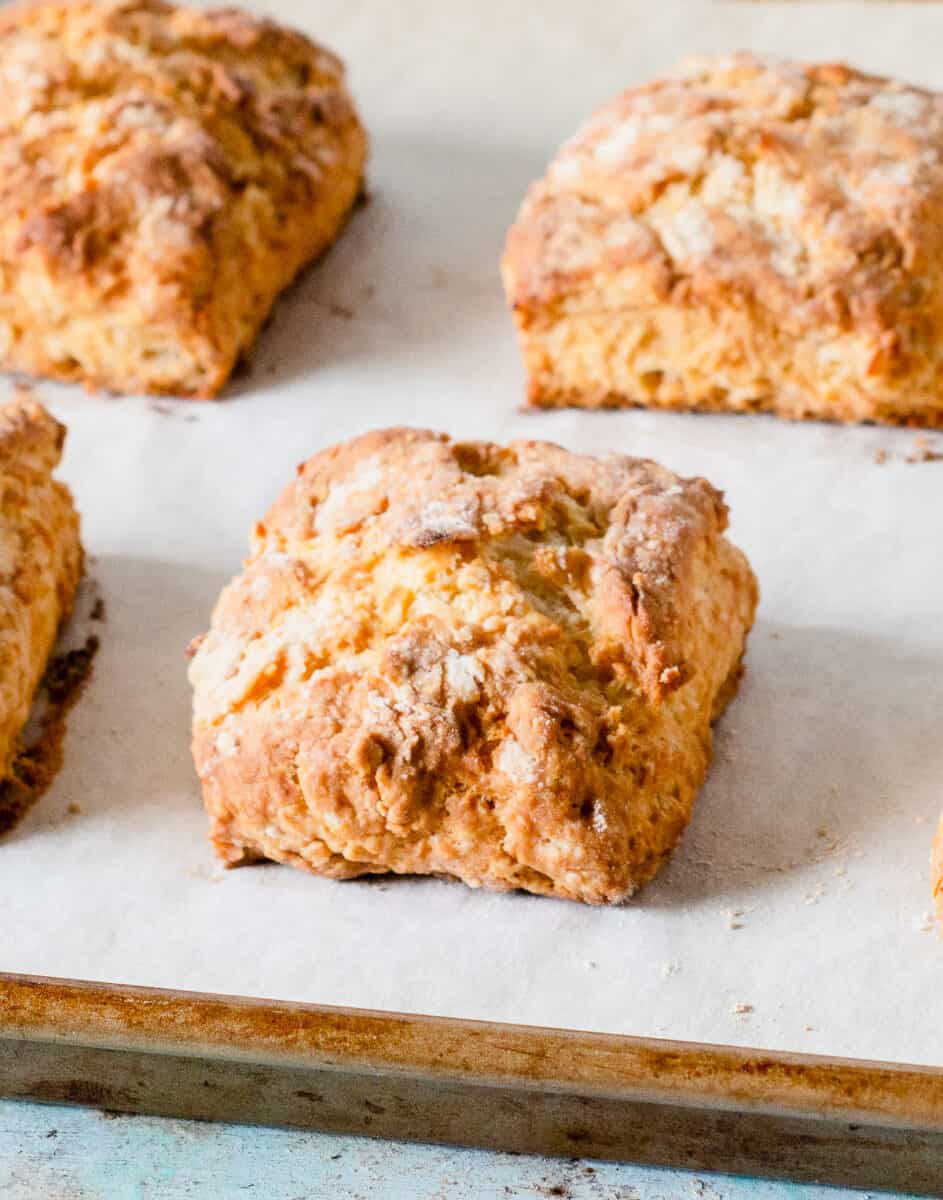 Yield: 8 servings
Buttermilk Biscuits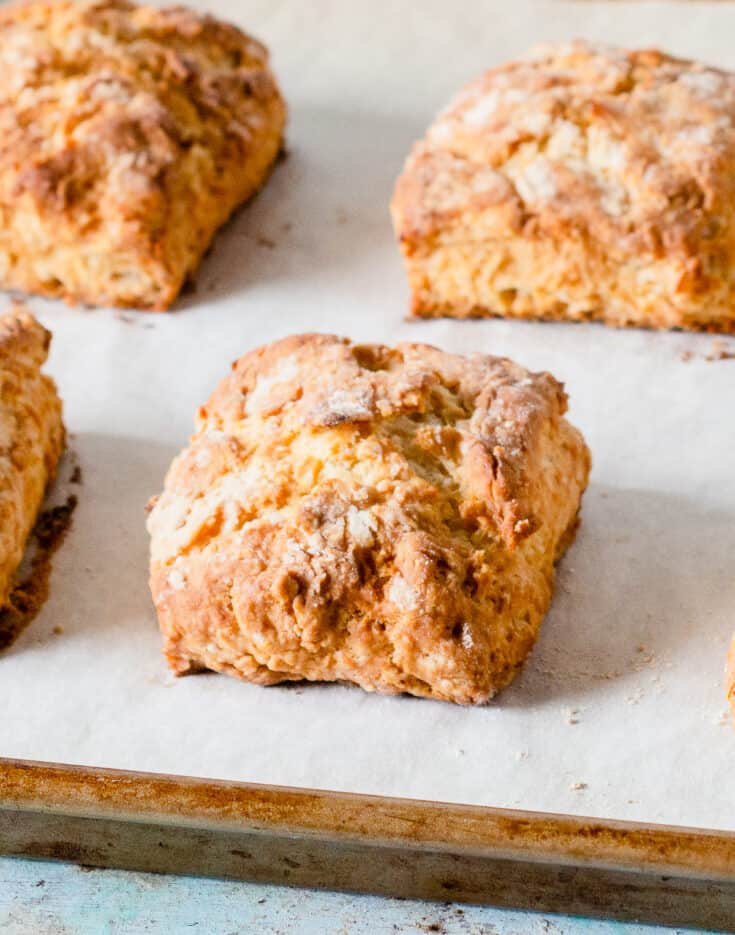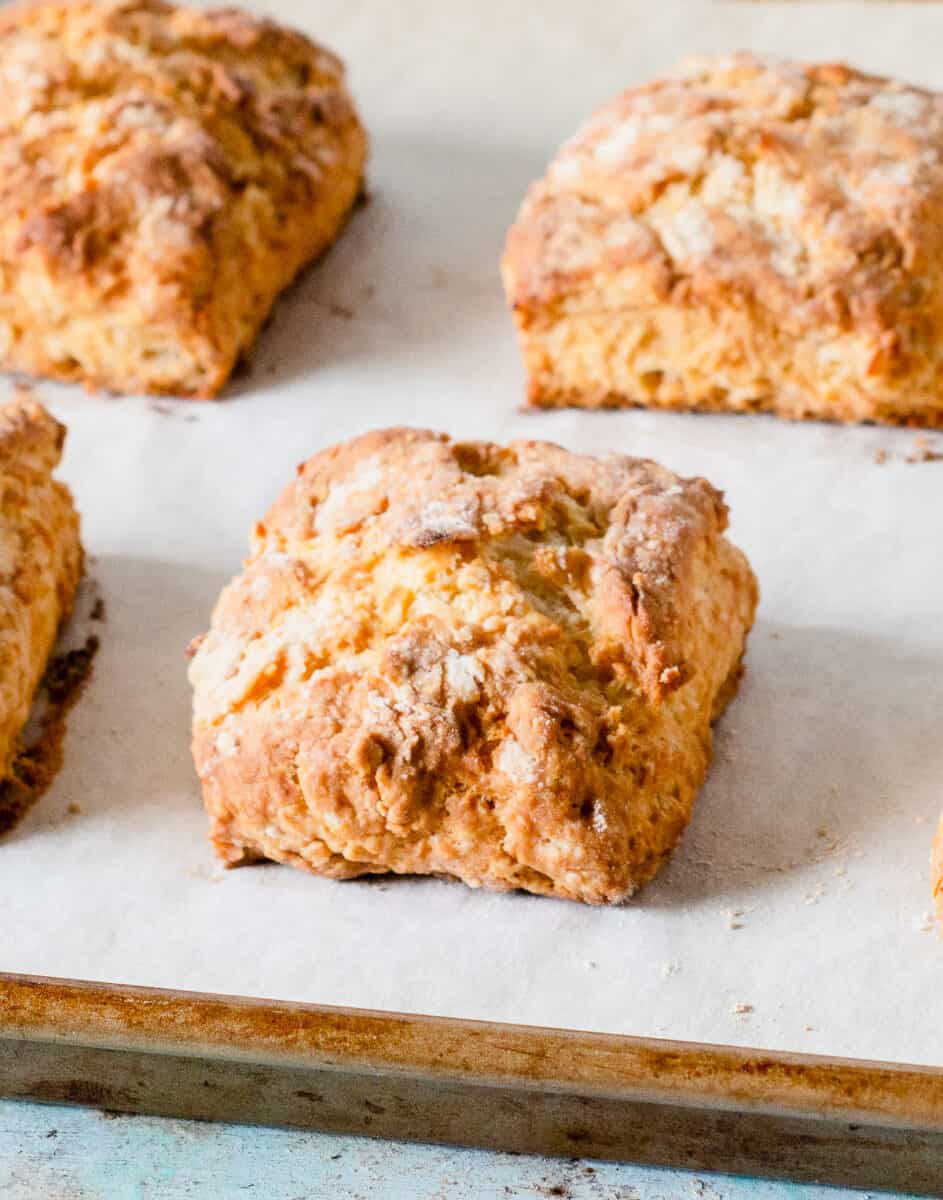 These buttermilk biscuits are light and flaky and buttery. I prefer to use an all-purpose flour with a mid-range protein content like Gold Medal for these biscuits. Avoid a higher protein all-purpose flour like King Arthur, which will result in biscuits that aren't quite as tender. (And southerners, I'm sorry to say I don't have easy access to White Lily, so I don't know how this particular recipe works with that, but if you try it, do report back!) Avoid buttermilk substitutes for these biscuits—it's essential for the flavor—but if you must use something else kefir is the next best option. This is also designed to work with American-style unsalted butter (higher fat European butters will cause these to spread more and not rise up so beautifully).
Ingredients
2 cups (250 grams) all-purpose flour
1 tablespoon sugar
1 tablespoon baking powder
1/2 teaspoon baking soda
1 teaspoon kosher salt
6 tablespoons unsalted butter, cold, sliced into 1/2 inch chunks
3/4 cup buttermilk
Instructions
Preheat oven to 400°F and line a baking sheet with parchment paper. Add flour, sugar, baking powder, baking soda, and salt to a large mixing bowl and whisk together.
Add the cold butter to the flour mixture and rub it with your fingers until the butter is in pea-sized or smaller crumbs and well-distributed throughout the flour mixture.
Add the buttermilk and stir with a rubber spatula until the dough is moistened. Knead it a few times with your hands to work in any last dry bits.
Turn the dough out onto a floured work surface and fold it over itself a few times. Then pat into a rectangle about 9-inches by 5-inches and 3/4-inch deep.
Cut into 8 squares, about 2 1/2-inches on each side, and place on a baking sheet, leaving at least an inch between each biscuit.
Bake until deep golden brown 15-20 minutes. Let cool for at least 10 minutes before serving.
Notes
These biscuits are best on the day they are made.
Recommended Products
As an Amazon Associate and member of other affiliate programs, I earn from qualifying purchases.
Nutrition Information:
Yield:
8
Serving Size:
1
Amount Per Serving:
Calories:

206
Total Fat:

9g
Saturated Fat:

6g
Trans Fat:

0g
Unsaturated Fat:

3g
Cholesterol:

24mg
Sodium:

571mg
Carbohydrates:

27g
Fiber:

1g
Sugar:

3g
Protein:

4g