I may earn from purchases through links in this post.
Here, have a blueberry galette.
Galettes are pretty much my favorite form of pie.
They're rustic and are seldom perfectly symmetrical. And somehow that imperfection makes them look prettier to me.
You can see that a galette was made by hand.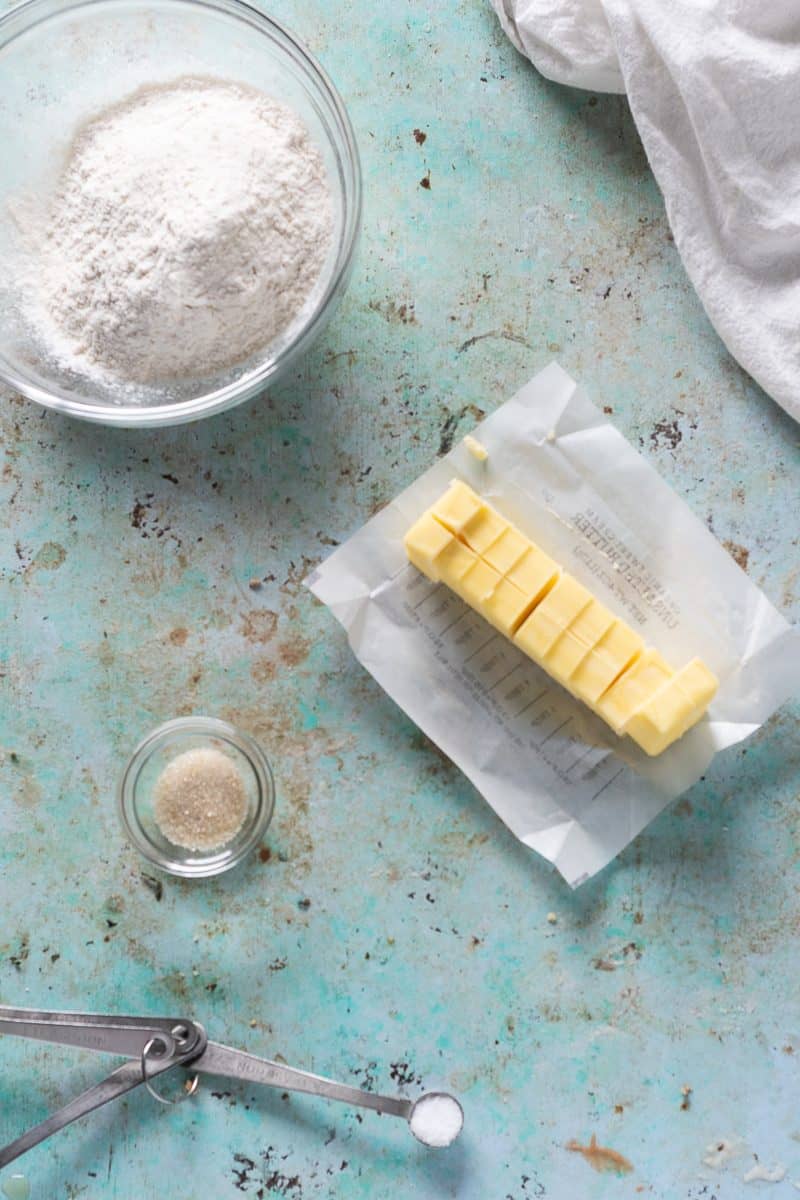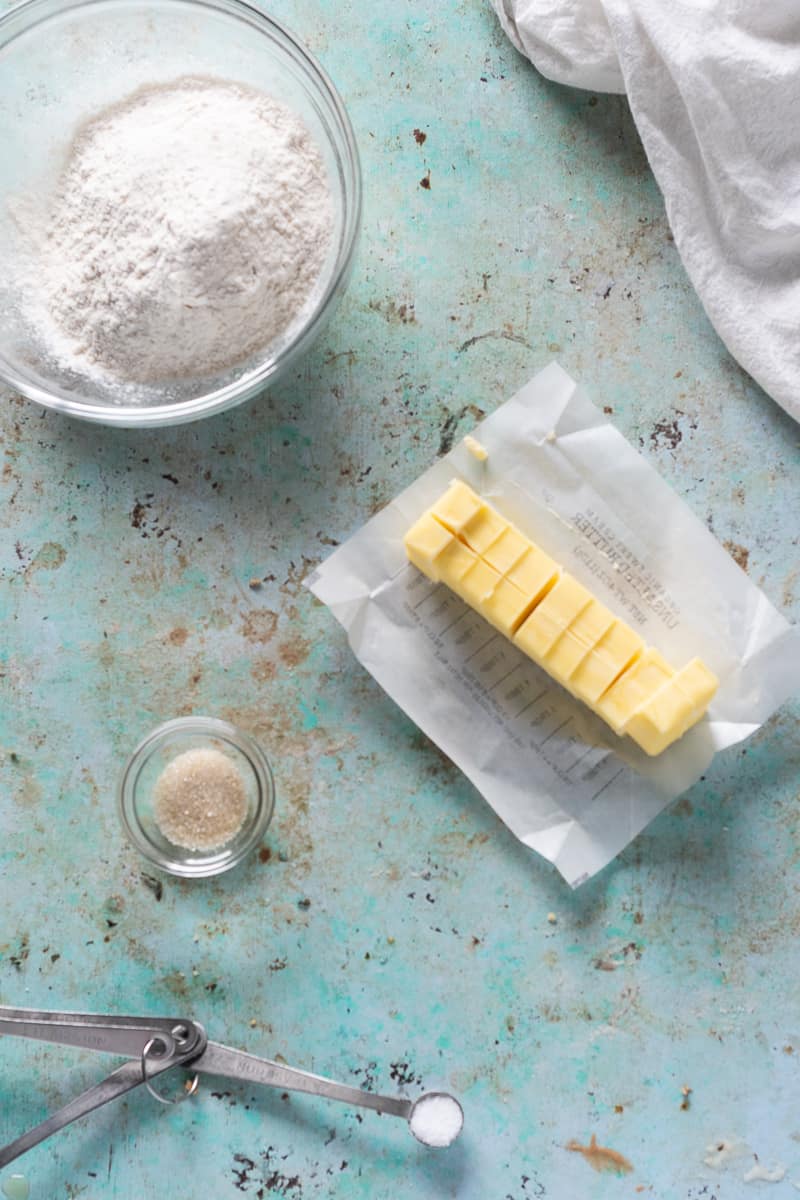 But it's not just the aesthetics of galettes that make them favorites. It's also that because there's no pan to hold up the sides, you can't stuff them so full of fruit and you end up with a pretty much perfect ratio of flaky crust to filling.
(Kinda like with these strawberry rhubarb turnovers.)
And when you have a gorgeous flaky, buttery crust like this one, more of it is a good thing.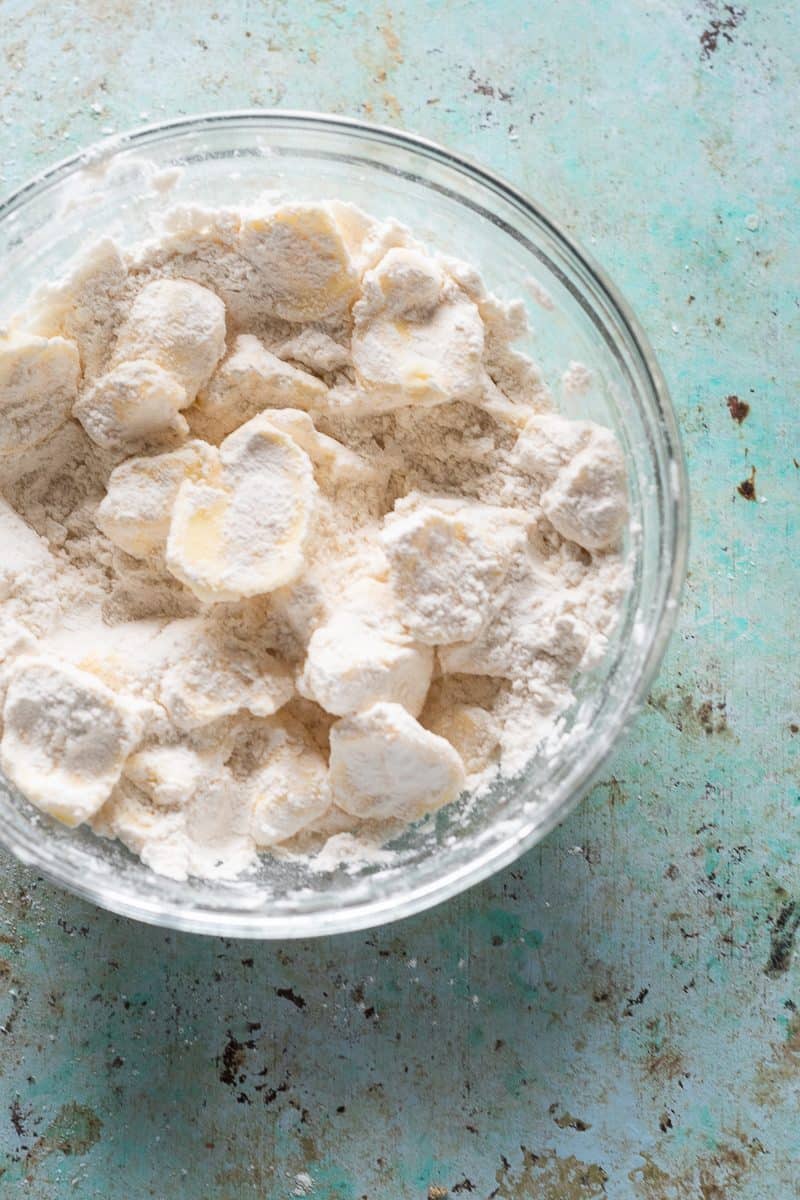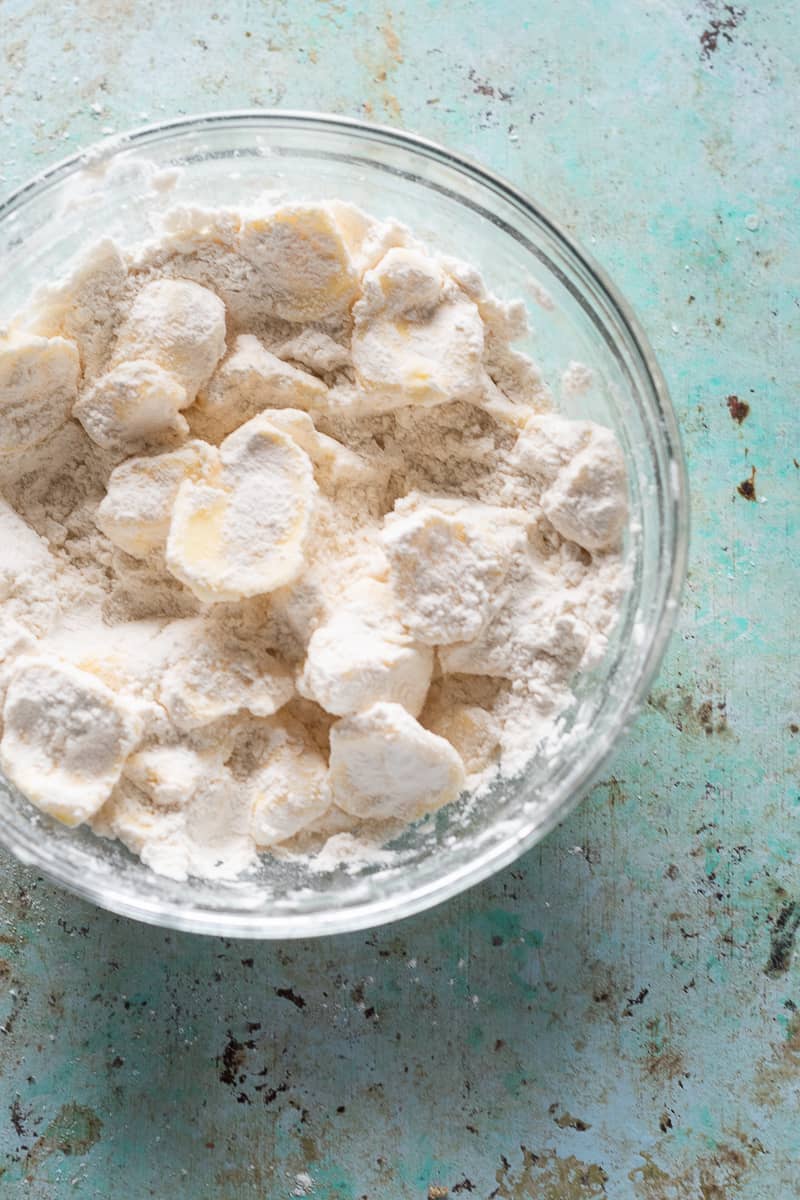 I've gone through various phases with pie crust recipes. I've frozen the butter and broken out the food processor and added things like vodka and vinegar at the recommendation of various bakers.
But my go-to pie crust these days is the simplest one. It's adapted from Stella Parks' version in her wonderful book, BraveTart: Iconic American Desserts.
It only has flour, butter, a tiny bit of sugar and salt, water, and it doesn't require any special equipment.
You toss cubes of cold butter with the dry ingredients and then smash the butter with your fingers. Then add the water, give it a stir, and knead in the flour the rest of the way.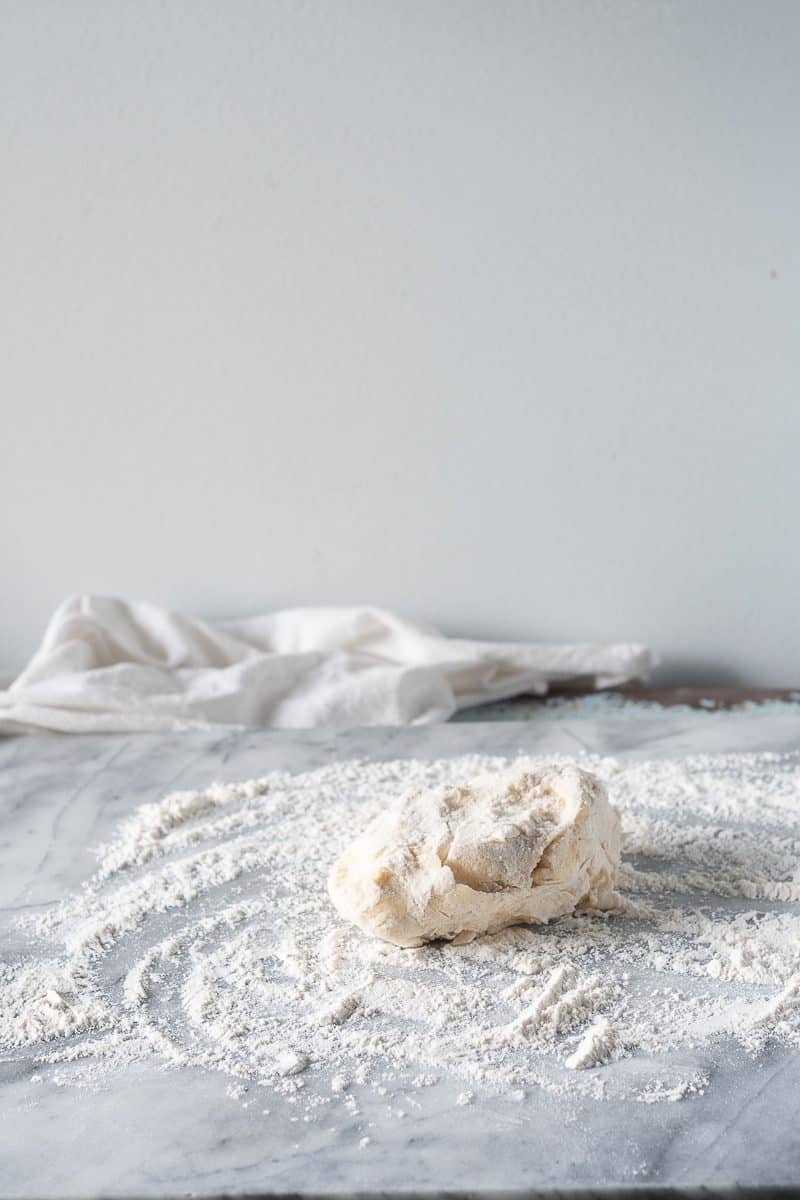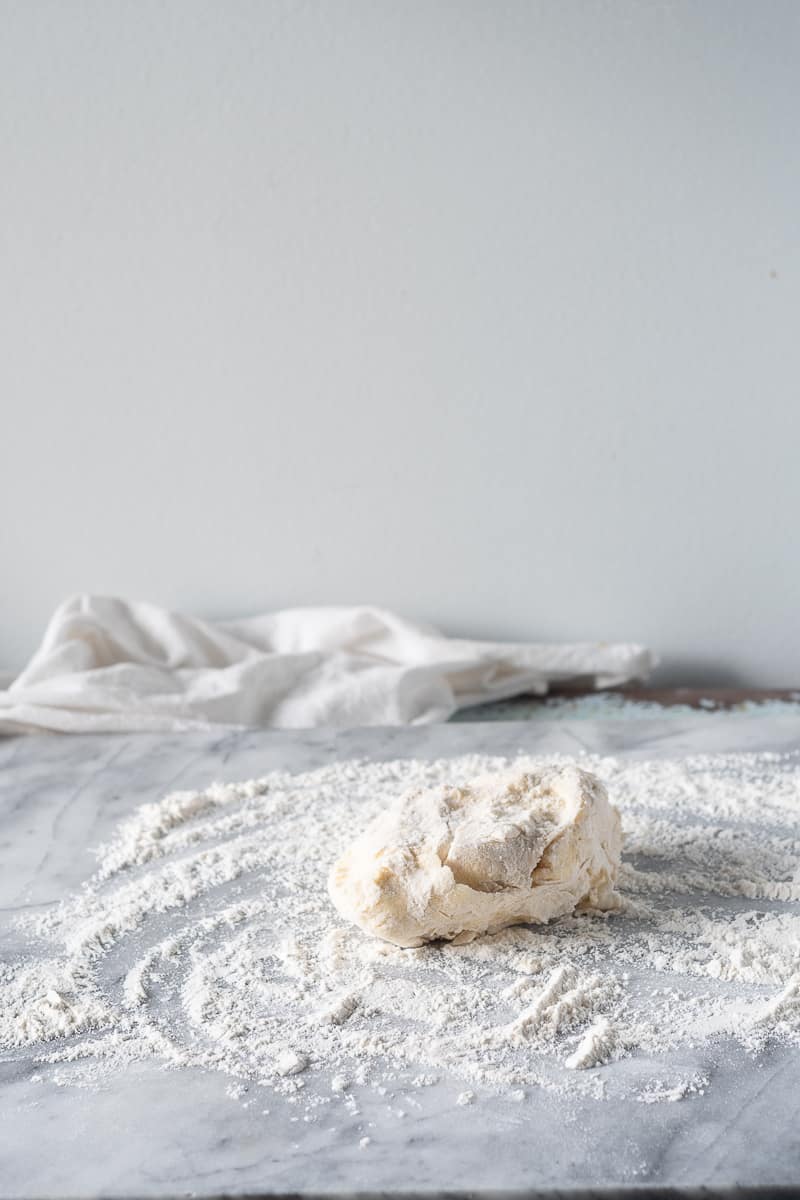 And you roll out the dough right away, before chilling it, which is much easier and more efficient than rolling out dough that's cold from the refrigerator.
(It's a trick I use in these orange cardamom cookies, too).
If your kitchen is very warm and the butter starts getting really soft, you may need to stick the dough in the refrigerator for about 10 minutes before rolling it out.
Then you chill the flat dough on a parchment lined baking sheet for a couple of hours.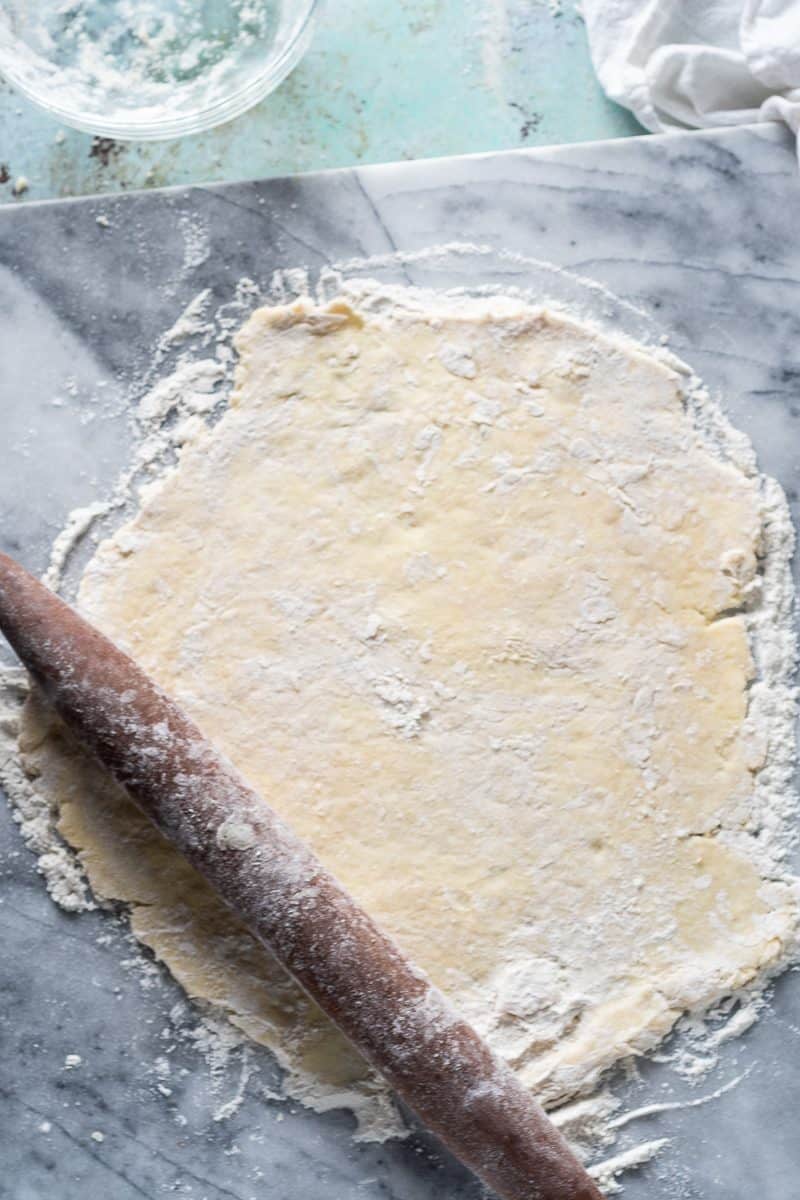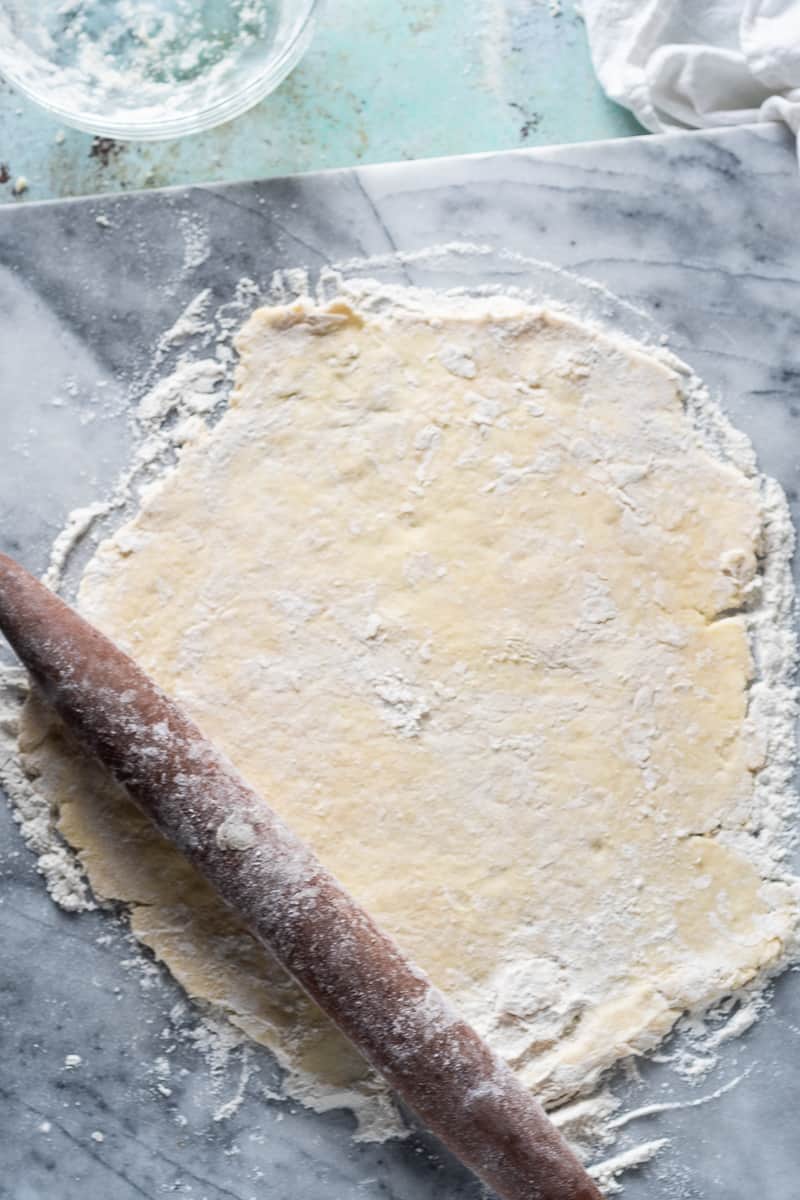 While the rolled out crust hangs out in the refrigerator, you can make your filling.
The filling on this is a cinch to make.
One nice thing about baking with blueberries is that prepping them is incredibly simple. There's no chopping or peeling.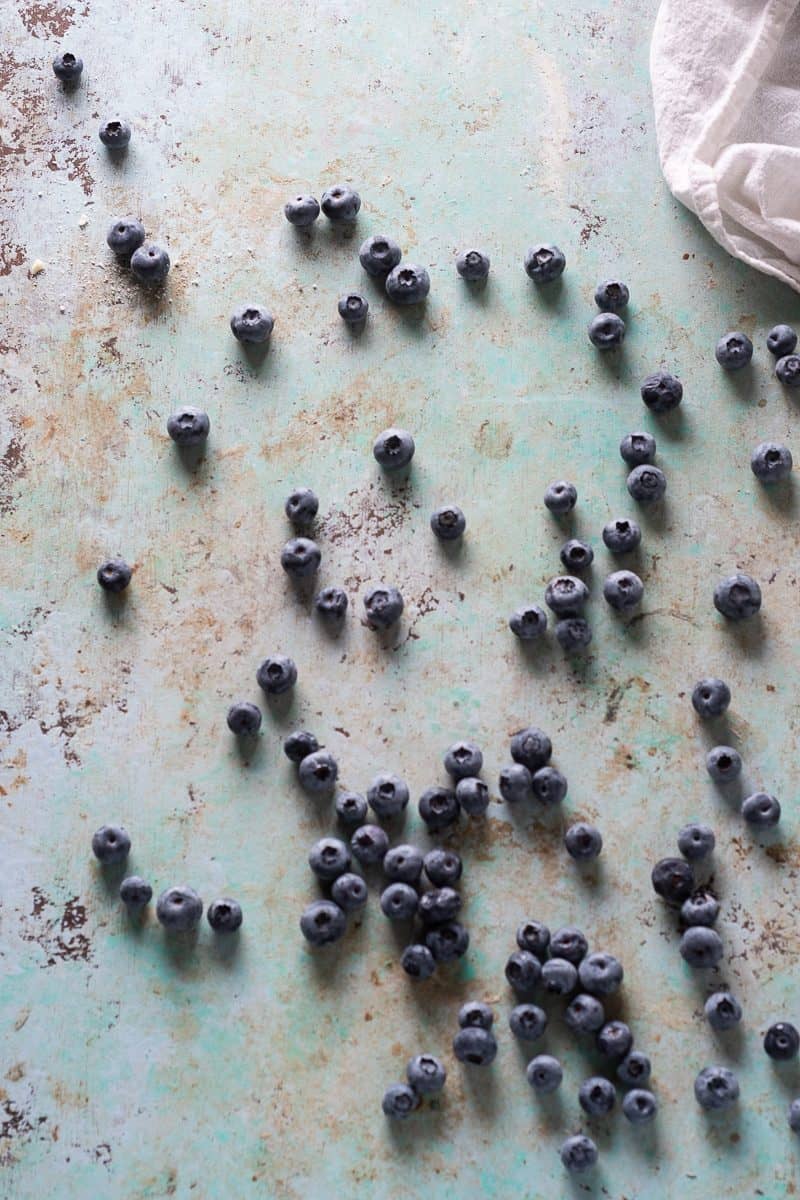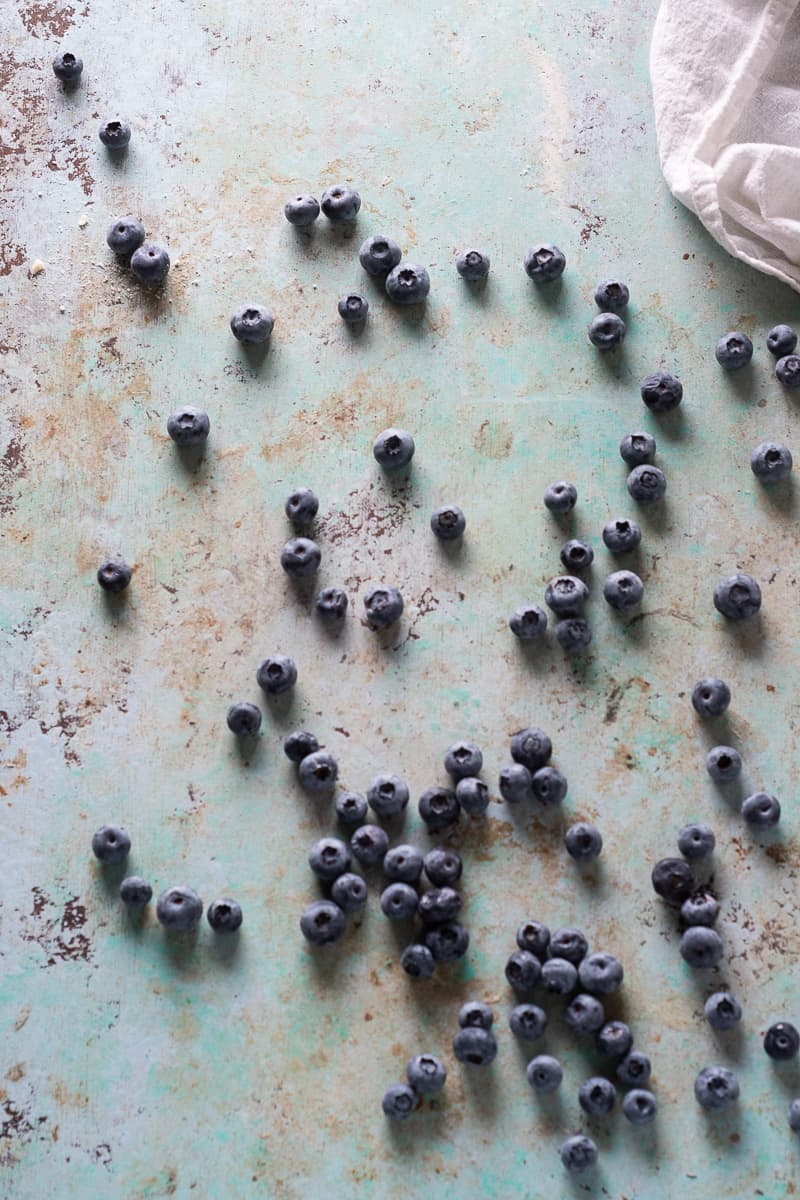 Just pick them over to remove any errant stems or leaves or that may still be attached and toss out any shrivelled berries. Then give them a quick rinse in cold water.
Then you toss the blueberries with some sugar and tapioca starch.
That's it.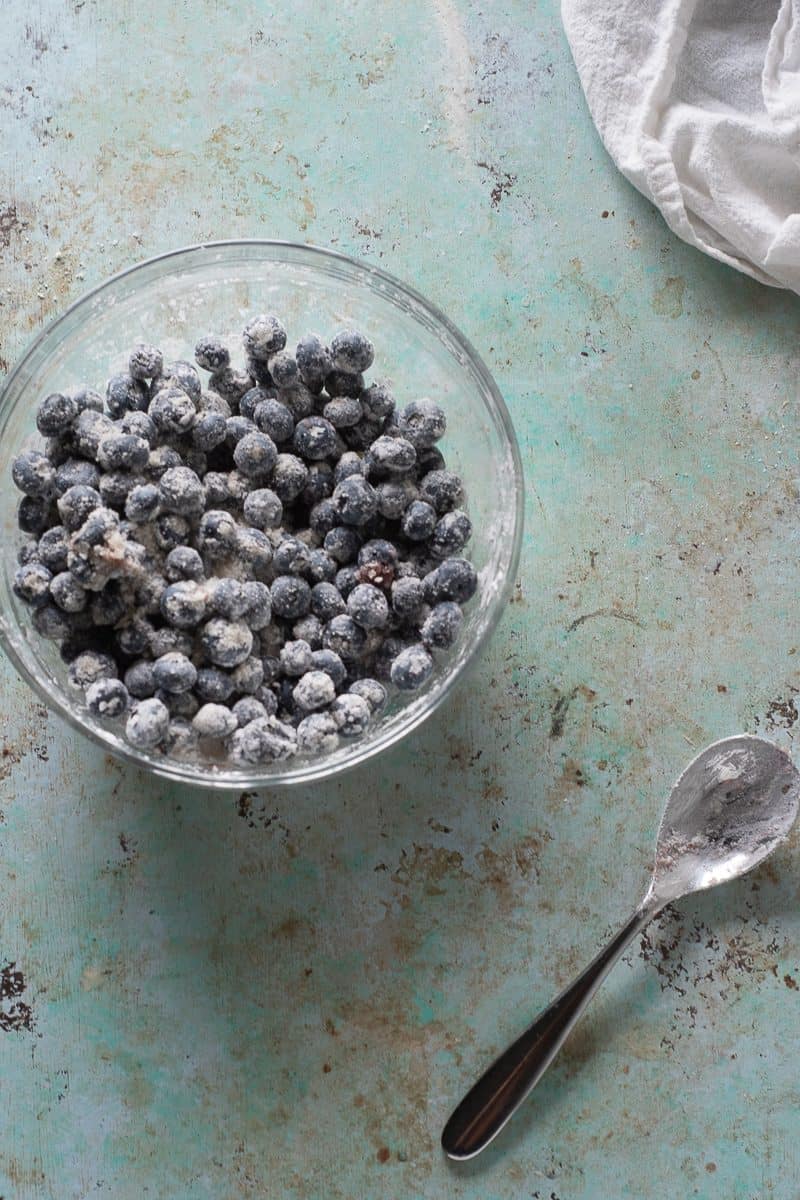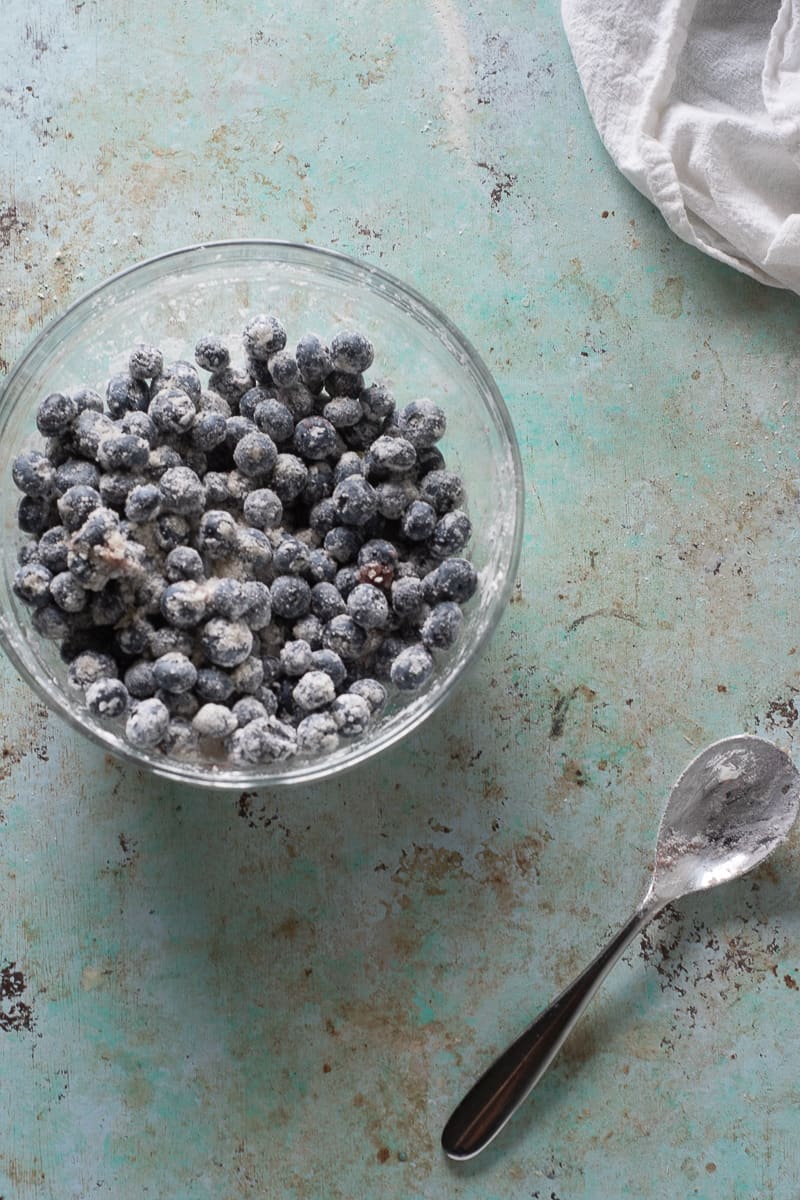 You can add spices or extra flavors here if you like. A little bit or cinnamon or coriander or a grating of lemon zest would all work nicely.
But I keep this one simple.
It's a great way to let blueberries shine.
Especially if you have really good ones. (In the summer in Chicago I seek out Klug farm blueberries at the Green City Market because I think they sprinkle them with fairy dust or something to make them extra delicious).
Then all that's left to do is pull the chilled dough from the refrigerator and pile the blueberry filling onto the middle.
Then fold up the edges to hold in the berries and give the crust a brush of simple egg wash.
And then it goes into the oven where the blueberries slump into deep, dark purple-blue puddles with a just perfectly gelled consistency, so that even if some of the fruit bubbles over the side of the crust, you don't need to worry about soggy bottoms on your galette.
Then you just need to decide if you need a scoop of ice cream alongside or not.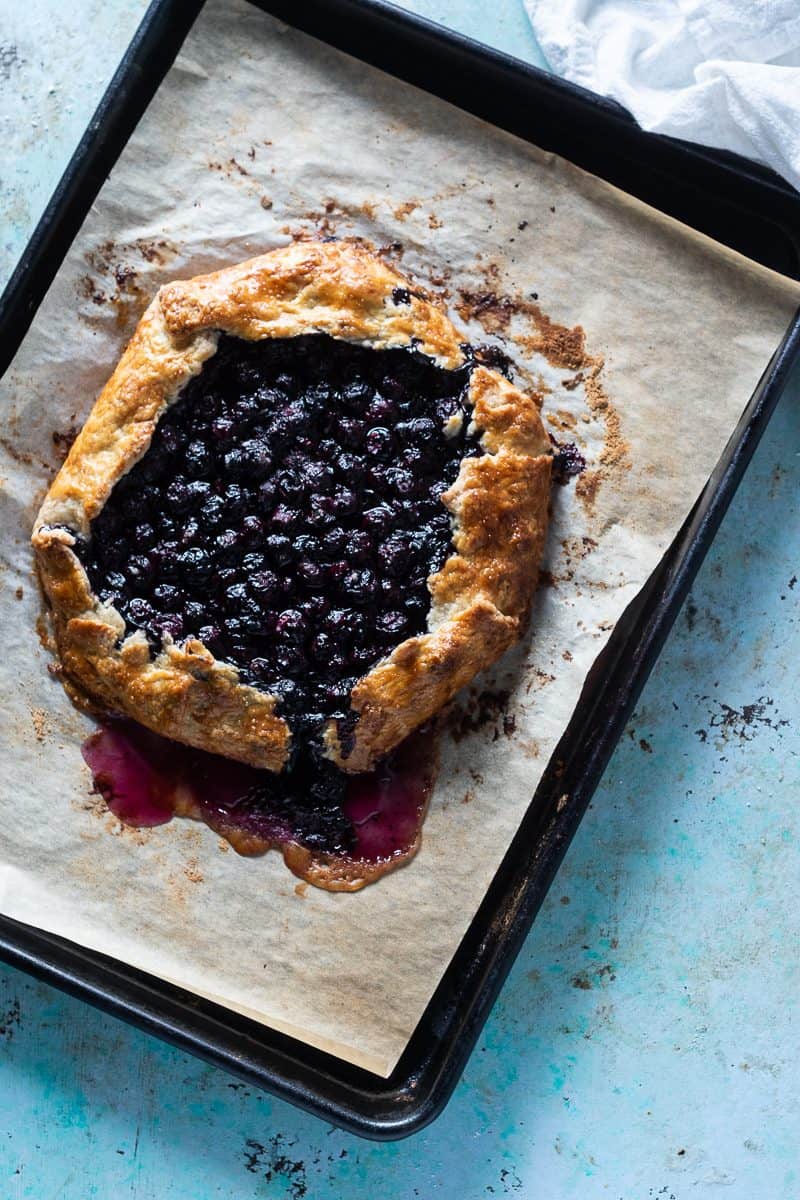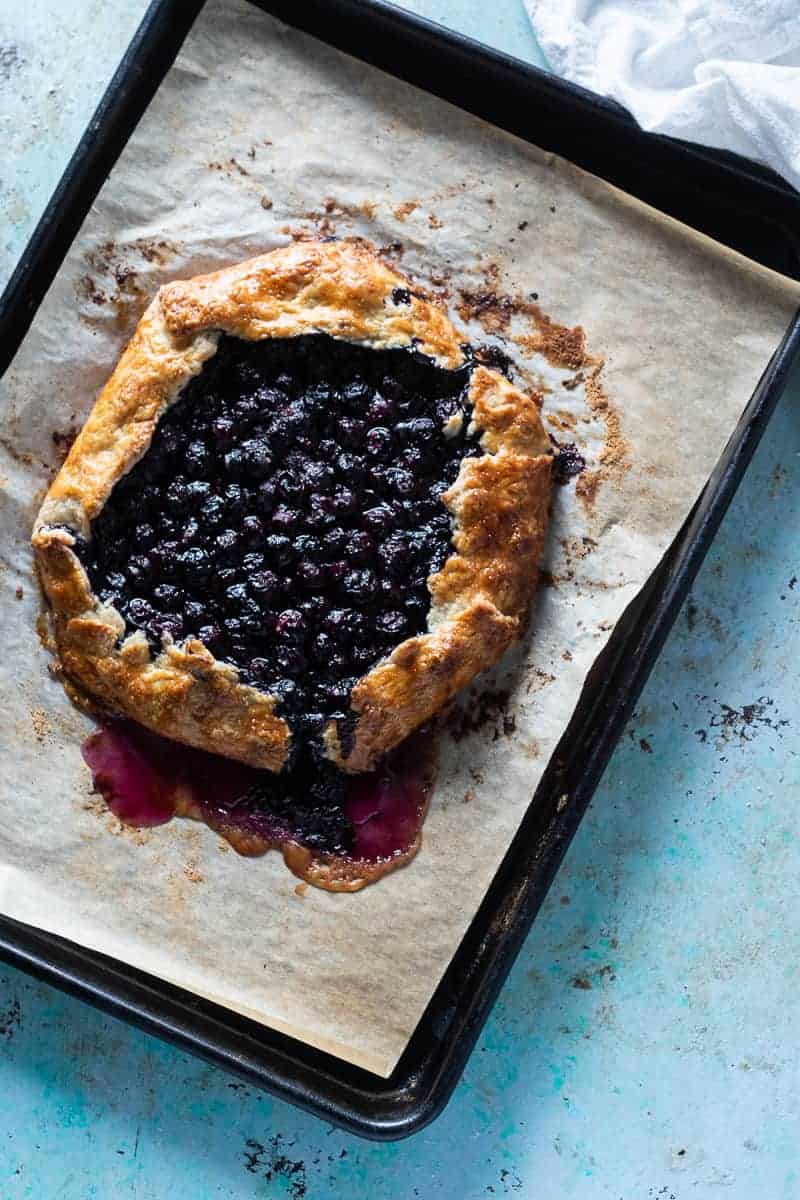 Yield: 8 servings
Blueberry Galette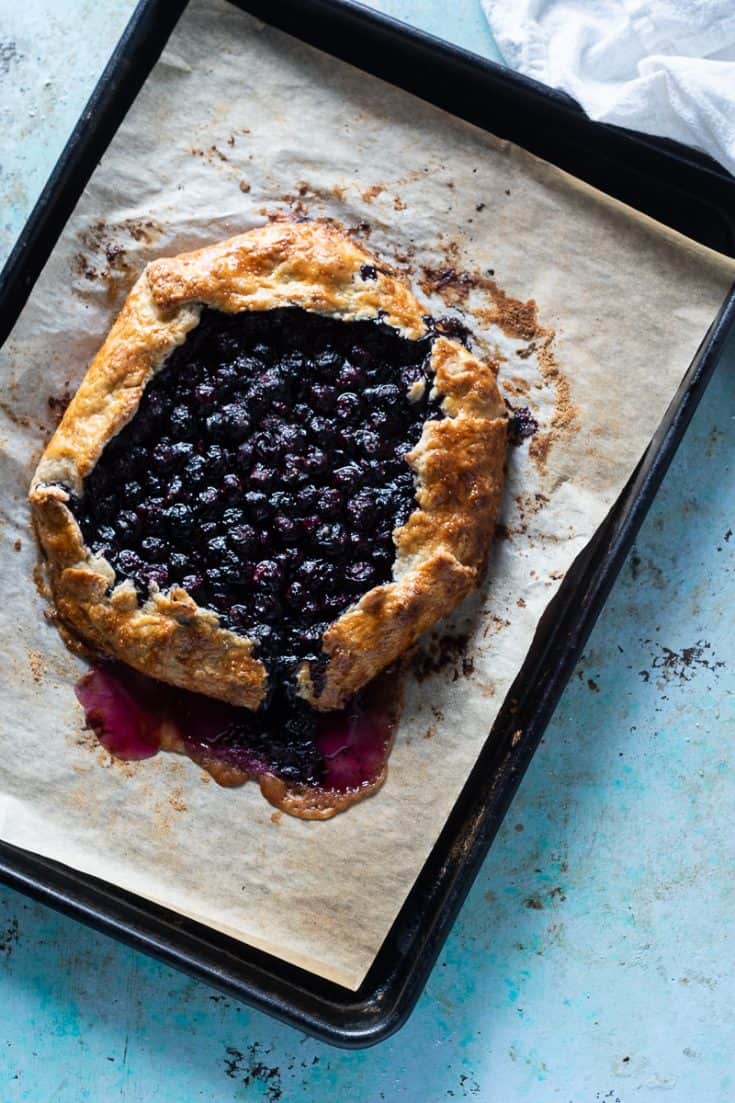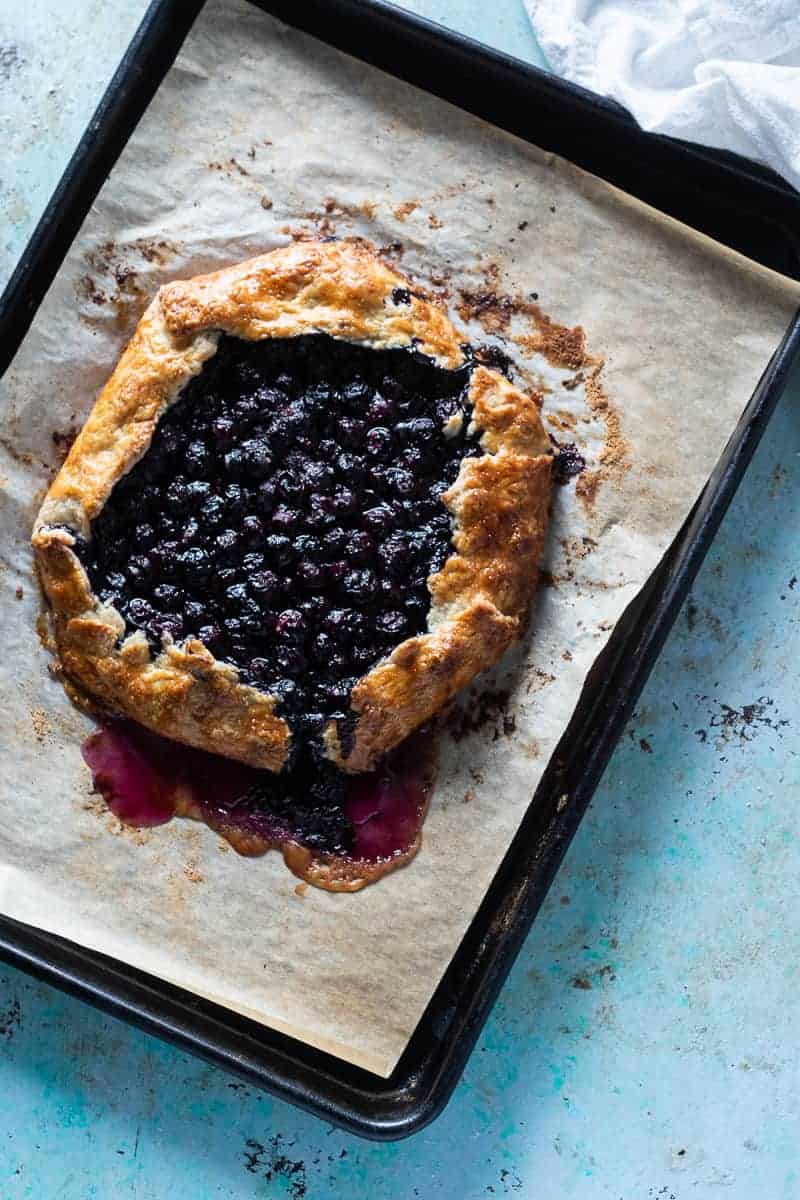 This blueberry galette is a delightful free-form pie. The crust has a higher ratio of butter to flour than many pie crusts, which makes it extra flaky. This recipe works best with American butter and not higher fat European butters. Tapioca starch (also called tapioca flour) makes a filling with a smoother consistency than cornstarch, which is why I call for it here. You can find it with the alternative flours in most grocery stores.
Ingredients
Galette dough
1 cup (125 grams) all-purpose flour
1 tablespoon sugar
1/2 teaspoon kosher salt
1/2 cup (113 grams) unsalted butter, cold from the fridge
1/4 cup water
Blueberry filling
3 cups blueberries, picked over and rinsed
1/2 cup sugar
1/4 cup tapioca starch (also called tapioca flour)
Egg wash
1 egg, beaten
1 tablespoon water
Instructions
Make the galette dough. Add the flour, sugar, and salt to a mixing bowl and whisk together.
Cut the butter into 1/2-inch cubes, add to the mixing bowl, and toss with the flour mixture to coat.
With your fingers, smash each butter cube flat.
Add the water and stir with a spoon or silicone spatula to mix. Continue kneading the mixture with your hands to work in the rest of the flour.
Generously flour a clean flat surface (like a counter or marble slab) and coat your rolling pin with flour and roll the dough out into a circle about 14-inches in diameter. (If you're working in a very warm kitchen and the butter gets really soft and starts sticking to your rolling pin, stick the dough in the refrigerator for about 10 minutes and try again.
Line a baking sheet with parchment paper and transfer the circle of dough onto the parchment and refrigerate for at least 2 hours or up to 1 day.
Make the filling. Toss the blueberries with sugar and tapioca starch.
When you're ready to bake the galette, preheat oven to 400°F. Remove the crust from the refrigerator and place the blueberry filling in the center of the crust, leaving a border about 3-inches wide around the edges.
Carefully fold up the edges of the dough to hold in the blueberry filling. It's supposed to look rustic, so don't worry about making it perfect.
Whisk together an egg and 1 tablespoon water to make an egg wash and brush the top of the crust with the egg wash. This will give the crust a nice sheen and help to seal the folds together.
Bake for about until the crust is golden brown and the fruit is bubbling, about 40-45 minutes.
Let cool for at least 20 minutes before slicing and eating (with or without a scoop of vanilla ice cream along side).
Notes
Keeps at room temperature for about 3 days.
Nutrition Information:
Yield:
8
Serving Size:
1
Amount Per Serving:
Calories:

172
Total Fat:

2g
Saturated Fat:

1g
Trans Fat:

0g
Unsaturated Fat:

1g
Cholesterol:

25mg
Sodium:

148mg
Carbohydrates:

37g
Fiber:

2g
Sugar:

20g
Protein:

3g