I may earn from purchases through links in this post.
It's been a hot summer in Chicago. This July and August we've watched the mercury climb into the nineties more days than I care to count.
Too many.
I'm not a hot weather kind of girl, give me seventies and a light breeze along the lake, and I'll take eighties with a cool drink, but nineties, uggh, nineties make me cranky.
It's been a summer for sunscreen, for trailing my hands through neighbors' sprinklers as they sway toward the sidewalk. It's been a summer for open-toed shoes and sleeveless tops and sitting in the shade.
But more importantly, it's been a summer for sorbet.
We've been filling our bowls with bright jewel-toned orbs of the stuff: sour cherry lambic, almond, blackberry.
Sorbet somehow always feels more refreshing than ice cream, the flavors more intense without the muting effects of milk fat, the bracing iciness just the thing for these hot summer days.
And when I see the bounty of summer fruits weighing down the tables at the farmers markets and have no desire to turn on the oven for, say, pie, I will happily bring home pints of whatever looks extra lovely to peel, slice, puree with sugar syrup, churn, and freeze.
One of our favorites of late has been a sorbet of Michigan peaches enlivened with a splash of jasmine liqueur from Koval Distillery, a great little boutique distillery that's practically in our neighborhood.
There's something enchanting about the hint of floral jasmine combined with the succulent sweetness of peach that makes this sorbet sing. The alcohol also helps to give this sorbet an excellent texture.
I can't get enough peaches when they're in season, and the peaches at the market this summer have been gorgeous.
This puts those beauties to good use. And provides a little relief from the heat.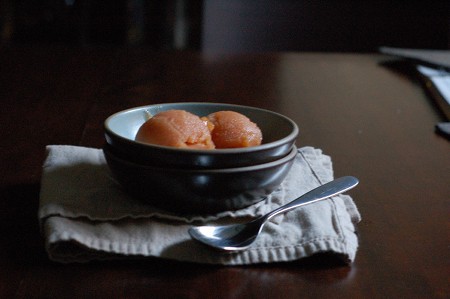 Yield: 1 quart
Peach Jasmine Sorbet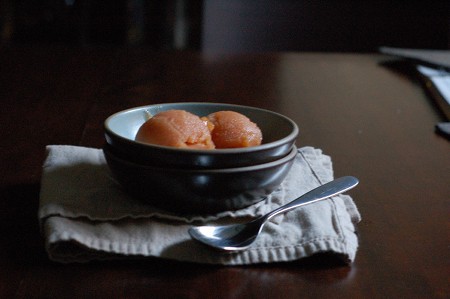 The alcohol helps to keep this sorbet scoopable. If you live in an area where Koval liqueurs are available, do seek them out, if not, substitute another liqueur such as St. Germain, which is similar in alcohol content, or substitute half the amount of a liquor such as bourbon. If you prefer not to use corn syrup, you may substitute sugar, but be advised that liquid sweeteners such as corn syrup or glucose improve the texture. Do use ripe sweet peaches if possible (save underripe hard ones, which are lower in sugar but higher in pectin, for jam). The ones I used for this last one were bruised and overripe, which was an advantage here.
Total Time
8 hours
25 minutes
Ingredients
2 pounds of ripe peaches, about 6 or 7
1/2 cup sugar
1/4 cup corn syrup or glucose, or equal amount of sugar
1/4 cup water
1/4 cup Koval Jasmine Liqueur (or St. Germain or 2 tablespoons bourbon)
Instructions
Combine the sugar, corn syrup or glucose, and water in small saucepan over medium heat. Bring to a simmer and stir until the sugar has dissolved. Remove from heat.
Blanch the peaches in a large pot of boiling water for about 2 minutes, drain and run under cold water. Peel the peaches–the skin should slip off fairly easily. Remove the pits, and dice the peaches.
Puree the peaches with the sugar syrup in a blender (or use an immersion blender in a high sided container) until smooth. Stir in the jasmine liqueur.
Chill the mixture in a refrigerator overnight. Then churn in an ice cream maker according to the manufacturer's instructions. Store in the freezer for several hours before eating.
Recommended Products
As an Amazon Associate and member of other affiliate programs, I earn from qualifying purchases.
Nutrition Information:
Yield:
8
Serving Size:
1
Amount Per Serving:
Calories:

148
Total Fat:

0g
Saturated Fat:

0g
Trans Fat:

0g
Unsaturated Fat:

0g
Cholesterol:

0mg
Sodium:

7mg
Carbohydrates:

34g
Fiber:

2g
Sugar:

33g
Protein:

1g