These cookies are so delicate. They are crisp and buttery and nutty with complex sweetness from the honey and subtle herbaceousness from the rosemary. They are cookies for grown ups.
And I suppose Dan and I are something like grown ups now. After ten years (!) together, four of them married, we're looking at real estate and trying to make sense not only of mortgage rates and Chicago's property taxes, but also of a condo association's financial reserves and how soon a building is likely to need more tuckpointing and if the fire escapes are up to code and if there's a weight limit on dogs.
It's an exciting time. But also a scary one. We want to make wise decisions. We don't want to get in over our heads. But we are in our thirties and we're really ready to have our own laundry–the kind where we don't need quarters. But even in this affordable city, the numbers involved are big and the enormity of the decision can feel overwhelming.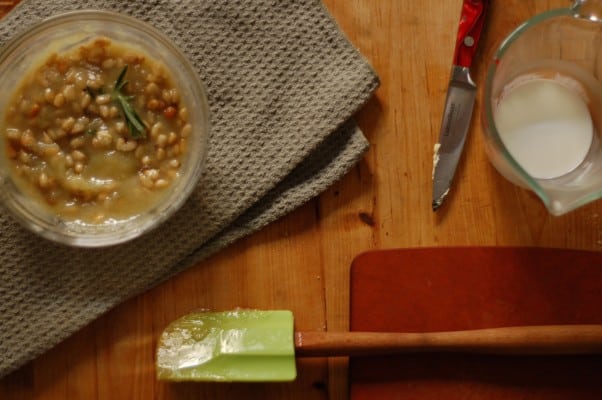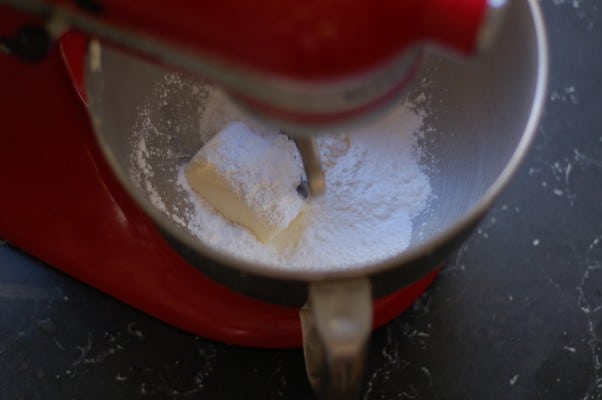 Sometimes I just want to retreat back into a world I know. One with tea and cookies. Especially these cookies.
They come from Nancy Silverton's Mozza Cookbook, a wonderful collection of antipasti and pastas and pizzas and lovely Italian dolce. I took some liberties with the method for putting them together to make the whole process less fussy. Silverton instructs you to knead the dough and roll it out and cut it out with cookie cutters, and because I was feeling a little lazy, I opted to streamline things and just roll them into a log and slice and bake them.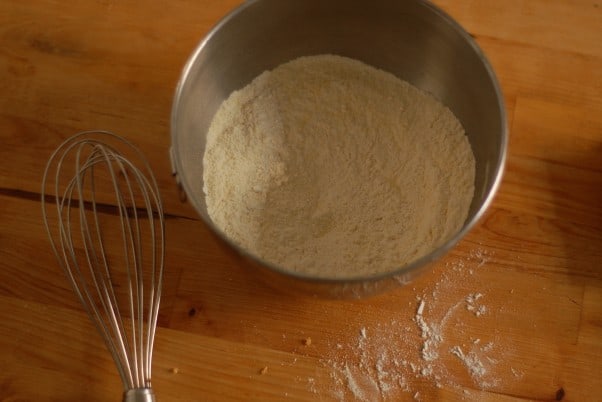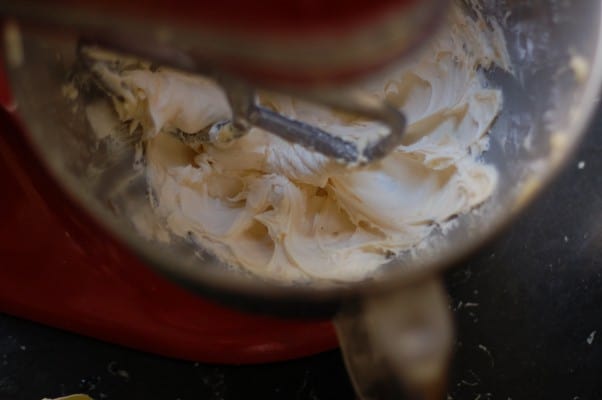 Here's a tip: any cut-out cookie recipe can be simplified into a slice-and-bake job if you want the flavor of the cookies without the hassle of rolling pins and cookie cutters and re-chilling and re-rolling the dough.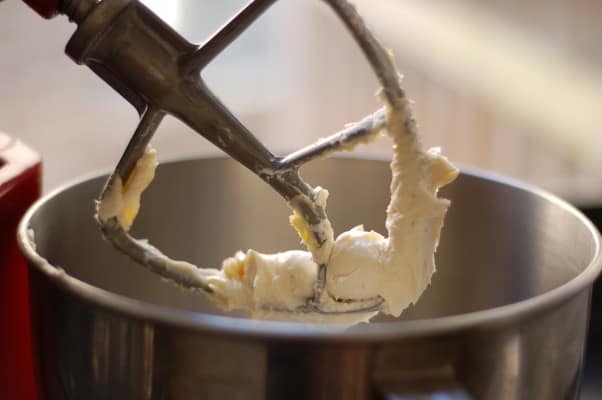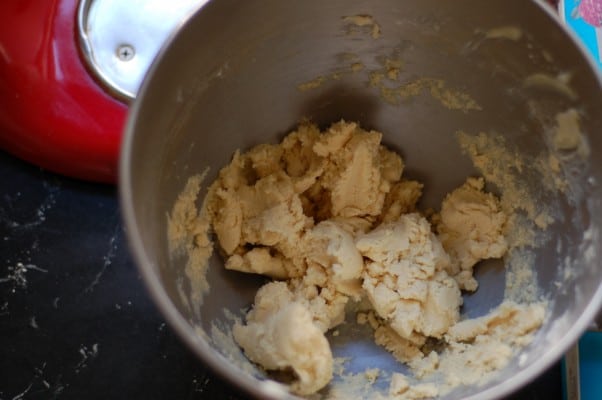 I also skipped putting rosemary sprigs on each cookie, because as much as I love rosemary, I wasn't in love with the idea of the texture of it with the cookie. In my version, the rosemary is more subtle and less visible than in Silverton's original. (If you want to see the original version of the cookies, Tim wrote about them on his awesome blog a few years ago.) But I was very happy with the way these subtle and delicate cookies turned out.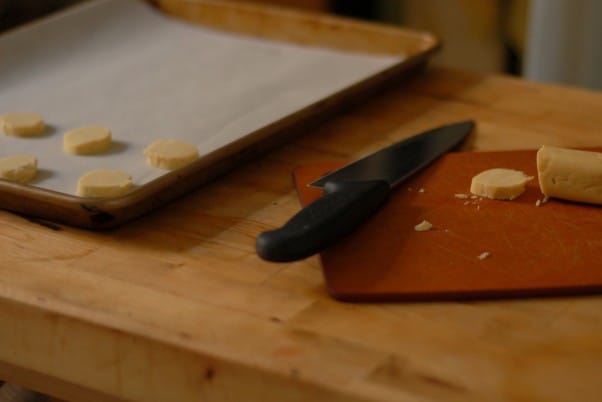 The way I did it, I also ended up with way too much pine nut nougatine–I must have used a lighter hand with it than Silverton does. I've cut it in half in the recipe below to reflect something closer to the amount I actually used.
I made them to go with the salted brown butter caramel pots de creme, and they made a nice pair, but they were also nice for a little after dinner sweet treat with a cup of tea. They were such a lovely way to end the evening that Dan and I were sad when they were all gone. I guess I'll have to make more.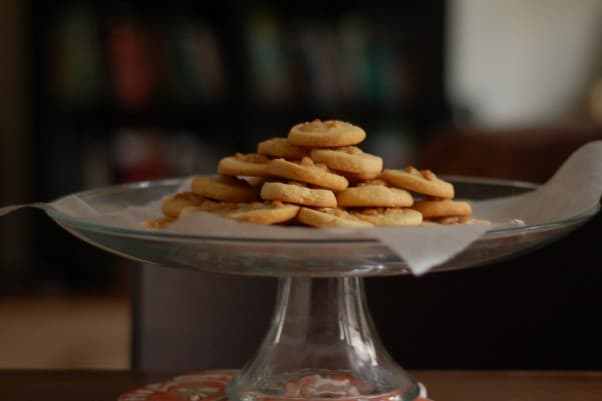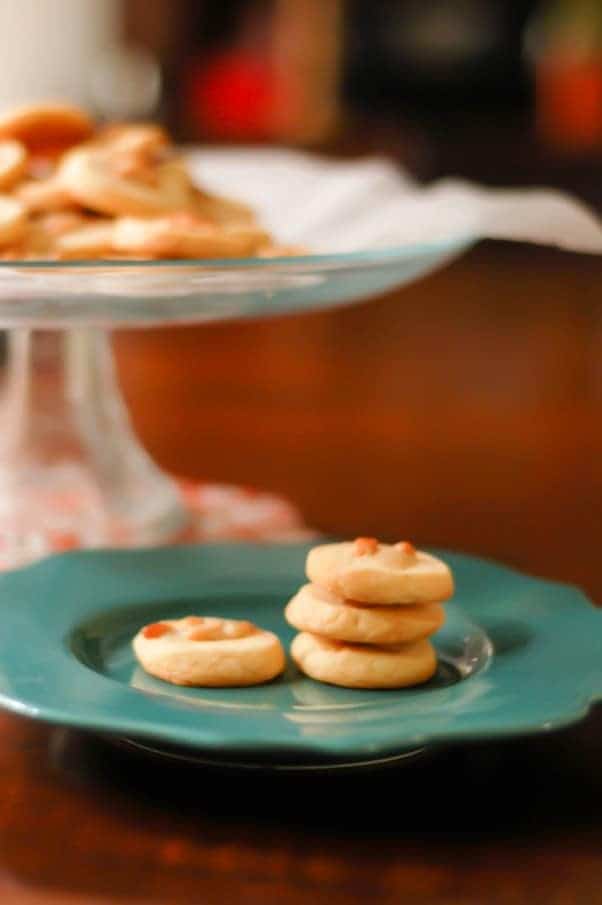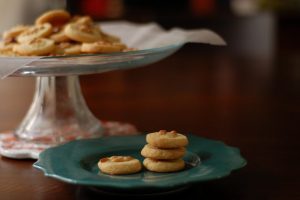 Print
Rosemary Pine Nut Cookies
These buttery, nutty, herby little cookies melt in your mouth. I've significantly simplified the method of making these cookies from the original version. I've also cut the amount of pine nut nougatine in half. These are delicate, sophisticated cookies–great for adults but maybe not quite right for the little ones in your life. The base cookie is so nice I'm thinking of using it for other things in the future. The original recipe calls for polenta, but I used corn flour because I had some on hand and I love the way it incorporates corn flavor without so much gritty texture, but the amount here is small enough that I'm sure even a courser grind of polenta would work. You could use also use cornmeal if that's what you have on hand.
Ingredients
For the pine nut nougatine:
3

tablespoons

heavy whipping cream

2 1/2

teaspoons

honey

2 1/2

teaspoons

granulated sugar

1/2

vanilla bean

split length wise

1/2

tablespoon

unsalted butter

2 1/2

teaspoons

all-purpose flour

1/4

cup

toasted pine nuts

(35 g)

1

fresh sprig of rosemary
For the cookie dough:
1/2

cup

unsalted butter, softened

(1 stick, 113 g)

2/3

cup

confectioners' sugar

(2 1/2 oz, 75 g)

1/2

teaspoon

vanilla extract

1/8

teaspoon

kosher salt

3/4

cup

all-purpose flour

(4 oz, 100 g)

1/4

cup

polenta, corn flour, or cornmeal

(1 1/3 oz, 40 g)
Instructions
First, make the nougatine topping. Add the cream, honey, sugar, butter, and vanilla bean to a small saucepan. Cook over medium-high heat, stirring occasionally, until the mixture comes to a boil. Remove from the heat, and carefully remove the vanilla bean. Whisk in the flour, and then stir in the pine nuts and rosemary sprig. Set aside to cool to room temperature. When the mixture is cool, remove the rosemary sprig. (You can make this up to a week ahead of time, just store it in an airtight container in the refrigerator and bring it up to room temperature before baking the cookies.)

Then, make the cookie dough. In the bowl of a stand mixer fitted with a paddle attachment, add the butter and confectioners' sugar and cream together on high speed until the mixture is creamy and smooth, about 5 minutes. Add the vanilla extract and mix until incorporated. Add the salt, flour, and polenta/cornmeal/corn flour and mix on low speed until all of the dry ingredients are incorporated.

Form the dough into a log about 1 1/2 inches in diameter and wrap tightly in wax paper or plastic wrap and refrigerate for at least 2 hours (or up to 3 days).

Preheat the oven to 350° F, and line two baking sheets with parchment paper.

Remove the dough from the refrigerator, and using a sharp chef's knife slice into rounds about 1/4 inch thick. Place each round on the prepared baking sheet, leaving about an inch of space between each cookie.

Work the nougatine between your fingers to create a dime-sized disk and place a disk of nougatine in the center of each of the cookies.

Bake for about 10 minutes, rotating about halfway through, until the cookies are just starting to turn golden brown at the edges. Allow the cookies to cool to room temperature on the baking sheet before transferring them to a storage container (or serving them).

These will keep well in an airtight container for a solid two weeks.