I may earn from purchases through links in this post.
We are in the bleak mid-winter in Chicago, the ground crusted with snow, the wind face-bitingly, finger-numbingly cold. Apart from the rare bit of blue sky peaking out at us today, we have been living in a palette of whites and muted grays.
I am getting tired of pilling scarves and hats and salt stained shoes. I am wearying of winter's dinge.
I have been subsisting on one warm bowl after another filled with chilis and curries and ribollitas, ladled over rice or sopped up with bread.
But as much as I love these comfort foods, I am ready for a break from them too. I've been longing for something vibrant, with a rich saturated hue and a bold flavor to cut right through the winter doldrums.
That's where cranberries come in. These deep red beauties are still hanging around in the produce section of my supermarket, looking lonely in the wake of the holidays.
After sputtering in a pot, slipping out of their skins, simmering with sugar and a vanilla bean and a splash of Cointreau, and then being rounded out and thickened with a couple of eggs, these tart red berries are tickled into a luxurious velvety pink curd.
I think of cranberry curd as winter's rosy cheeks, if such a thing could be jarred and spread on lemony muffins or cornmeal pancakes or whole wheat toast, or sneaked in little spoonfuls all by itself.
It isn't a summer jam, but a rich smooth sweet spread, with notes of vanilla and orange and just a hint of a pucker. Just the thing to brighten a buttery croissant and a mug of hot coffee on a mid-winter Sunday morning.
Yield: 2 generous cups
Cranberry Curd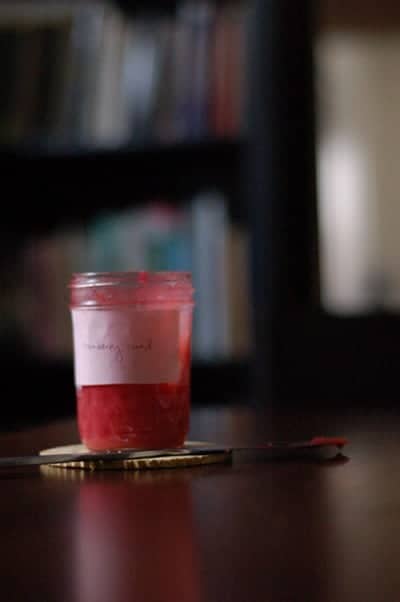 This luxurious, brilliant pink curd is a cinch to make. Cranberry's natural acidic tartness is tamed here into something sweet and round, but the berry's bright fruit flavor remains strong. It would be right at home on a holiday table, but it really shines as an accompaniment to a simple breakfast or dessert. If you want to make this beyond the season when cranberries are available in the grocery store, stock up on a few extra bags and throw them in the freezer where they'll keep for months.
Ingredients
2 1/2 cups (8 ounces) fresh or frozen cranberries
1/2 cup water
2 tablespoons unsalted butter
1 cup sugar
2 tablespoons Cointreau
1 vanilla bean, split lengthwise or 1 teaspoon vanilla extract
2 eggs
fine mesh strainer or food mill
Instructions
In a medium saucepan, heat the cranberries and water over low heat until the cranberries pop and split open. Press the cranberries through a fine mesh strainer or food mill, discard the solids, and return the puree to the saucepan. Add sugar, butter, vanilla bean (or extract), and cook over a low gentle heat until the sugar dissolves and the butter melts into the puree. Remove the vanilla bean and scrape the seeds into the puree (if you like, you can rinse and dry the bean and save it for another use). Remove the pan from the heat and allow it to cool slightly. Beat the eggs in a separate bowl. Add a little of the warm cranberry mixture to the eggs (this is to gently warm the eggs to prevent the eggs from curdling on contact with the hot mixture). Add the egg and cranberry mixture to the saucepan. Cook over low heat, stirring constantly, until the mixture thickens enough to coat the back of a spoon. Be careful not to curdle the mixture by raising the heat too high.
When the mixture is thickened, push it through the mesh strainer, and allow it to cool before putting it into jars and refrigerating.
Recommended Products
As an Amazon Associate and member of other affiliate programs, I earn from qualifying purchases.
Nutrition Information:
Yield:
24
Serving Size:
1
Amount Per Serving:
Calories:

53
Total Fat:

1g
Saturated Fat:

1g
Trans Fat:

0g
Unsaturated Fat:

1g
Cholesterol:

18mg
Sodium:

6mg
Carbohydrates:

9g
Fiber:

0g
Sugar:

9g
Protein:

1g