I may earn from purchases through links in this post.
The Tuscans have a way with beans.
If I came away from my year in Italy learning one thing about food, it was this. As much as I love pizza and fresh pasta and gelato, and, oh, do I love those foods, my most memorable meal on the boot shaped peninsula involved none of them.
It involved a vineyard, a cool misty spring day, and a bowl of beans. Well, really a bowl of warm pasta e ceci, which translates to pasta and chickpeas, drizzled with the vineyard's own olive oil and a toasty hunk of focaccia.
Eight years later, I still remember dipping my spoon into the thick stewy concoction and realizing for the first time that a chickpea could taste like comfort, so sturdy and so subtle. So good.
This is a dish that is so much more than the sum of its simple parts. A simple saute of onions and celery and garlic with a generous sprinkle of rosemary, chickpeas simmered and partially pureed, with nubby little bites of ditalini thrown into the mix.
It emerges as a delicately flavored bowl of stick-to-your-ribs goodness. Dan likens it to macaroni and cheese, and I think he's on to something with the comparison.
Except it's easier on the waistline.
And it's easy on the pocketbook as well, which is no small thing these days.
Simple food, well-prepared. It's the sort of thing I could eat until summer.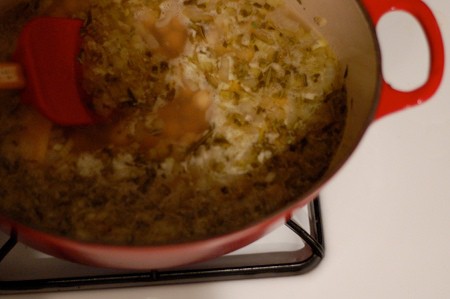 Yield: 4 smallish servings or 3 generous ones
Pasta e Ceci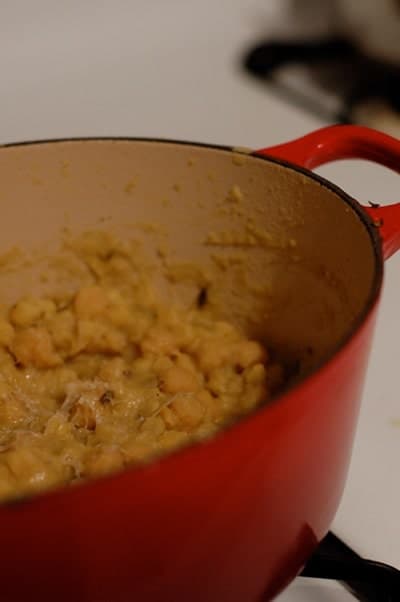 This dish is peasant food at its finest. It works well with canned chickpeas, but it's even better with dried. I use one of my favorite tricks in this dish to enhance the flavor. I save the rinds from parmesan cheese and store them in the freezer, then I cut off a piece, about an inch square or so, and simmer it with the chickpeas. It's optional, but it adds another dimension to vegetable stock or even water, and I highly recommend it.
Cook Time
1 hour
10 minutes
Total Time
1 hour
15 minutes
Ingredients
3 cups cooked chickpeas, or 2 15-ounce cans
1 stalk of celery, finely diced
2 cloves of garlic, finely minced
1 medium onion, finely diced
3 cups of vegetable stock, or water
1 bay leaf
1 tablespoon dried rosemary
1 inch square piece of parmesan rind, optional
3/4 cup dried ditalini
2 tablespoons to 1/4 cup of shredded parmesan, preferably parmigiano reggiano
olive oil for drizzling
salt
fresh cracked pepper
Instructions
In a medium sauce pan or dutch oven, heat a tablespoon of olive oil and add the onion, celery, garlic, rosemary, and bay leaf. Cover, and cook over low heat for about 20 minutes, or until the onions are translucent and the vegetables are soft.
Add the stock or water and chickpeas and parmesan rind, if using. Bring to a simmer and cook until the chickpeas are soft, about 35 minutes. Turn off the heat, and remove the bay leaf and the parmesan rind. Remove half of the chickpeas (about 1 and 1/2 cups) with a slotted spoon and set aside. Puree the remaining chickpeas with a stick blender (or food processor or standard blender). Return the reserved chickpeas to the pot, add the ditalini, and simmer over medium-low heat until the ditalini is al dente, about 15 minutes. Season with salt and pepper, and stir in the grated parmesan. Drizzle with olive oil, and serve.
Recommended Products
As an Amazon Associate and member of other affiliate programs, I earn from qualifying purchases.
Nutrition Information:
Yield:
4
Serving Size:
1
Amount Per Serving:
Calories:

344
Total Fat:

11g
Saturated Fat:

3g
Trans Fat:

0g
Unsaturated Fat:

6g
Cholesterol:

9mg
Sodium:

884mg
Carbohydrates:

47g
Fiber:

11g
Sugar:

8g
Protein:

18g