I may earn from purchases through links in this post.
If you've been wondering what you need—and what you really don't—when it comes to setting up your home bar, you've come to the right place.
I've been measuring and shaking and stirring and straining drinks for years.
I've wasted money on useless equipment and figured out what you really need to have for making quality craft cocktails at home.
These are tools we use all the time. Whether it's shaking up a Perfect Pear or stirring a Sazerac, this will get your sorted.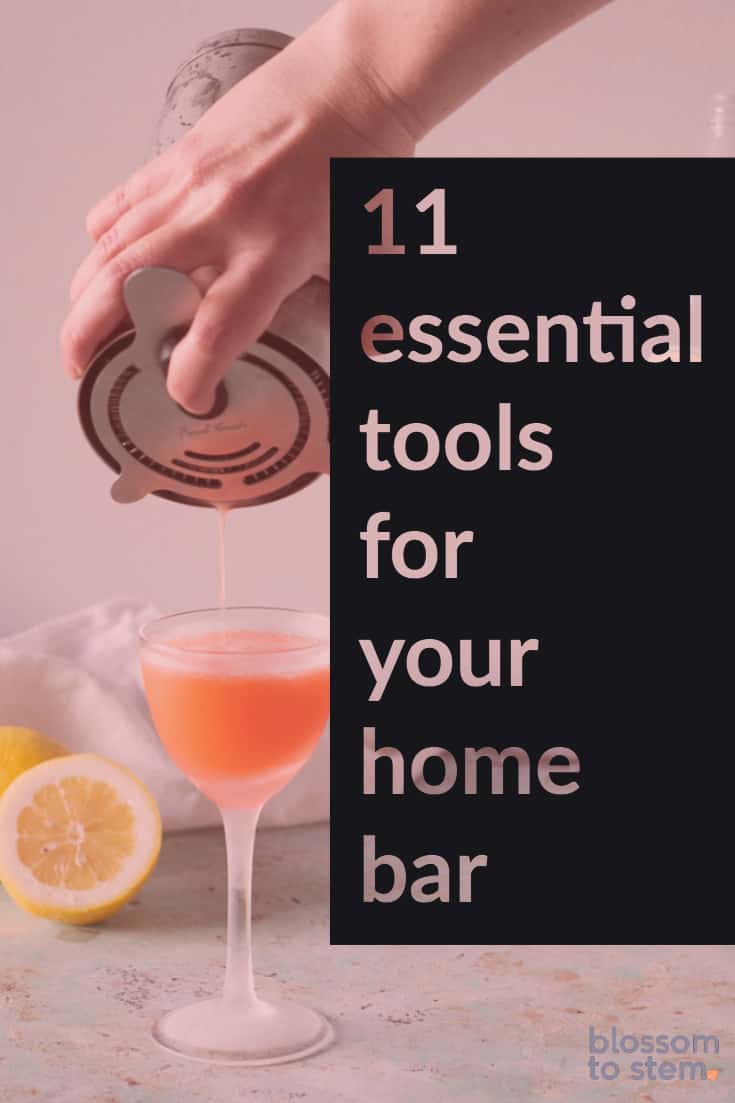 11 Essentials for your home bar
If you're outfitting your home bar for the first time or looking to upgrade your equipment, here are the essential tools you need to make most drinks. Here's everything you need from shakers to strainers to bar spoons to essential cocktail books. (And p.s., you don't need whiskey stones).
Disclaimer: As an Amazon Affiliate, I earn from qualifying purchases.
Photo Credit: www.amazon.com
A Boston Shaker or a two-piece set of shaking tins are essential. If you've ever tried to pry the frozen lid off of a cheap 3-piece cobbler shaker (probably the one you got as a gift in college), you know that they don't work very well. (There are good Japanese 3-piece shakers out there, but they cost more).
This set of mixing tins is my personal favorite. They're inexpensive and virtually indestructible. They click together with the top slightly tilted and allow for plenty of room for aerating shaken drinks. They don't have built-in strainer, so you'll have to get one (don't worry, they're also inexpensive).
Photo Credit: www.amazon.com
A Hawthorne Strainer is essential for use with a Boston Shaker or the shaking tin set listed above. The metal coil helps to strain out ice as well as any herbs or muddled citrus that may also be in the shaker. I find this OXO version the most comfortable to use because of its short handle.
Photo Credit: www.amazon.com
You need at least 2 jiggers. This is the first one. One side holds 1 oz the other side holds 2 oz. This is essential for measuring drinks.
Photo Credit: www.amazon.com
This is the second jigger you need for accurate measuring. One side holds a 1/2 oz and the other side holds 3/4 oz. With this and the one above you should be able to measure most drinks.
Photo Credit: www.amazon.com
A sturdy bar spoon is essential for stirring drinks. This is one place where it's worth splurging because the cheap ones feel too flimsy and poorly balanced to get around the ice in a mixing glass. A nicely weighted bar spoon makes stirring a pleasure.
Photo Credit: www.amazon.com
A mixing glass isn't strictly necessary. You can stir a drink in a pint glass or in your metal cocktail shaker. But a heavy-bottomed mixing glass does make the experience more fun, and they're so pretty to look at. If you like stirred drinks, it's totally worth the investment.
Photo Credit: www.amazon.com
A Julep Strainer is the tool you turn to for straining a stirred drink. They're the prettiest of the common cocktail strainers, and they're just there to hold the ice back while you strain the drink from the mixing glass into your serving glass. If you just get one strainer, go for the Hawthorne, but a Julep Strainer is nice to have around.
Big cubes are essential for rocks drinks like the Old Fashioned or the Manhattan. The ice melts more slowly so it helps you control the dilution of your drink. This tray makes 2-inch cubes that fit well in most rocks glasses.
Photo Credit: www.amazon.com
A simple hand-held lemon squeezer is the best tool for juicing lemons and limes. It makes your life so much easier and yields so much more juice than if you use a reamer or try to juice them by hand. You don't need the smaller dedicated lime squeezer—this version works well for both lemons and limes.
Photo Credit: www.amazon.com
A Y-peeler is essential for peeling off a thin layer of citrus zest to express over a cocktail. Any vegetable peeler will work, but Y-peelers are a nice shape for working with round citrus like oranges and lemons. This set is inexpensive and works well.
Photo Credit: www.amazon.com
A rubber bar mat is a great way to protect your countertops or table from spills and drips. It makes for a great place to put your barspoon or strainer when not in use and it also protects glassware from scratches. It's inexpensive and easy to wash (it's dishwasher safe). Helps keep things tidy.