I may earn from purchases through links in this post.
On Saturdays in the summer, my routine almost invariably includes a trip to the Evanston Farmers Market.
From time to time, I think about swapping my northerly trek for a southerly one and finally checking out the Green City Market or just making a quick trip to the little Edgewater Market that's within walking distance, but then I think about the crates upon crates of heirloom varieties of tomatoes and cucumbers and garlic and fingerling potatoes and the little bundles of shiso and the mesclun dotted with delicate flowers and the red amaranth and all the colors of carrots at Henry's Farm stand, and my decision is simple.
I put on my shoes, throw my unwashed hair in a ponytail and head out the door.
When there are so many options, it's easy get home and discover I've lugged back something that wasn't quite what I expected. This beauty of a watermelon was a recent find from Henry's stand that took us by surprise. In a good way.
We didn't know it was any special variety, but when we cut it open, we found brilliant yellow flesh inside.

This baby was crisp and juicy and incredibly sweet. And it was yellow. Really yellow.
I always thought of pink watermelon as the quintessential summer fruit in a so-refreshing-dripping-down-your-chin-as-you-spit-seeds-in-the-backyard sort of way, but somehow this yellow version seems even more of the season.
And as we near the end of summer, what better way to hang on to it than to turn it into sorbet and freeze it?
This watermelon sorbet is bright sunshine yellow and about as close as it comes to keeping a container of concentrated summer in the freezer. Sweet and icy with just enough lime to cut through the sugar, a little scoop of this hits the spot on a hot day. Or any day, really.
It is another satisfying recipe from David Lebovitz's recent book on all things ice cream, The Perfect Scoop. (I seem to be on a yellow kick lately–a few weeks ago the lemon speculoos ice cream recipe from the same book had me struggling to save every last drip at the bottom of the bowl.)
Yield: 1 quart
Yellow Watermelon Sorbet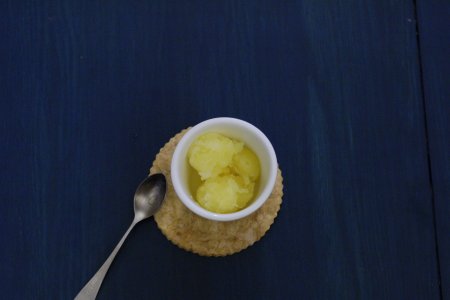 This sorbet comes together easily. The trickiest part is picking the seeds out of the watermelon before you puree it into juice. The original recipe calls for mini chocolate chips to be mixed in the end. I omitted them, but you can feel free to stir some in before you put away the finished sorbet. The flavor of watermelon is delicate, and the vodka and lime flavors are detectable here. I like it that way, but you should probably omit the vodka if you really don't want to know it's there. I love the way this looks with yellow watermelon, but, of course, it will work with the pink variety if that's what you have.
Total Time
8 hours
15 minutes
Ingredients
3 pound chunk of watermelon, preferably yellow
1/2 cup sugar
1/4 teaspoon salt
1 tablespoon lime juice
2 tablespoons vodka
Instructions
Cut away the rind of the watermelon and remove the seeds. Cut the flesh into manageable pieces and add to a blender or food processor and puree until liquid. You should have about 3 cups of juice (puree a little more watermelon or set aside the extra juice for another use if necessary). Pour into a medium mixing bowl and set aside.
In a small saucepan, heat 1/2 cup watermelon juice, sugar and salt until all of the sugar has dissolved. Remove from heat and add to the bowl with the watermelon juice. Stir in the lime juice and vodka.
Chill in the refrigerator overnight and then process in an ice cream maker.
Recommended Products
As an Amazon Associate and member of other affiliate programs, I earn from qualifying purchases.
Nutrition Information:
Yield:
8
Serving Size:
1
Amount Per Serving:
Calories:

108
Total Fat:

0g
Saturated Fat:

0g
Trans Fat:

0g
Unsaturated Fat:

0g
Cholesterol:

0mg
Sodium:

68mg
Carbohydrates:

26g
Fiber:

1g
Sugar:

23g
Protein:

1g