I may earn from purchases through links in this post.
One of my earliest kitchen memories is the smell of the warm, oaty, honeyed clumps of granola that my mother allowed my to stir–carefully, with a wooden spoon–as I stood on a chair to reach the golden mixture on a high rack in the upper part of her double oven.
Though I no longer use her recipe, some twenty-odd years later I still find comfort in the sweet, nutty scent that wafts through my apartment when I make this.
I've experimented with different flavor combinations and tweaked granola recipes numerous times over the last couple of years.
Cardamom, tart cherry concentrate, golden syrup, dried coconut, freeze-dried strawberries have all made appearances in different versions, but the one I never tire of is simple and hearty, sweetened with maple syrup, flavored with vanilla extract and a hint of decadent coconut oil, and hit with just enough of a salty edge to wake up sleepy tastebuds.
A bowl of this, topped with skim milk alongside a cup of coffee keeps me going until lunch. I have yet to discover a more satisfying weekday breakfast.
[Edit: this post is originally from 2007. I have a new and improved granola recipe here.]
Yield: 14 cups
Maple Vanilla Nut Granola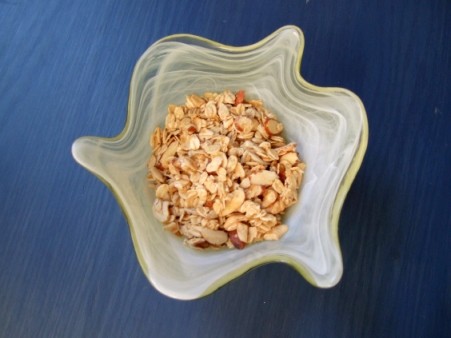 Granola recipes are by nature infinitely malleable. Just about everything here apart from the oats and some liquid sweetening agent to glue everything together is optional. The nuts I use vary depending on what I have on hand, but the ratio of nuts and seeds to oats and liquid stays roughly the same. I always use grade B maple syrup here for its rich and distinct maple flavor. You may omit the coconut oil if you wish to avoid adding more saturated fat or simply don't want to make a trip to the store for a specialty ingredient; it will still taste good (just not quite as good).
Cook Time
1 hour
15 minutes
Total Time
1 hour
20 minutes
Ingredients
10 cups rolled oats
1 1/3 cups sliced almonds
2/3 cup walnut pieces
2/3 cup chopped cashews
1 cup sunflower seeds
1/4 cup whole wheat flour
1/2 teaspoon kosher salt
1 1/4 cups maple syrup
3 tablespoons canola oil
1 tablespoon coconut oil
1 tablespoon vanilla
Instructions
Preheat oven to 250°F.
In a large bowl, mix the oats, nuts, seeds, flour and salt.
In a separate microwave-safe bowl or liquid measuring cup, add the maple syrup, canola oil and coconut oil and microwave in 30 second bursts until the coconut oil is melted. Add the vanilla extract and stir.
Pour the wet ingredients over the dry ingredients and mix well, until all of the dry ingredients are thoroughly moistened.
Divide into two 9x13-inch pans and spread evenly.
Bake for 1 hour and 15 minutes, stirring about halfway through baking. The granola should be golden and slightly moist; it will take on its characteristic crunch as it cools. Let cool in the pan, uncovered. Store in an airtight container (preferably in the refrigerator).
Nutrition Information:
Yield:
14
Serving Size:
1
Amount Per Serving:
Calories:

520
Total Fat:

24g
Saturated Fat:

3g
Trans Fat:

0g
Unsaturated Fat:

19g
Cholesterol:

0mg
Sodium:

674mg
Carbohydrates:

67g
Fiber:

9g
Sugar:

19g
Protein:

14g