I may earn from purchases through links in this post.
When I lived in Italy, the one meal that became a repeated source of disappointment was breakfast.
Don't get me wrong, I was entranced by the dainty cups and spoons, the mysterious drink requests (caffe normale con un cubetto di ghiaccio [espresso with one ice cube?]), the sometimes oddly tetrahedral or cylindrical sugar packets, and the seemingly unlimited uses for Nutella, but I wanted more than 30-bleary-eyed-seconds to take it all in.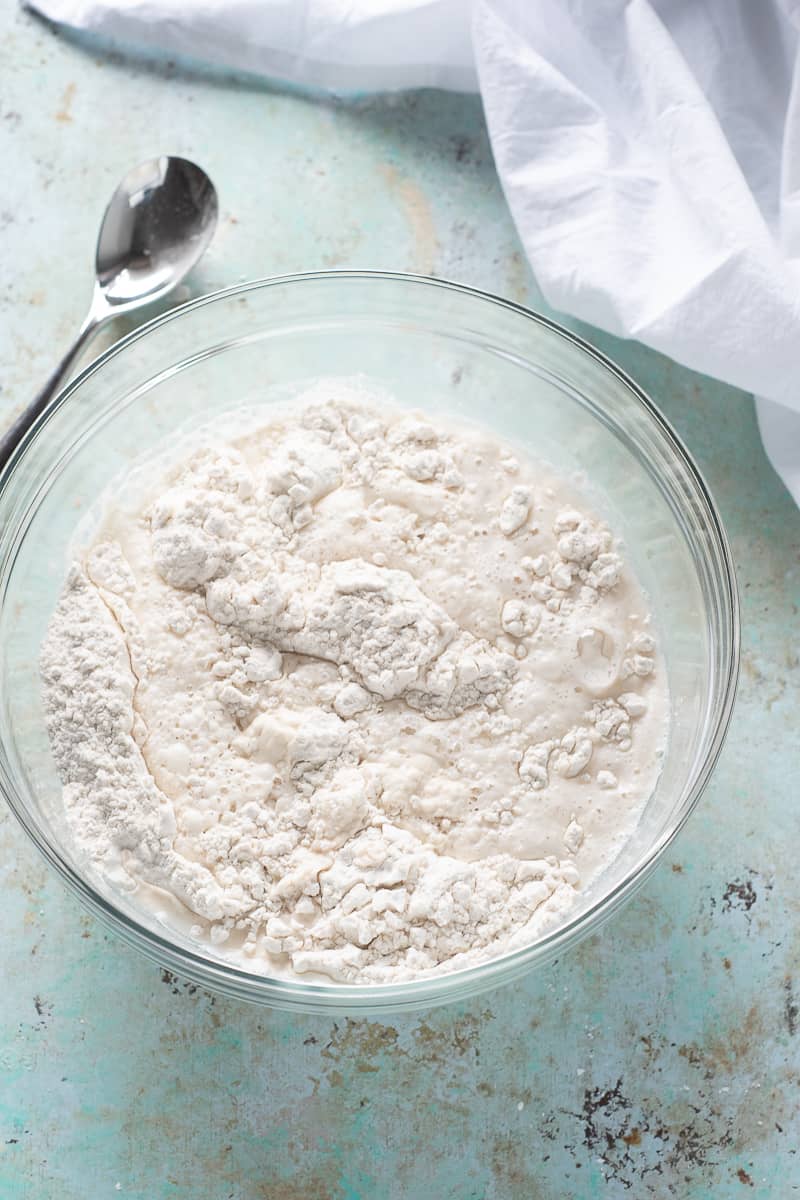 And I wanted to sit down.
And maybe have something of substance, senza zucchero?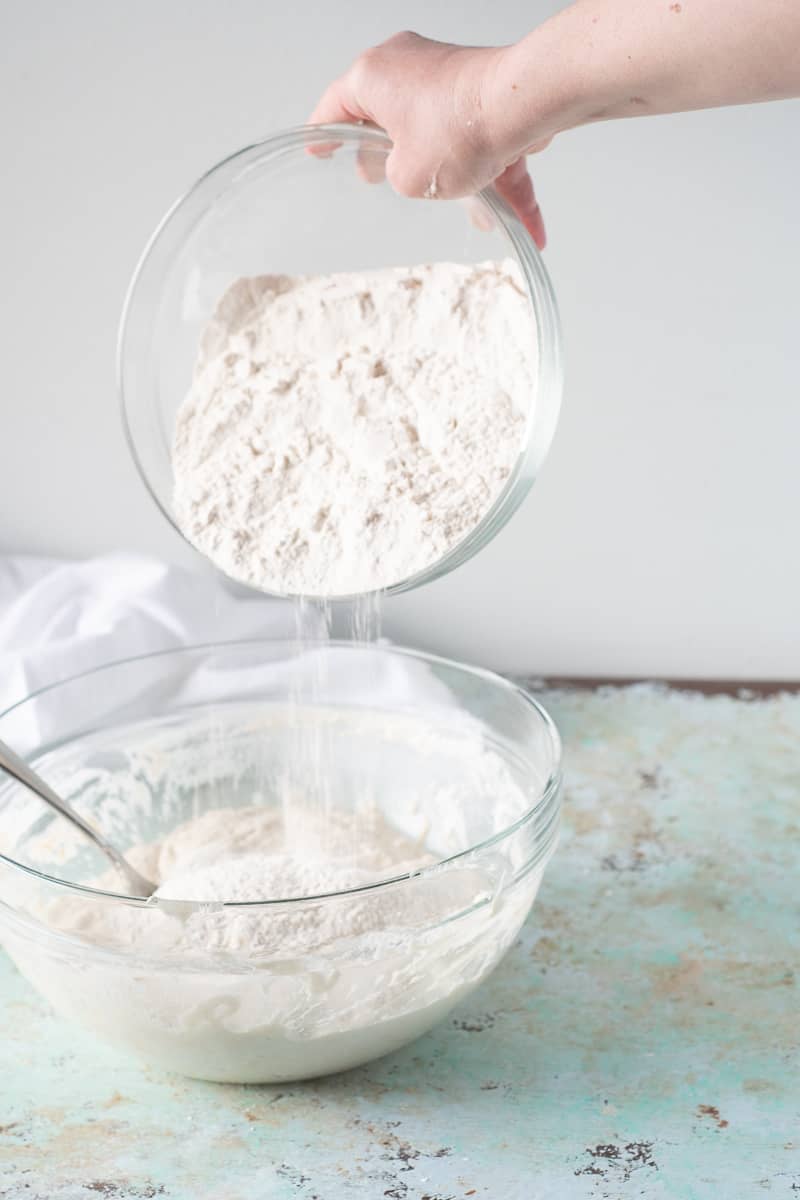 A typical breakfast in Rome consists of a shot of espresso, perhaps accompanied by a sugary pastry, consumed while standing at a bar in a minute or two.
Caffe e cornetto sound lovely, but at the start of my day I like my coffee slowly sippable and my foodstuffs no more than slightly sweet. It turns out that when it comes to breakfast, I have a tough time imitating the Romans.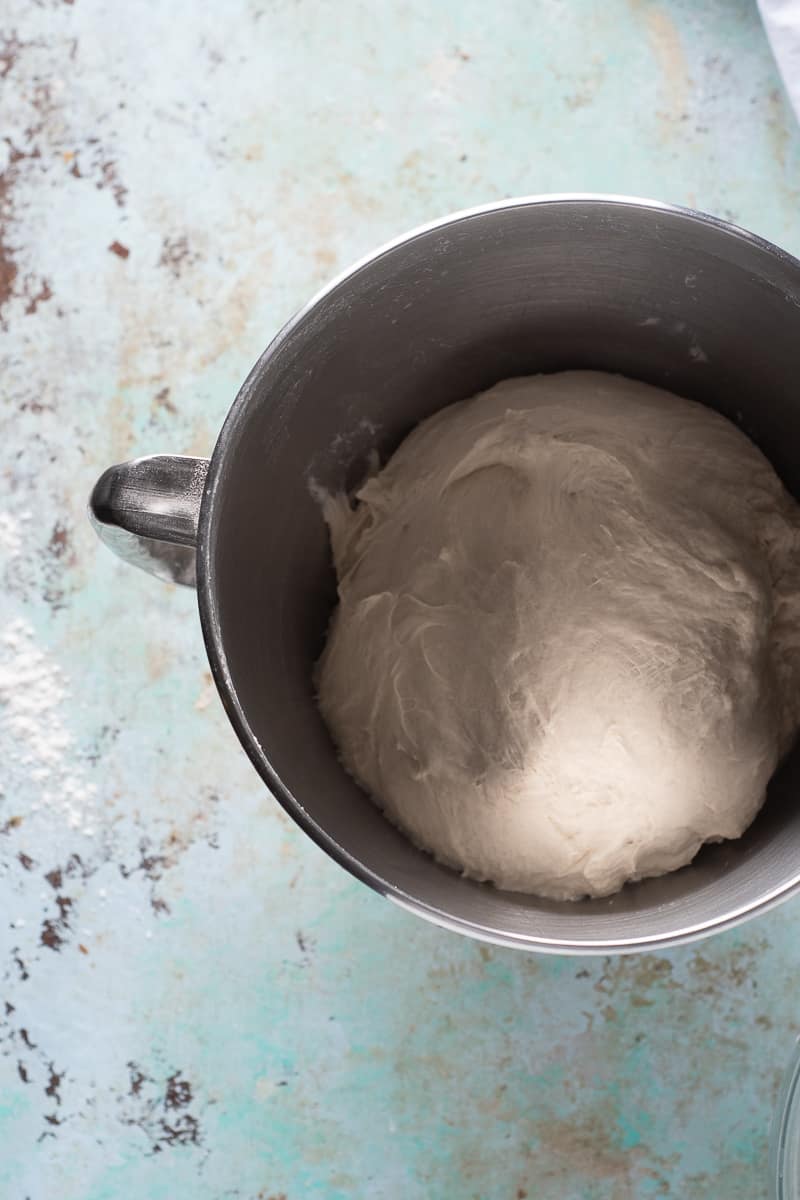 I decided, about six months into my stay, that what I wanted for breakfast, what I really wanted, was a bagel. A dense, chewy, blistered, fresh, warm, golden brown circle of doughy goodness. Sprinkled with seeds. Or salt.
I'm not sure I had ever even had a bagel that quite lived up to the standards of the mythical bagel that danced in my head. Nonetheless, when the early hours rolled around, I craved it. For weeks.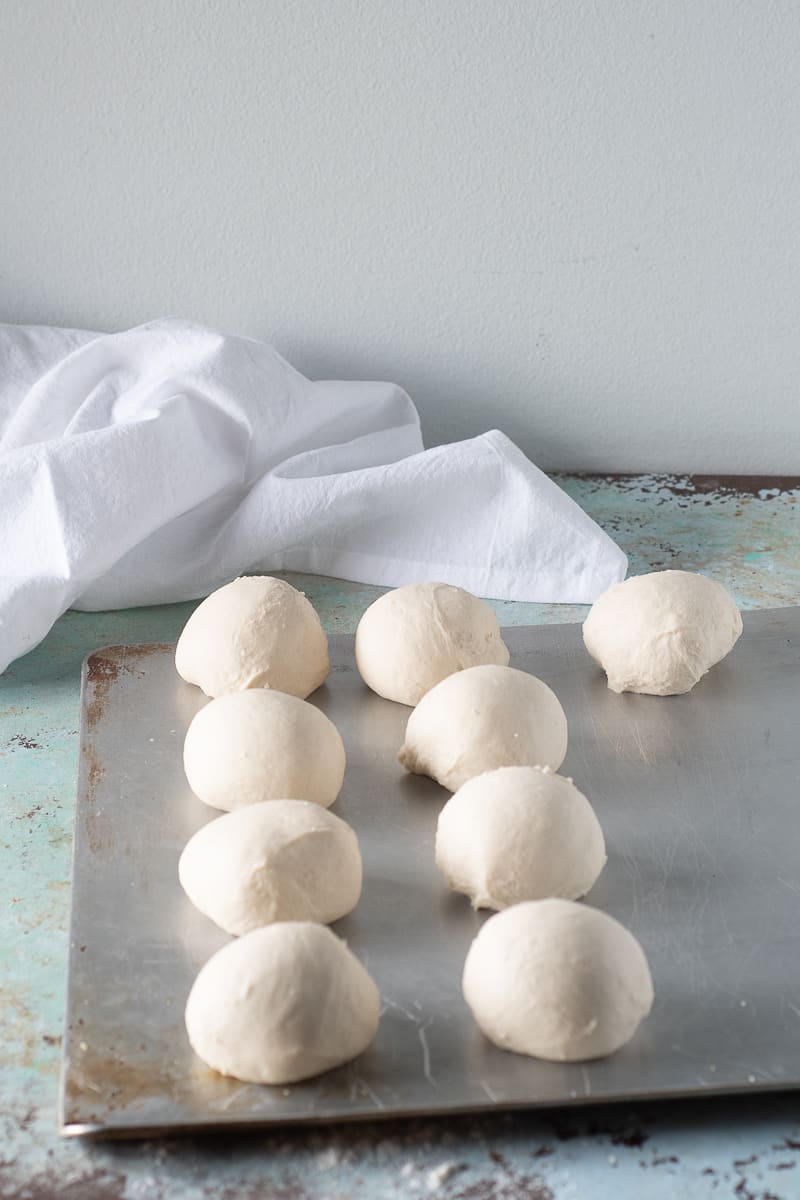 Perhaps there is a source for bagels in the Eternal City (like there is in the City of Light), but I never stumbled upon it.
Truth be told, I didn't really look. I felt rather sheepish about the whole thing, like some sort of ugly American who felt entitled to every good starch, unable to be satisfied with pizza, gnocchi, polenta, in a land where pasta and potatoes have been immortalized as a respectable meal for good common people in film.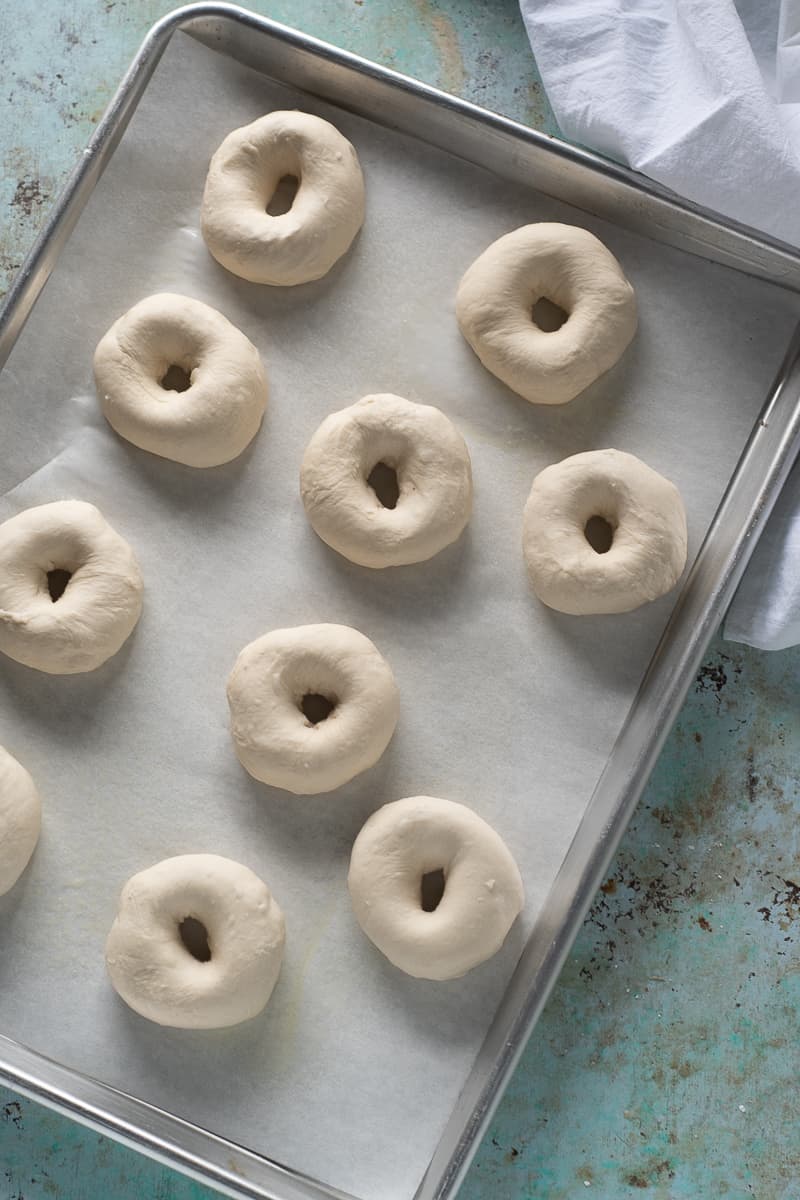 So most mornings I tossed back un caffe, nibbled on some dry biscotti and looked forward to the meals at which my host country excelled.
Chicago isn't really known for its bagels. Though it isn't bagel deprived, it's certainly no New York or Montreal.
But I've discovered that I can satisfy any new bagel cravings without putting my shoes on. If only I had had this recipe, some high-gluten flour, and access to a kitchen in Rome…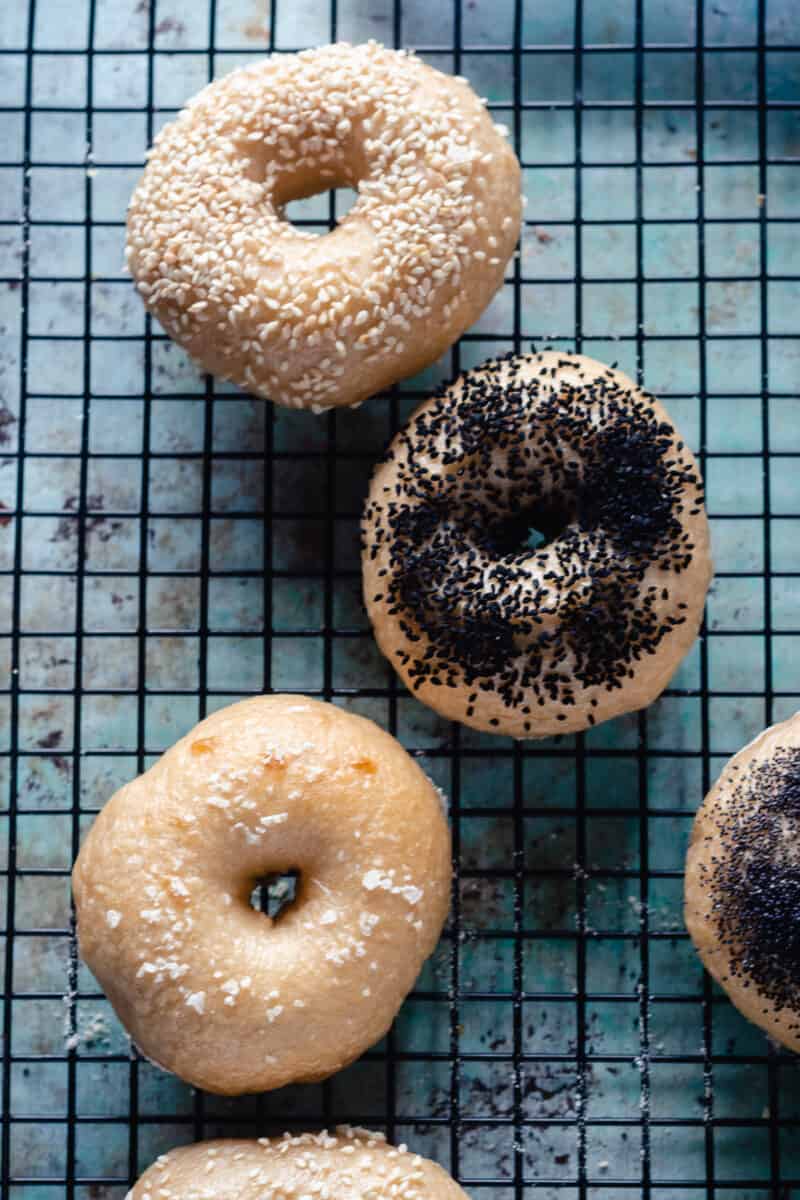 This recipe comes from Peter Reinhart's book The Bread Baker's Apprentice, which has been mentioned elsewhere with high praise.
I'll add my voice to the chorus suggesting you take a look at this book if you are interested in learning more about bread.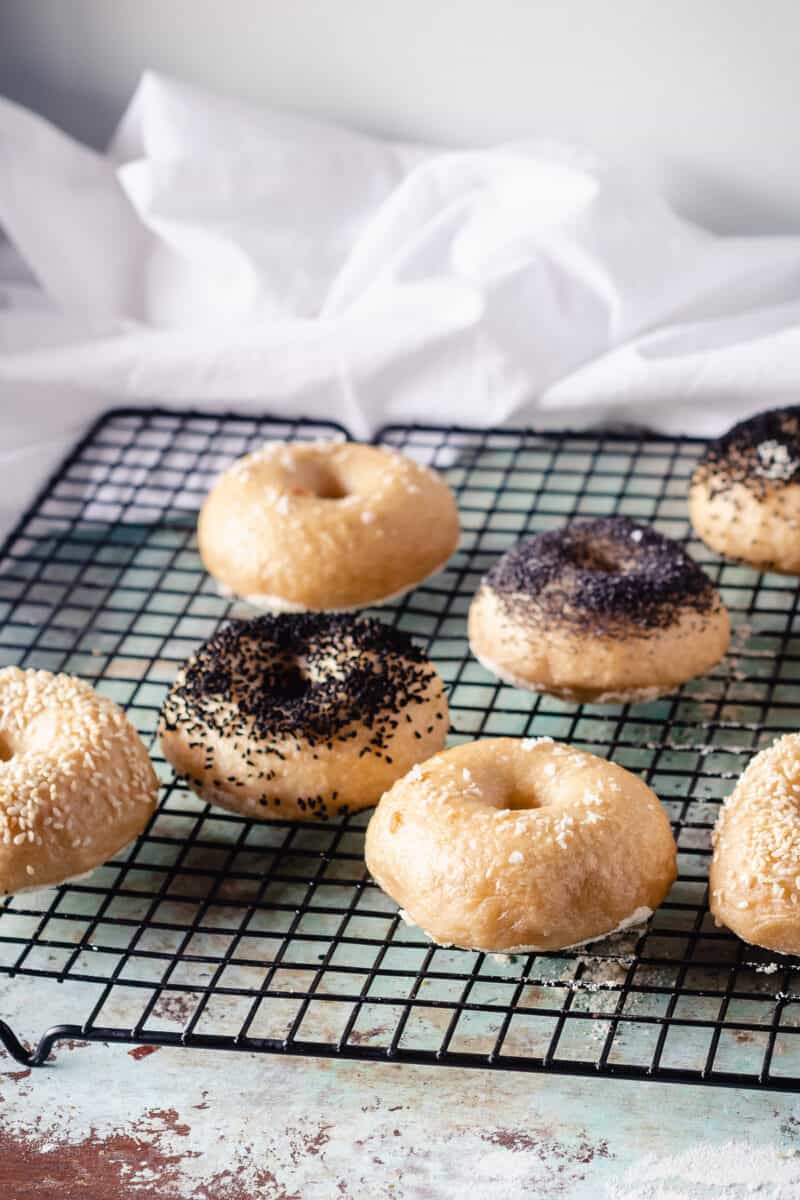 Yield: 9 bagels
Peter Reinhart's Bagels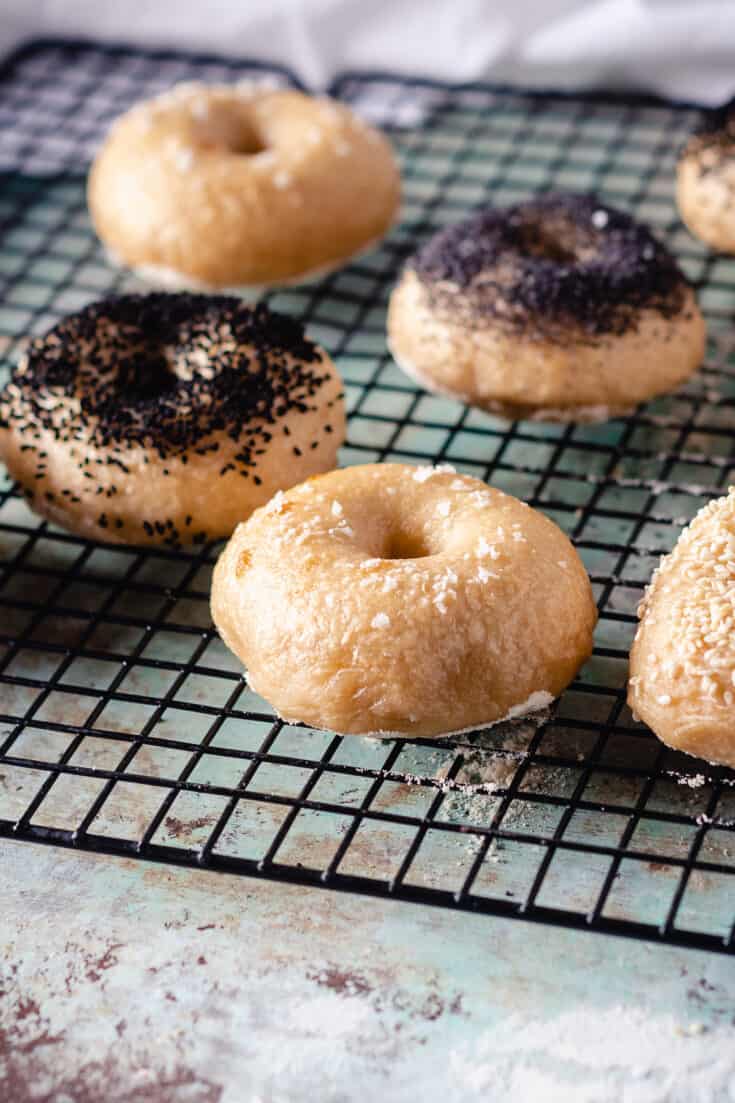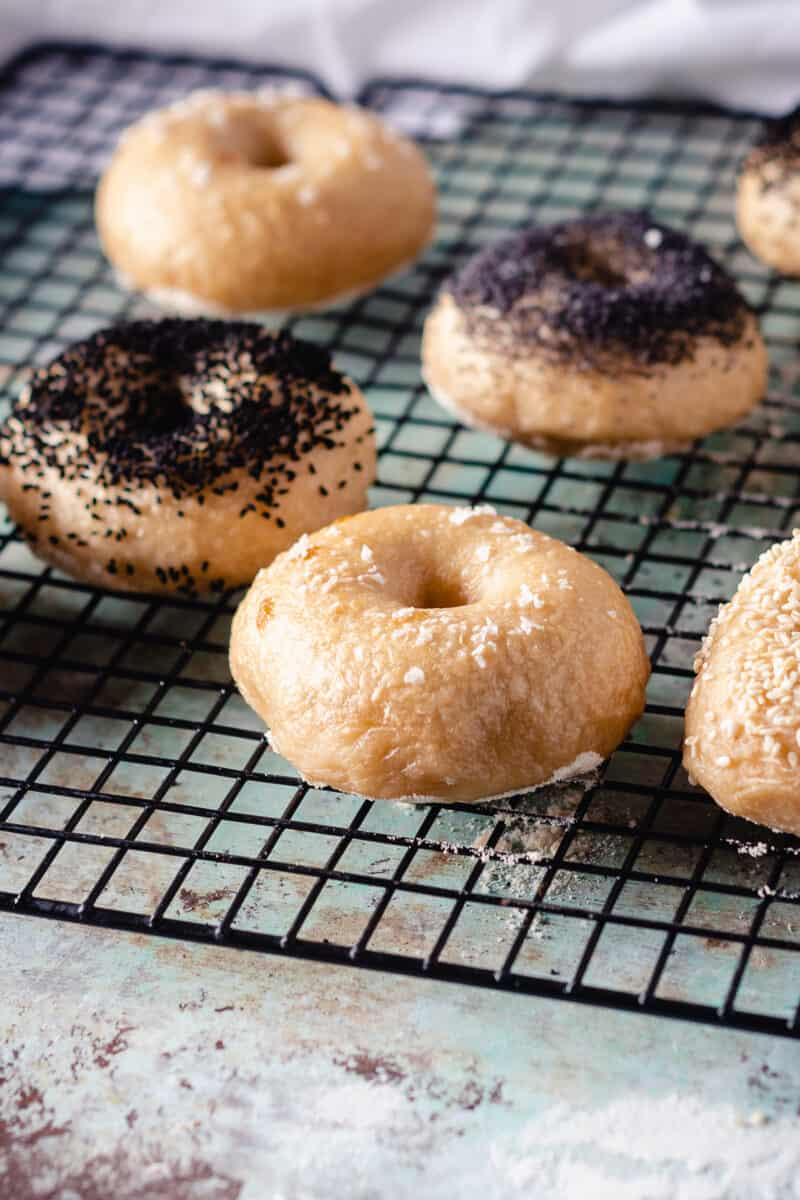 Bagels are best with high gluten flour or bread flour, like those available at King Arthur Flour. You'll get less chewy results with all-purpose flour.
Beyond the flour, the key to getting classic bagel texture is boiling the bagels in an alkaline bath with baking soda before baking them in a hot oven.
The key to classic bagel flavor is malt, in the form of barley malt syrup or diastatic malt powder. The former is available at many grocery stores and natural foods stores, and the latter is available at King Arthur Flour and other specialty baking stores. Don't confuse it with malted milk powder, which is something different.
In a pinch, honey or brown sugar will also yield tasty, if not quite characteristically bagel-like, results.
Total Time
13 hours
12 minutes
Ingredients
Sponge
1/2 teaspoon (.055 ounce/1.56 grams) instant yeast
2 cups (9 ounces/255 grams) high-gluten flour
1 1/4 cups (10 ounces/295 milliliters) water, at room temperature
Dough
1/4 teaspoon (.028 ounce/.8 gram) instant yeast
1 3/4 cups (8.5 ounces/240 grams) high-gluten flour
1 1/4 teaspoons (.3 ounce/8.5 grams) salt
1/2 tablespoon malt syrup, honey, or brown sugar (or 1 teaspoon diastatic malt powder)
Finishing Touches
1 tablespoon baking soda
cornmeal for dusting
optional toppings: sesame seeds, poppy seeds, kosher or sea salt, cinnamon and sugar, etc.
Instructions
A day (or two) before you want the bagels: Prepare the Sponge. In a large bowl (if using a stand mixer, go ahead and start it in that bowl) mix 1/2 teaspoon yeast, 2 cups high-gluten flour, and 1 1/4 cups water until it forms a thick batter. Cover with plastic wrap and let sit until bubbly, nearly doubled in size, and on the verge of collapse, about 2 hours.
Make the Dough. Add 1/4 teaspoon instant yeast to the sponge and stir. Add the salt, malt syrup or powder, and and 1 1/2 cups flour. If using a stand mixer, stir a few strokes by hand to incorporate some of the dry flour with the sponge (this will help to prevent flour from flying everywhere when you turn on the mixer). Mix on low speed for about 2 minutes, or by hand for a few minutes or until a dough ball has formed. Slowly add the remaining flour, and mix on medium speed for 6 minutes (or knead by hand for about 10 minutes) or until all of the flour is incorporated. The dough should be smooth, stiff, stretchy, and not sticky or tacky. If the dough feels dry and tears easily when stretched, add a little water, a teaspoon at a time, and knead some more. If the dough feels sticky, add some flour.
Divide and Shape the bagels. Line a sheet pan with parchment paper and spray lightly with oil. Divide dough into 2 3/4 to 3 ounce pieces, or, if you don't have a scale, into 9 equal pieces. (Reinhart recommends 4 1/2 ounce bagels, which I found to be too large and difficult to work with.) Roll each piece into a ball, place on parchment, cover with a damp towel and let rest for 20 minutes. With your finger or thumb, poke a hole in each piece and stretch to about an inch in diameter. Try to stretch the dough evenly to avoid thick and thin spots. Place on parchment, cover with a damp towel, and let rest for 20 minutes. To test to determine whether the bagels are ready to go into the refrigerator, fill a medium bowl with cool water. Drop one of the bagels into the water. It should float within 30 seconds. If it doesn't, pat the bagel dry, return to parchment and let rest for another 10 minutes before testing again. If it does float, pat the bagel dry, cover the baking sheet with plastic wrap. Be careful to create an airtight seal, otherwise the bagels could dry out. Place in the refrigerator overnight (or for up to two days).
On the day you want the bagels (one or two days later): Get everything ready. Preheat the oven to 500°F. Line a baking sheet with parchment paper and mist with oil and dust with cornmeal. Bring a large pot of water to a boil, and add the baking soda. Have a slotted spoon ready. If you are topping with seeds or salt, have those out and ready. If you are topping with cinnamon and sugar, melt a few tablespoons of butter, and have a cinnamon and sugar mixture ready.
Boil. Remove the bagels from the refrigerator. Place a few bagels into the boiling water. Be careful not to overcrowd the pot--the bagels will puff up a bit in the water. (I fit about 3 at a time.) Boil for 1 minute, then turn the bagels over and boil for another minute. Place on prepared parchment. (The bagels have a flatter side and a rounder side. Place the flat side down for a more rounded top.) If using seeds or salt, top when the bagels come out of the water. If topping with cinnamon and sugar, wait on that. Repeat with the rest of the bagels.
Bake. Place baking sheet on the middle rack on the oven and bake for 5 minutes. Reduce heat to 450°F, rotate the baking sheet 180° and bake for an additional 5-8 minutes, or until tops are golden brown. Remove from the oven and cool on racks for about 15 minutes. If topping with cinnamon and sugar, brush tops of bagels with butter just after they come out of the oven and sprinkle with cinnamon and sugar mixture and let cool.
Recommended Products
As an Amazon Associate and member of other affiliate programs, I earn from qualifying purchases.
Nutrition Information:
Yield:
9
Serving Size:
1
Amount Per Serving:
Calories:

307
Total Fat:

3g
Saturated Fat:

0g
Trans Fat:

0g
Unsaturated Fat:

2g
Cholesterol:

0mg
Sodium:

728mg
Carbohydrates:

66g
Fiber:

5g
Sugar:

19g
Protein:

7g