I may earn from purchases through links in this post.
If you're looking for light recipes for a January detox, check out my January recipes board on Pinterest.
It's been a whirlwind of activity around here during the last week. We are still recovering from our biggest party of the year.
Seven years ago, Dan and I began hosting a New Year's Day brunch. It was something of a whim. I had learned to make bagels not long before, and I was looking for an excuse to make them for friends.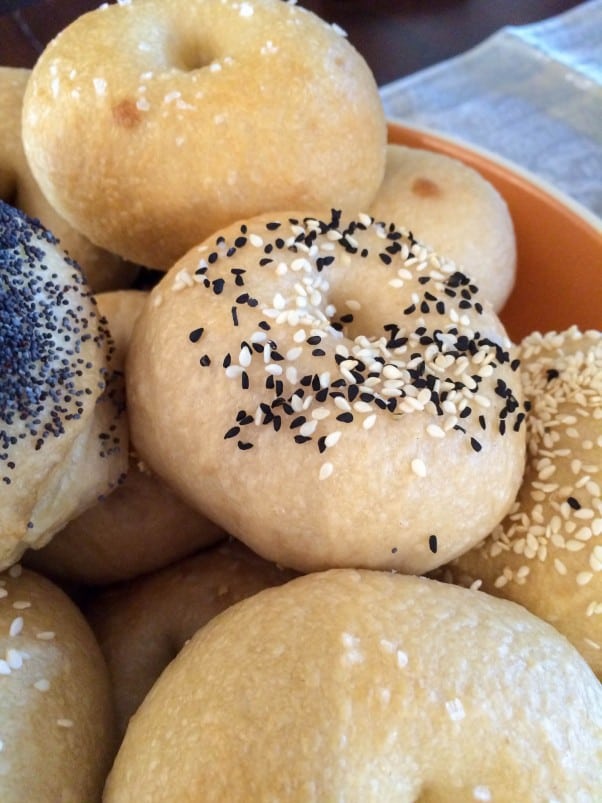 That first year, I lived in a tiny one bedroom apartment, and I think we had about 14 people crammed around the kitchen peninsula and the little blue table that served as my dining area. I had never hosted a breakfast or a brunch before, and I made all sorts of mistakes in planning the menu. In addition to bagels, I made waffles and scrambled eggs, and pot after pot of coffee. It was fun, but also entirely too much work to attempt to do during the party itself.
It's funny to think back to it and realize how much my cooking and my life has changed in the intervening years. I've moved twice, I got married, I faced serious illness, I left my stable job, I've become a homeowner. And while I was a decent cook then, I'm a much better and more experienced one now.
The menu of the brunch has changed considerably. There are still bagels, but that might be the only thing that was on the menu of that first brunch and the one we threw this year. I do everything else ahead of time, so that there's minimal work going on while our guests are around. The cranberry orange pecan bread and pumpkin tea cake and cranberry curd and frangipane cream and cinnamon crumb coffee cake and brioche dough I make two days in advance. Then the day before I bake the brioche and make the frittatas and make the dough for and shape the bagels and assemble the bread pudding. Then the morning of the brunch I boil and bake the bagels, assemble and bake the brioche bostock and bake the bread pudding.
We wisely invested in a coffee urn
that means we can make it once and have 40 cups available without having to make another pot. I've scrapped the waffles and the scrambled eggs and almost everything that might require a fork. I've scrapped various other things that didn't work so well–the baked french toast that would have been better if everyone was sitting at a table, the braided danish that took hours to make and was delicious warm but underwhelming when it cooled to room temperature–and I've also scrapped the croissants that required me to get up at 4 in the morning to pull them out the refrigerator to proof so that they could be ready on time.
It's become so much easier and so much less chaotic, even if I still, still manage to make almost twice as much food as our 26 guests could get through.
The ritual of doing this again and again, though, has been important for me. It's a way I can share my cooking with friends and it's a way I can take notes and adjust and tweak and improve so that each year it becomes more the thing I want it to be.
Here are the books I turn to again and again for my brunch, they are some of my all-time favorites:
The Bread Baker's Apprentice
Peter Reinhart is my favorite bread cookbook writer. I tested recipes for another one of his books, but this is the book that taught me to make bagels and shape brioche and demystify complex bread baking for me.
Tartine
I have never been to Tartine bakery in San Francisco, but what I've made from this cookbook makes me feel confident that it must be an extraordinary place indeed. I use it for brioche bostock and the brioche bread pudding with fruit that I've made a number of times, and this year I also used it for the pumpkin tea cake.
Ideas in Food
This book is so interesting for thinking about new approaches to cooking. It has my go-to brioche recipe, which is so easy and so good it almost feels like cheating.
Baked Explorations
This book is full of beautiful pictures and approachable recipes. My favorite big crumb coffee cake comes from this one.
The Modern Cafe
This book helps me think about making things on a large scale, how to prep things efficiently, how to serve and store things, how to approach the kitchen like a professional. The pearl sugar brioche came from this one.
Huckleberry
And last but not least, the newest addition to my brunch collection is Huckleberry, which provided me with the recipe for maple bacon brioche, which turned out to be the runaway hit of this year's brunch. It was also the source for the bacon and Brussels sprout frittata.
Happy New Year!