FYI: If you buy something through a link in our posts we may get a small share of the sale.
Dan raised a quizzical eyebrow when he heard me say "barley salad."
It's tough to make barley sound sexy. It tends to sneak into our diets unnoticed, flavoring our beers and bagels and scotch whiskies and malted milk balls, lingering in the background but seldom taking center stage.
Basho, the seventeenth century Japanese master of haiku, mentioned the grain in one of his more famous poems:
Girl cat, so
thin on love
and barley.
Basho had a knack for locating images imbued with sabi, a quality referring to something aged, solitary, tranquil with the beauty of a "rustic patina." ((Parkes, Graham, "Japanese Aesthetics", The Stanford Encyclopedia of Philosophy (Spring 2006 Edition), Edward N. Zalta (ed.), http://plato.stanford.edu/archives/spr2006/entries/japanese-aesthetics.)) Barley has that rustic patina in spades.
There is something so satisfying about this. Hulled barley's earthy flavor and pleasantly chewy texture pair well with rich caramelized cauliflower and garlicky, juicy roasted mushrooms. Shaved fennel adds crunch and a smattering of watercress mixes a lively green with the whites, beiges, and browns.
Hearty but not heavy, this is a salad for late winter. It's a bowl and fork kind of meal. It's good warm, but works equally well cold. It travels well and keeps well, making it an excellent brown-bag lunch, if it sticks around that long. (And, as it turns out, Dan likes it.)
Yield: 4 main-course servings
Lemony Barley Salad with Caramelized Cauliflower, Roasted Mushrooms, and Shaved Fennel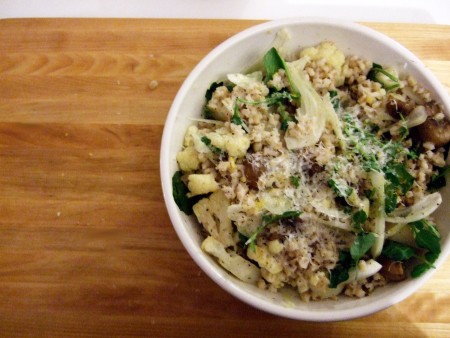 This salad requires about an hour and a half of lead time, but the time-consuming parts can be done in advance. Hulled barley takes an hour to cook and can be prepared a day ahead of time (pearl barley, a more refined, quicker-cooking version can be substituted; it will provide a milder flavor and softer texture). I baked the barley, using a method of Alton Brown's. It can also be boiled, which would free up the oven for roasting the vegetables. You could easily substitute another green for the watercress–arugula and spinach come to mind.
Ingredients
2 1/2 cups cooked hulled barley, (baked or boiled) and cooled to room temperature
1/2 head cauliflower, sliced about 1/4-inch thick and separated, roughly, into florets
4 ounces button mushrooms, quartered
1/2 medium yellow onion, quartered (the half should be quartered, making the eighths, I suppose)
1/2 medium fennel bulb, trimmed and sliced very thin
a few sprigs of watercress, washed and trimmed
1 clove garlic, minced
1/4 cup freshly grated parmesan cheese
1 lemon
1/4 cup olive oil
salt, pepper
Instructions
Preheat oven to 400°F.
In a large bowl, toss cauliflower and mushrooms and onion slices with about a tablespoon of olive oil. Spread on a sheet pan and season with salt and pepper. Sprinkle minced garlic over the mushrooms, turning to get some on all sides. Roast, turning everything over after 15 minutes, until cauliflower and onions are caramelized and mushrooms are a deep brown, about 25-30 minutes.
Toss barley, cauliflower, mushrooms, onions, and fennel with 3 tablespoons of olive oil and the juice of one lemon. Garnish with watercress, salt and pepper, and grated parmesan.
Nutrition Information:
Yield:
4
Serving Size:
1
Amount Per Serving:
Calories:

308
Total Fat:

16g
Saturated Fat:

3g
Trans Fat:

0g
Unsaturated Fat:

12g
Cholesterol:

5mg
Sodium:

283mg
Carbohydrates:

38g
Fiber:

7g
Sugar:

4g
Protein:

7g