I may earn from purchases through links in this post.
This cashew brittle is just the thing for when you want to make something that feels impressive but don't want to spend more than 15 minutes making it.
It doesn't require any fancy ingredients (ok, you should really get some Maldon sea salt for this if you don't have some already, but really any sea salt or even kosher salt is fine).
It's just cashews, butter, sugar, corn syrup, baking soda, and the aforementioned sea salt. It's adapted from a recipe in Karen DeMasco's wonderful book, The Craft of Baking.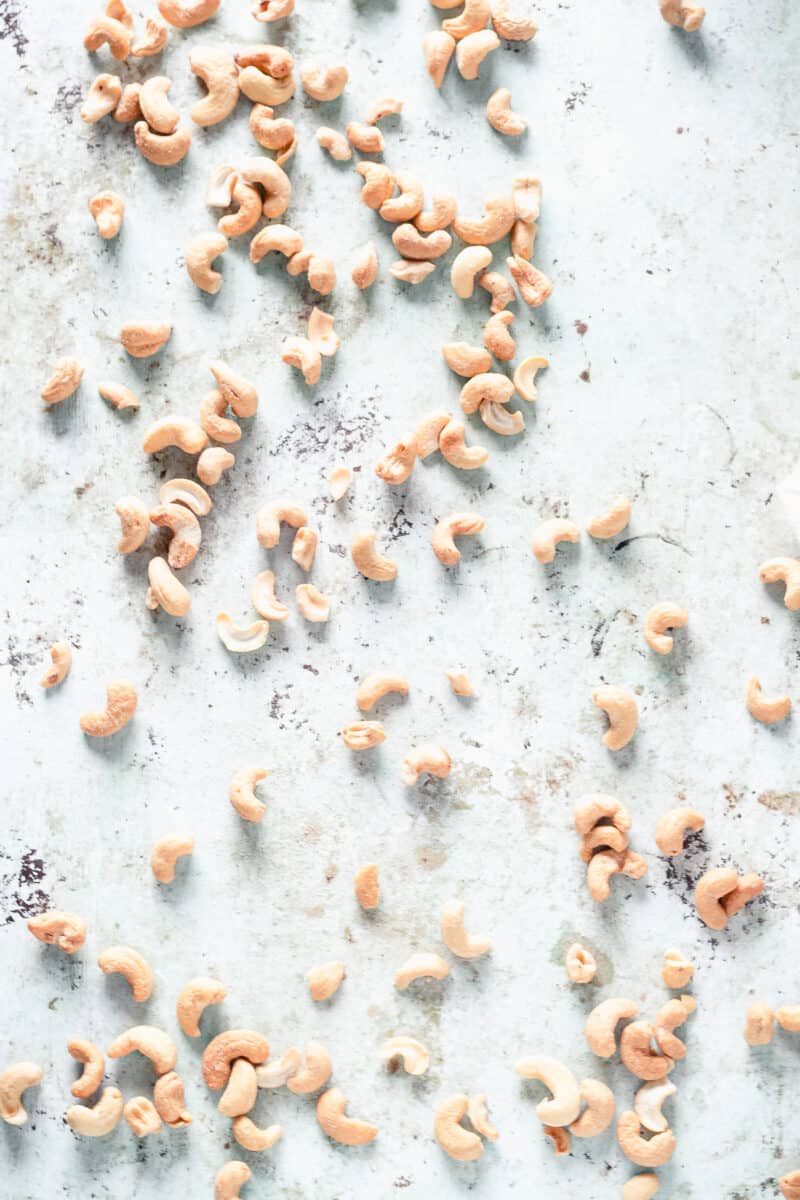 The only equipment you need is a pot, a rimmed baking sheet, and an inexpensive candy thermometer. (A silpat is nice, but not at all necessary.)
It has a lovely crunch and the baking soda adds a million tiny air bubbles that give it a lovely, delicate texture so you never worry about breaking a tooth.
Starting with roasted and salted cashews gives this the perfect sweet-and-salty balance. And while you can substitute any nut, I really love the texture and flavor of cashews here.
I know candy making at home can be intimidating, but it doesn't have to be. It just requires a bit of organization.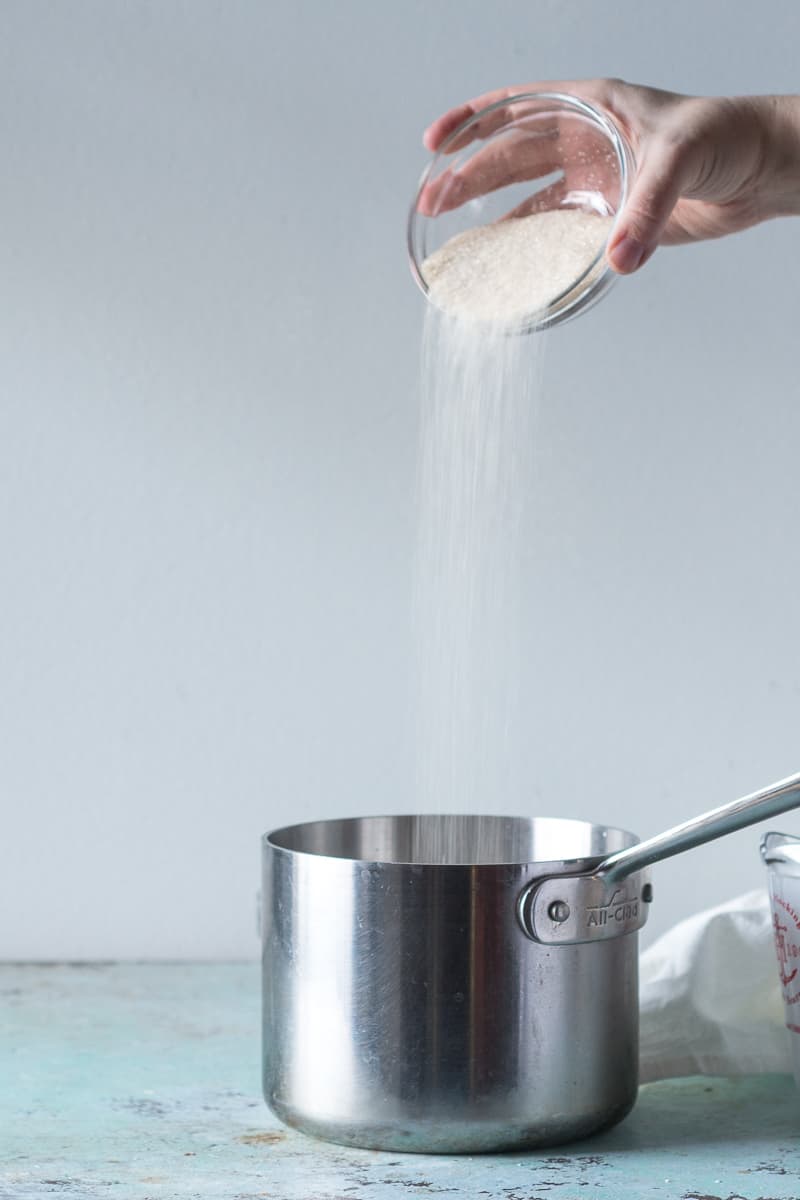 The trick is to measure everything ahead of time and have it in arm's reach before you get started. Then watch your pan closely the whole time it's cooking. (It's only ten minutes, you can do it!)
And work quickly, especially at the end when you're spreading everything out. The mixture goes from a bubbling liquid to almost solid in a matter of seconds.
So be fearless and pour it out and spread with gusto.
You want to get the cashews relatively evenly distributed, though some of amount of clumping is almost inevitable.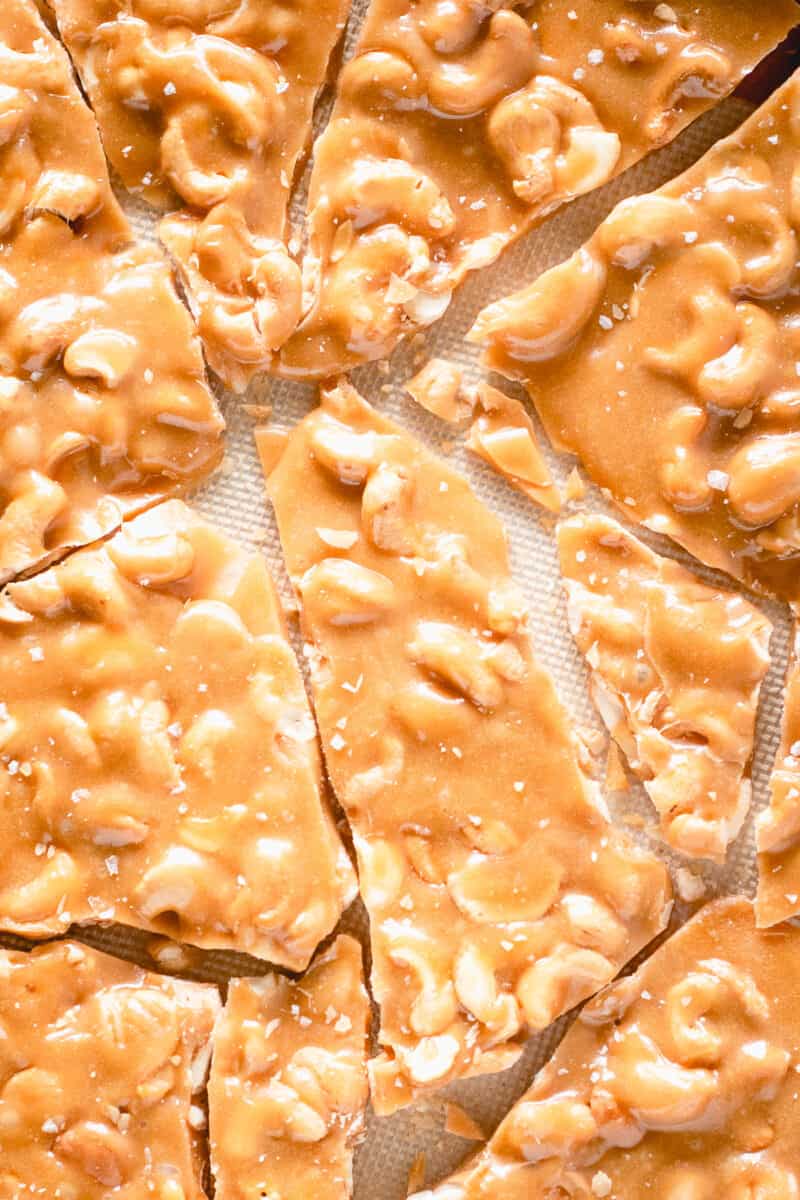 Then immediately after spreading, sprinkle on some of that flaky sea salt–you want to get it on while the brittle is still a little tacky to the touch so that it adheres.
After the brittle cools, you break it into a bunch of jagged, rustic pieces and store it in airtight container and store it at room temperature where it keeps for several weeks. (Avoid humid environments with this stuff. Moisture is the enemy of sugar-based anything.)
Basically this cashew brittle is your perfect last-minute Christmas or anytime treat. It's sweet, simple, salty, crunchy and slightly addictive.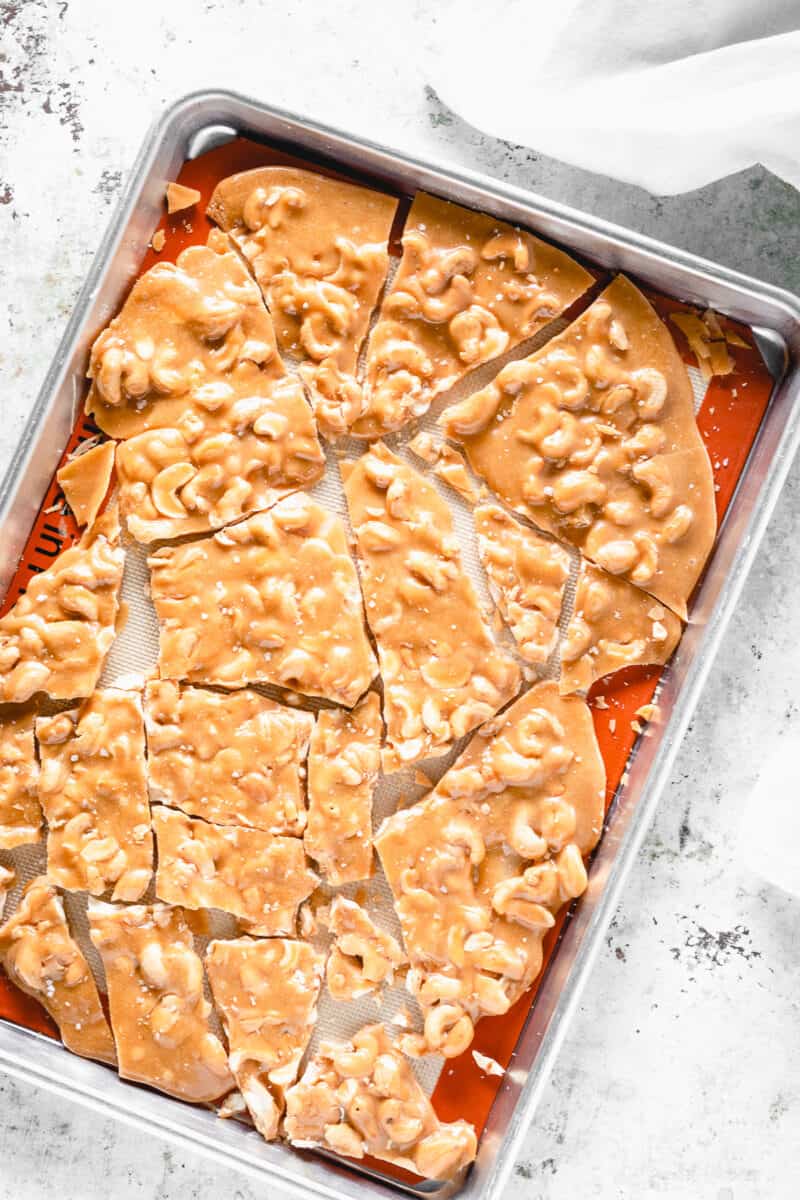 Yield: 2 pounds
Cashew Brittle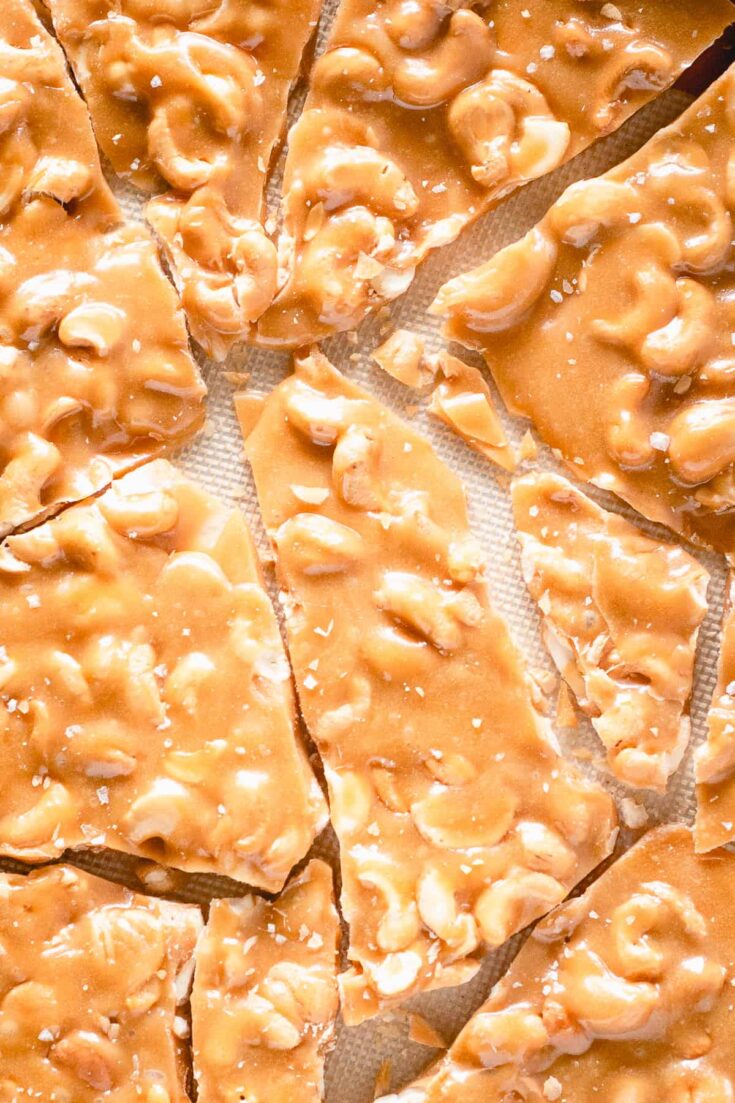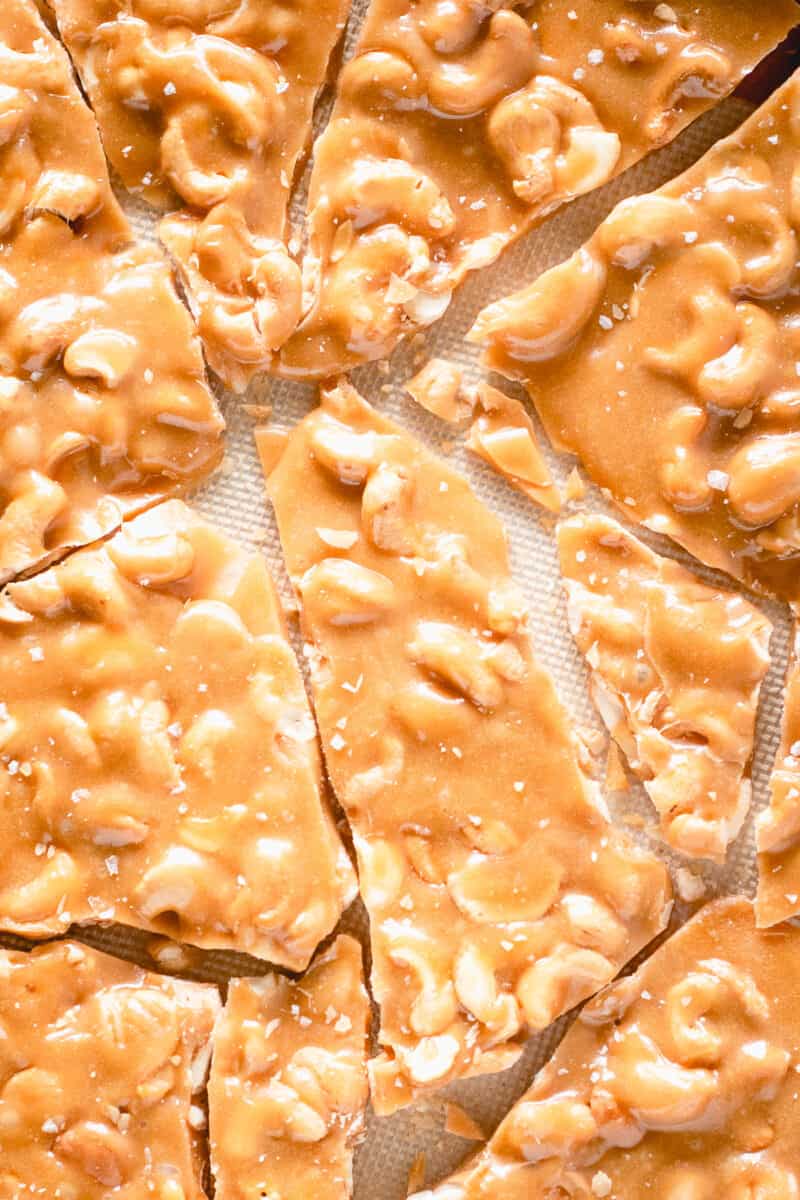 This cashew brittle can be made from start to finish in about 15 minutes. It's simple, but it does require organization. You must measure everything out ahead of time and move quickly when the sugar comes to temperature.
You can substitute any nut here, but I really like starting with something that has already been roasted and salted to get a nice balance of sweet and salty.
The corn syrup is essential to the texture, so don't leave it out or try to substitute it.
You need a candy thermometer, a deep pot, and a rimmed baking sheet for this recipe. I like to line my baking sheet with a silpat mat, but if you don't have one, you can spray it with nonstick spray or line it with parchment paper (or if your baking sheet has a nonstick coating you can leave it unlined). I strongly encourage using a flaky sea salt like Maldon for topping this.
Ingredients
2 cups (400 grams) sugar
1/2 cup (115 grams) water
1/3 cup (112 grams) light corn syrup
1/2 cup (113 grams, 1 stick) unsalted butter
1/2 teaspoon baking soda
1/2 teaspoon vanilla extract
12 ounces (340 grams) roasted and salted cashews
flaky sea salt for finishing
Instructions
Line a large rimmed baking sheet with a silpat mat or parchment paper (or spray with nonstick spray). Add the sugar, water, corn syrup, and butter to a large saucepan. Measure out the baking soda and cashews and have them ready. Heat everything in the saucepan over medium-high heat, stirring occasionally, until the mixture turns golden brown and reaches 300°F on a candy thermometer, about 10 minutes. Remove from heat and immediately stir in the baking soda. It will bubble up furiously. Quickly stir in the vanilla extract and cashews and immediately pour onto your baking sheet and spread into an even layer with a silicone spatula or long wooden or metal spoon. (You can really push it down for the first minute or two, but be careful, it is HOT.) Sprinkle sea salt over the top. Let it cool for about 30 minutes, then break into pieces. Store in an airtight container.
Nutrition Information:
Yield:
24
Serving Size:
1
Amount Per Serving:
Calories:

118
Total Fat:

4g
Saturated Fat:

3g
Trans Fat:

0g
Unsaturated Fat:

2g
Cholesterol:

10mg
Sodium:

62mg
Carbohydrates:

21g
Fiber:

0g
Sugar:

20g
Protein:

0g